The weather event formerly known as Hurricane Sally, a cyclone that left half a million people in Florida and Alabama without power this week, has been downgraded to a tropical depression, according to the National Hurricane Center and Central Pacific Hurricane Center (NHC/CPHC).
A tropical depression is an atmospheric low-pressure system that originates near the equator and has a maximum sustained wind speed of 38 miles per hour or less. Depressions are sometimes also referred to as tropical storms.
As of midnight on September 16, Sally is hovering over Ansley, Alabama, a small town 42 miles south of the capital city of Montgomery. Concurrently, the NHC/CPHC has reported a disturbance in the southwestern Gulf of Mexico that has a 50 percent chance of forming into a hurricane.
In addition to Sally, four other tropical cyclones, Paulette, Rene, Teddy, and Vicky, were also active in the Atlantic Ocean.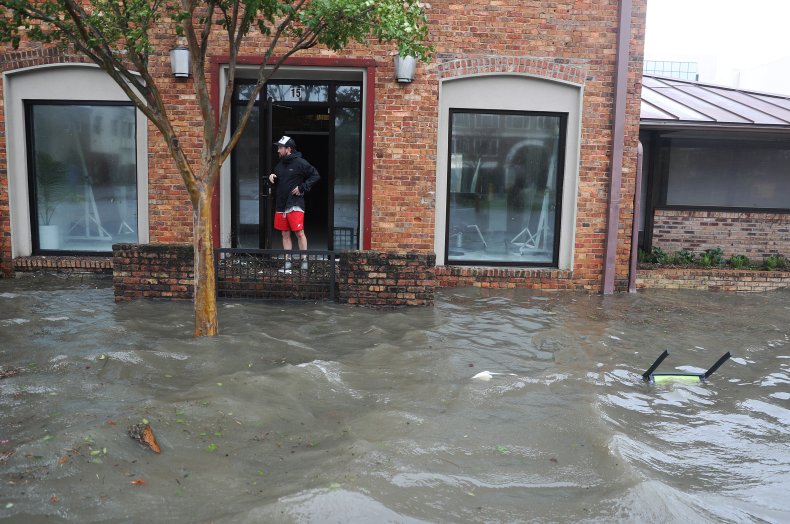 On September 13, Sally began strengthening off of the west coast of Florida, compelling meteorologists warn parts of the U.S. Gulf Coast about a possible storm surge and hurricane. The warnings included Louisiana, where Hurricane Laura—one of the strongest hurricanes ever to hit the state—had hit just barely three weeks prior.
Forecasters warned that the storm was likely to deliver "dangerous and life-threatening" storm surges and flash floods to coastal areas along Louisiana, Mississippi, Alabama and Florida.
Louisiana Governor John Edwards and Alabama Governor Kay Ivey declared a state of emergency over the weekend, and New Orleans officials instructed residents living outside the city's levee protection system to evacuate.
Mississippi Governor Tate Reeves also declared a state of emergency last Sunday. Hancock County, Mississippi issued a mandatory evacuation order for Monday morning as did Baldwin County, Alabama.
Hurricane Sally weakened to a Category 1 storm and almost back to a depression before strengthening again to a Category 2 storm on Monday afternoon, as it continued swirling toward the southern coasts. The storm produced heavy rains in Florida, with up to 12 inches in some places.
The National Weather Service's Weather Prediction Center (WPC) expected Hurricane Sally to bring the southern coastal region 10 to 30 inches of rain with "historic flooding possible."
This year's hurricane season could become the busiest on record as the NHC has issued advisories for Tropical Storm Vicky, Hurricane Paulette, Hurricane Sally, Hurricane Teddy and Tropical Storm Karina. In fact, the high number of storms this season may compel meteorologists to use the Greek alphabet to name the storms.