Steve Bannon Pushed 2020 Election Lies to Get Pardon: Ex-Trump Adviser
Former White House chief strategist Steve Bannon never believed the 2020 election would be overturned and only pushed voter fraud claims to receive a pardon, according to a former adviser to ex-President Donald Trump.
Sam Nunberg, who served as a campaign aide to Trump in the 2016 election, made the claims about Bannon in a Monday story published by The Atlantic. Bannon also worked on Trump's 2016 campaign before taking the role of a chief strategist in the former president's administration. He has since gone on to become a popular conservative podcaster.
Shortly before leaving office, Trump pardoned Bannon, who was facing federal charges of conspiracy to commit wire fraud and money laundering for his role in fundraising for a private border wall effort. Last November, Bannon was indicted for refusing to comply with a subpoena from the House select committee investigating the January 6, 2021, attack on the U.S. Capitol.
Trump has continued to push widely debunked claims that widespread voter fraud occurred in the 2020 presidential election. Bannon was among the early proponents of Trump's claims following the election, but Nunberg told The Atlantic that the former strategist doesn't believe Trump's fraud claims.
"Steve was in on the joke," Nunberg told the publication. "He never believed that the election would be overturned. Steve needed a pardon."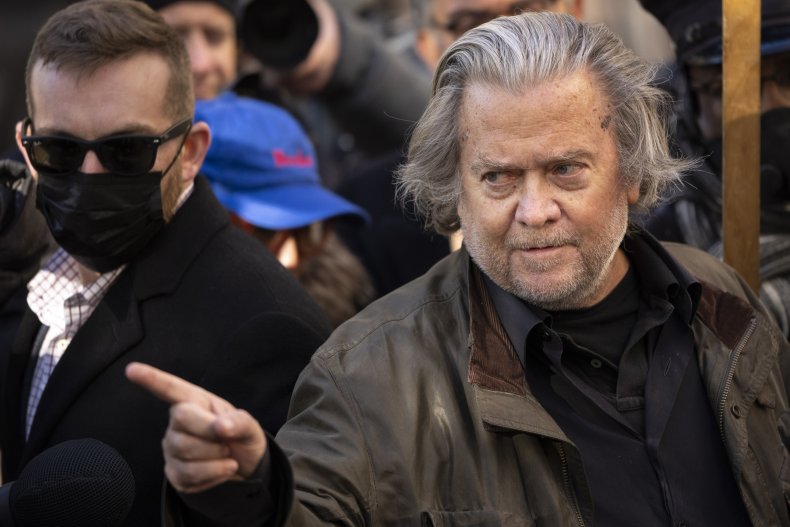 Asked about Nunberg's comment by The Atlantic, Bannon said his claim was "absurd."
"  'Cause they don't believe it," Bannon reportedly said when told by the reporter of others stating he doesn't think the election was stolen. "Doesn't mean I don't believe it. I absolutely believe it, to the core of my being."
Nunberg worked for Trump multiple times after first being hired as a political consultant in 2011. He served as a communications adviser for Trump in 2015, early in Trump's presidential campaign, though he later endorsed Senator Ted Cruz for president in 2016 and disparaged Trump's political strategy.
Trump later sued Nunberg for violating a confidentiality agreement over allegedly leaked information to a media outlet, and their dispute was settled out of court. In 2018, Nunberg testified before a federal grand jury during special prosecutor Robert Mueller's Russia investigation.
Nunberg made other disparaging comments about Bannon to The Atlantic.
"The tragedy of Steve Bannon is that when he leaves the White House, he's known as the great manipulator, the intellectual heavy of the international populist uprising," Nunberg said. "But still he ends up in the fetal position at Donald Trump's feet."
The Atlantic's story included other criticisms of Bannon from other former top Trump officials, including Stephanie Grisham. The article said Grisham, who worked as press secretary and in other roles for Trump, reportedly referred to Bannon as a con man.
Anthony Scaramucci, a former communications director for Trump, called Bannon a "very sick megalomaniac," per The Atlantic.
However, one unnamed former colleague said that while Bannon was "dangerous," he was also "smart" and "crafty."
Newsweek reached out to Bannon for comment.