Saudi Arabia has canceled the scholarships of 16,000 of its students studying in Canada, also ordering them to leave the country and find academic programs elsewhere.
The move comes amid a growing diplomatic row between the kingdom and the North American country, following comments by Canada's foreign ministry that criticized Saudi Arabia's human rights record and called on Riyadh to release detained activists. Responding to the criticism, Saudi Arabia also cut diplomatic ties with Canada, frozen all new trade and investment and canceled flights via its national carrier to Toronto.
Now, thousands of Saudi students who were studying in Canada through scholarship, training, and fellowship programs have seen their funding canceled, Saudi Gazette reported. While the kingdom will continue to pay for these students' academic programs, they will be forced to find new opportunities in other countries. Government sources told the Saudi newspaper this would most likely be in the U.S.
Omar Abdulaziz, a Saudi national who has been a political refugee in Canada since 2014, told Newsweek he was contacted by Saudi authorities, who threatened to arrest his brothers and friends back in the kingdom if he continued to comment on the diplomatic row.
"It's the first time to be threatened like that! It's just insane," Abdulaziz said.
Last week, following the detention of well-known Saudi activist Samar Badawi, the sister of Raif Badawi (who had been imprisoned and sentenced to 1,000 lashes for blogging about atheism and criticizing the Saudi government), Canadian Minister of Foreign Affairs Chrystia Freeland tweeted her concern.
"Canada stands together with the Badawi family in this difficult time, and we continue to strongly call for the release of both Raif and Samar Badawi," she wrote.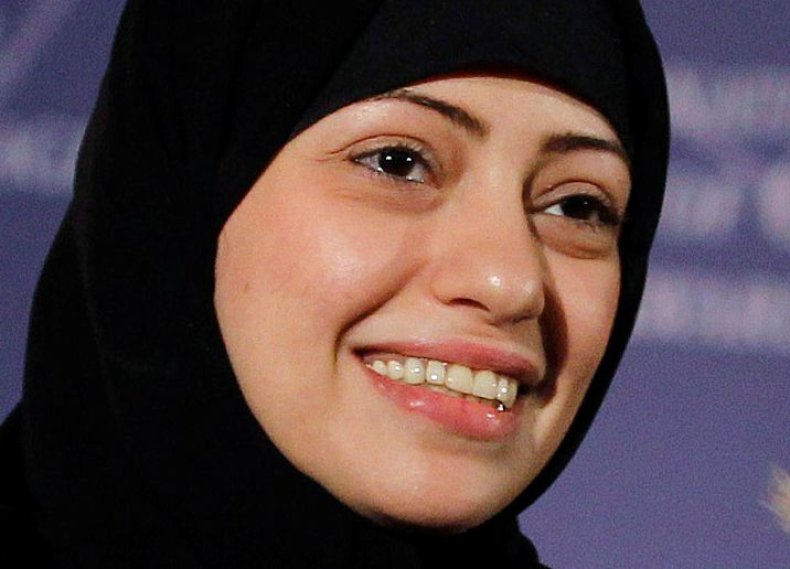 Freeland's tweet was followed up by one from the Canadian government's official foreign policy account on Twitter.
"Canada is gravely concerned about additional arrests of civil society and women's rights activists in #SaudiArabia, including Samar Badawi. We urge the Saudi authorities to immediately release them and all other peaceful #humanrights activists," the government said in the tweet.
Riyadh has said it will not allow any nation to dictate its internal affairs, with several fellow Arab nations lining up in support of the kingdom's position. Bahrain, the United Arab Emirates and the president of the Palestinian Authority have all released statements in support of Saudi Arabia.
A Saudi group also released a controversial infographic that appeared to show a Canadian plane flying toward Toronto's iconic CN Tower with a warning message. The image faced intense backlash, as it reminded many of the September 11, 2001, attacks on the U.S., which were carried out by 19 hijackers, 15 of whom were from Saudi Arabia. The group apologized and has since removed the ominous picture.
An editorial in Saudi newspaper Arab News suggested that tensions could continue indefinitely unless Canada issues an official apology.
"The longer this issue continues the more difficult it will become to solve," the newspaper wrote. "Case in point: Qatar," it added, highlighting an ongoing dispute that has seen the Arab Gulf nation isolated diplomatically by neighboring countries for more than a year.
Despite the backlash, Freeland reaffirmed Ottawa's position on Monday, saying, "Canada will always stand up for human rights in Canada and around the world, and women's rights are human rights," according to Reuters.
Although Saudi Crown Prince Mohammed bin Salman has promoted an image of modernization and progress in the kingdom, granting women the right to drive and instituting a number of other social reforms, rights groups have argued these actions mask ongoing human rights abuses. Numerous activists and political dissidents have been detained over the past few months, including women who led a campaign for the right to drive.
A spokeswoman from the State Department told reporters Tuesday that Washington has asked Riyadh for more information about the cases of several detained activists.
"The United States supports respect for internationally recognized freedoms and individual liberties including dissent and due process," said the spokeswoman, who asked not to be named. "We continue to encourage the government of Saudi Arabia to ensure all are afforded due process and to provide information on the charges and case status of legal actions against activists."
Update: This article contains recent information from the U.S. State Department.