Sean Hannity Tells Trump Lawyer Impeachment Defense Was 'Somewhat Meandering'
Sean Hannity has told one of Donald Trump's impeachment lawyers that attorney Bruce Castor's opening for the defense was "somewhat meandering" amid a huge wave of criticism.
Castor has been slammed for his "disorganized" and "random" opening statement during the first day of the Senate trial on Tuesday.
The former president stands accused of inciting insurrection over the January 6 Capitol riots which saw the deaths of five people, including a police officer. The trial is not expected to continue past Sunday, making it the shortest ever impeachment trial in history.
During his presentation, Castor said that the Democratic impeachment managers provided an "outstanding presentation," called the senators acting as jurors "extraordinary people" and digressed into anecdotes from "little Bruce's" childhood in Philadelphia.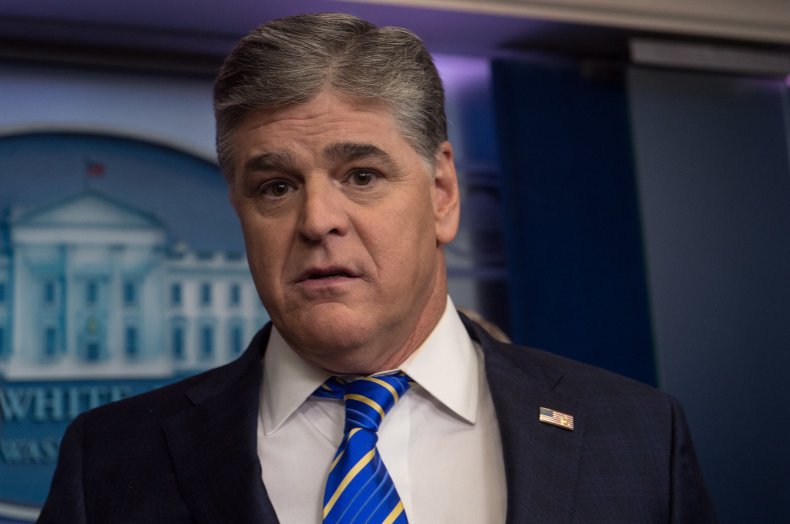 A spate of criticism followed the opening statement, which left Trump "nearly screaming at the television," according to CNN. Some observers claimed that Castor's remarks had little to do with the impeachment trial.
On his Tuesday Fox News show, Hannity spoke to Castor's co-counsel David Schoen about the first day at the Senate trial, calling the opening "somewhat meandering."
Schoen was supposed to lead Trump's defense but the team reportedly changed tact after the Democrats House impeachment manager made an emotional appeal that included a video recap of the Capitol attack.
A source told The Philadelphia Inquirer that Trump's team was trying to "lower the temperature in the room" by replacing Schoen, a more combative lawyer, with Castor at the last minute.
Hannity told Schoen: "A lot of criticism of the opening, not your part in particular, but it seemed to be free-associating, extemporaneous, somewhat meandering.
"Will the rest of this process—because you're going to be out as I understand it Friday and Saturday—will this be more focused and will this be more prepared and are there other people that are planning to make those arguments because some conservatives called me and said, "Woah we need someone harder-hitting here.'"
But Schoen immediately came to Castor's defense, saying his co-counsel had not planned on making the opening and that his team "feel strongly" about fighting against the impeachment.
He said: "Well, the fellow who you say did the opening today has his law firm there. They are two very capable people.
"Today he hadn't planned on going so I'm sure they will be very well prepared in the future and do a great job in the case. There's a lot to say and I know they feel strongly about fighting against what they're seeing."
Alan Dershowitz, a Harvard Law School professor emeritus and member of Trump's defense team during his first impeachment trial, was among those who criticized Castor, saying: "There is no argument."
"I have no idea what he's doing. I have no idea why he's saying what he's saying," he told Newsmax. "He's introducing himself, 'I'm a nice guy. I like my senators. I know my senators. Senators are great people.' C'mon. The American people are entitled to an argument—a constitutional argument."
In an email sent to Newsweek, Dershowitz wrote, "[Castor] has a different style than mine. I didn't really understand the theory of his opening." He added that Schoen "was excellent and did a great job."
South Carolina Republican Senator Lindsey Graham was also not impressed with the opening statement, saying: "I thought I knew where it was going and I really didn't know where it was going."
Meanwhile, GOP senator Bill Cassidy told reporters it prompted him to change his vote and support the continuation of the trial.
"If you listen to it, it speaks for itself," he said. "It was disorganized, random, had nothing—they talked about many things but they didn't talk about the issue at hand. If I'm an impartial juror and I'm trying to make a decision based upon the facts as presented on this issue, then the House managers did a much better job."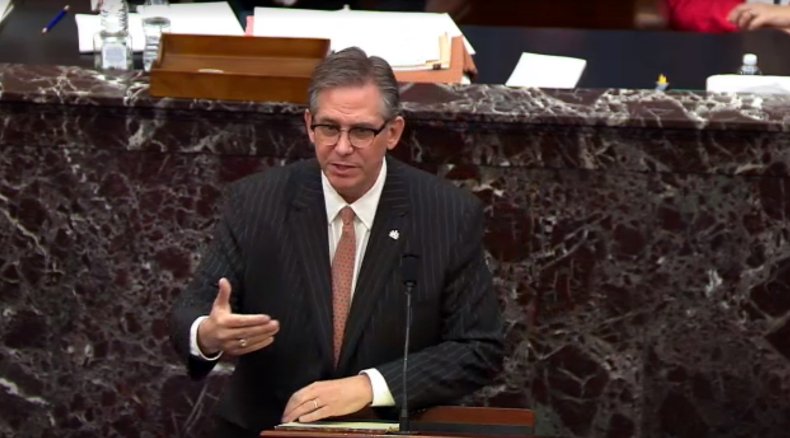 Maine Republican Senator Susan Collins told reporters on Tuesday that Castor's remarks "perplexed" her because Castor "did not seem to make any arguments at all, which was an unusual approach to take." Texas Senator John Cornyn described Castor's opening argument as "not one of the finest I've seen."
Fox News contributor Geraldo Rivera called the presentation by Trump's defense attorneys "mediocre," while former Fox commentator Robert G. Beckel wrote, "I wouldn't want this guy represent me for a traffic ticket!"
Similarly, Harry Litman, former U.S. attorney and legal affairs columnist for the Los Angeles Times, tweeted, "I don't see how he could have mooted (practiced) this argument in front of anybody, which is malpractice. No professional colleague could have listened to the whole presentation and not tried to get him to overhaul it."
Conservative pollster Frank Luntz and Washington Examiner chief political correspondent Byron York also criticized Castor's opening arguments. Luntz wrote on Twitter that judging by Castor's comments, "I guess this lawyer doesn't know what people think," while York called it a "waste of time."
Newsweek has contacted Castor's law firm for comment.