Sean Penn, Ben Stiller Banned From Russia in Latest Sanctions Against U.S.
Sean Penn and Ben Stiller have been banned from entering Russia, the Kremlin announced on Monday, September 5.
The actors are among 25 U.S. citizens who are prohibited from visiting the country "in response to the ever-expanding personal sanctions by the Biden Administration against Russian citizens," the Russian Foreign Ministry said in a statement via the organization's website.
Others on the "stop list" include "members of the U.S. Congress, high-ranking officials" and "representatives of the business and expert communities."
Penn, 62, and Stiller, 56, each previously traveled to Ukraine and met with the country's president Volodymyr Zelenskyy.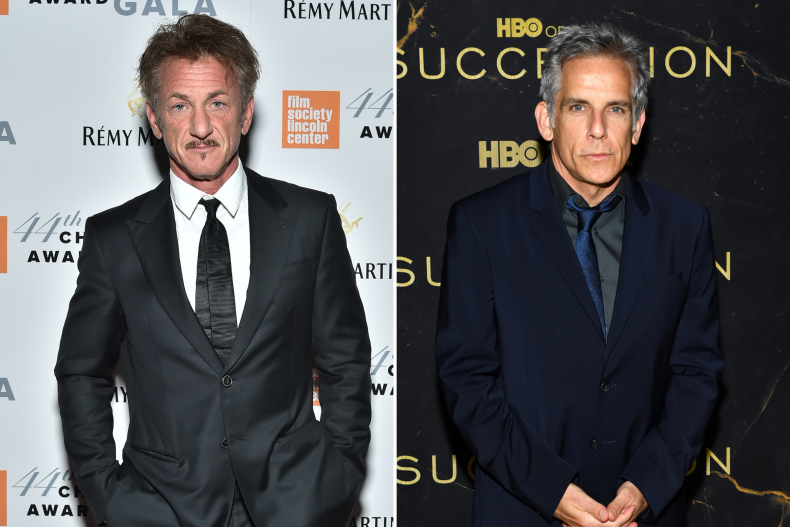 During a visit to the war-torn country in June, the Zoolander star praised the former comedian, calling him "my hero."
The pair met on World Refugee Day after touring Irpin, a heavily-bombed and occupied city near Kyiv.
"It's one thing to see this destruction on TV or on social networks. Another thing is to see it all with your own eyes. That's a lot more shocking," Stiller told Zelenskyy, to which he replied, "What you saw in Irpin is definitely dreadful. But it is even worse to just imagine what is happening in the settlements that are still under temporary occupation in the east."
According to the United Nations High Commissioner for Refugees website, Stiller has been helping bring attention to refugee crises since 2016 and has met refugees in Jordan, Guatemala, Lebanon and more.
He was appointed as a Goodwill Ambassador in July 2018.
As for Penn, the Academy Award winner has been filming a documentary on the Russian invasion. In February, the Ukrainian government expressed their gratitude to the director after he landed in Kyiv.
"The director specially came to Kyiv to record all the events that are currently happening in Ukraine and to tell the world the truth about Russia's invasion of our country," the statement read.
"Sean Penn is among those who support Ukraine in Ukraine today. Our country is grateful to him for such a show of courage and honesty."
Penn previously visited Ukraine in November 2021 to do research for the film. At the time, he was photographed dressed in combat gear while touring the European country's eastern region.
Russia President Vladimir Putin launched a large-scale attack on Ukraine on February 24, causing worldwide condemnation and severe economic sanctions.
In June, the United State Department of Justice said that the U.S. and its allies have frozen more than $30 billion of Russians' assets.
In August, the United States Department of the Treasury announced a further round of measures against "Kremlin-connected elites" in a press release, including Andrey Grigoryevich Guryev—founder and former Deputy Chairman of PhosAgro, a leading Russian chemical company, and Viktor Filippovich Rashnikov—chairman of the Board of Directors of Publichnoe Aktsionernoe Obschestvo Magnitogorskiy Metallurgicheskiy Kombinat (MMK), one of the world's largest steel producers.
In the early days of the war, Zelenskyy vowed to remain strong for his country after he submitted an application to join the European Union.
"Nobody is going to break us, we're strong, we're Ukrainians," he told the EU in an emotional speech in March. "Life will win over death. And light will win over darkness."
Newsweek reached out to Penn's and Stiller's representatives for comment.