Seattle Protesters' Call to Scrap Police Pensions Can't Be Met by City
A demand from demonstrators in Seattle's Capitol Hill Organized/Occupied Protest (CHOP) to scrap funding for police pensions cannot be met by the city.
Protesters, who have congregated in a space spanning around six city blocks, have called for the abolition of Seattle Police Department among a list of measures they wish to see implemented.
A list shared online entitled "THE DEMANDS OF THE COLLECTIVE BLACK VOICES AT FREE CAPITOL HILL" states: "We demand that the Seattle Council and the Mayor defund and abolish the Seattle Police Department and the attached Criminal Justice Apparatus. This means 100 percent of funding, including existing pensions for Seattle Police."
Seattle City Council is looking into the funding of the police department, with a view to shift money into social services. However, the latter part of the demand is not something the city has the power to fulfill due to the pensions being controlled at a state level.
A spokesperson for the Washington State Department of Retirement Systems told Newsweek that pensions are awarded by a state-administered system that cannot be modified at a local level.
In an emailed statement to Newsweek, they said: "In Washington state, all police and firefighters are members of the state's Law Enforcement Officers' and Fire Fighters' (LEOFF) retirement system. Membership is mandatory. It is a state-administered system which cannot be modified by local jurisdictions."
They went on to explain that the state is require to pay out pensions that have already been earned and that this is established under previous case law, adding: "For pension system members and retirees, the state is required to pay pension benefits that have been earned based on the contractual right of the pension. This was established in the court case Bakenhus v City of Seattle. In essence, Bakenhus says that a benefit that has already been earned (including future benefits for those currently working) cannot be reduced."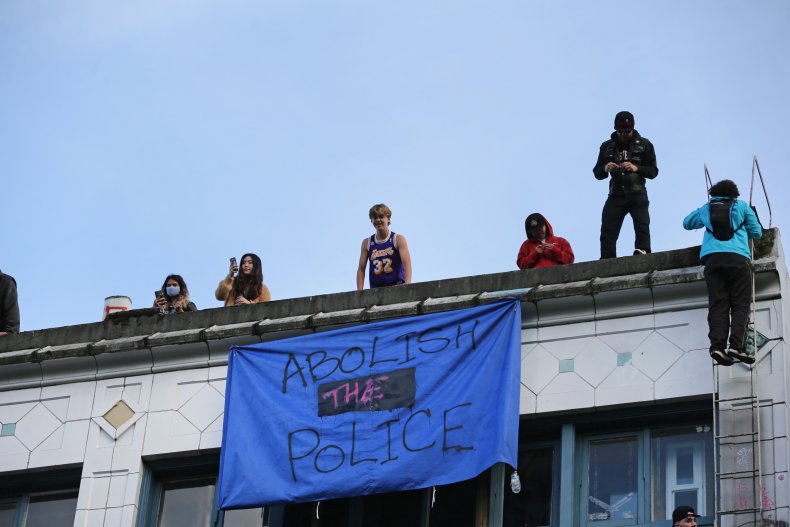 Speaking to Newsweek, Steve Nelsen, Executive Director of the LEOFF Plan 2 Retirement Board, also said the City of Seattle would be unable to independently change the pension plan.
He said: "The pension plan is a statewide plan that covers all cities, counties and fire protection districts so no one employer, like the City of Seattle, can change the plan."
In regards to potential amendments to the pensions in future, he said this would need to be enabled by the state. While, if this were done, changes could also only apply to newly hired employees.
He said: "The creation of a new plan, or changes to the existing plan, would require an act of the state legislature. Any new plan would only apply prospectively to newly hired employees. All members of the current plan will remain members until they retire. There is a Washington Supreme Court case on this point.
"So, there is no way in Washington to legally reduce the pension benefits for current law enforcement officers."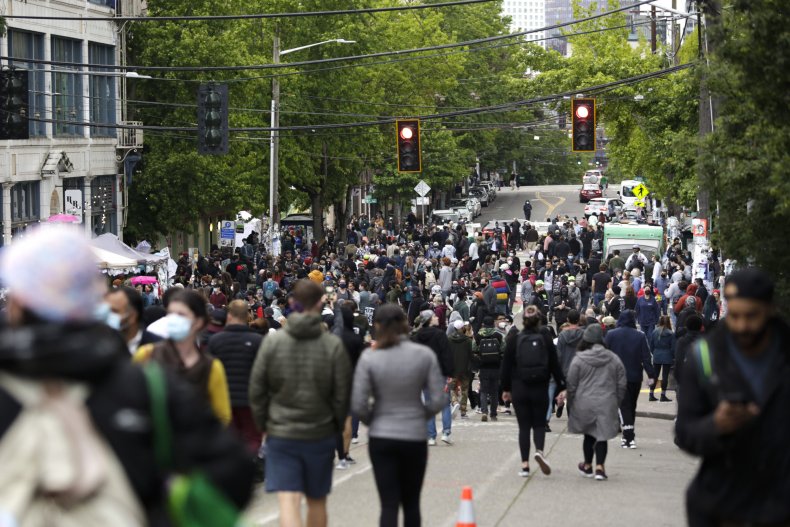 A spokesperson from Seattle Mayor Jenny Durkan's office also confirmed the city does not control the pensions for law enforcement officers.
"Washington state controls those benefits and contributions; the City does not control officer pensions," they said.
The spokesperson said Durkan is "committed to a thorough review" of the Seattle Police Department budget, with a view to meet a commitment to invest $100 million into black communities each year.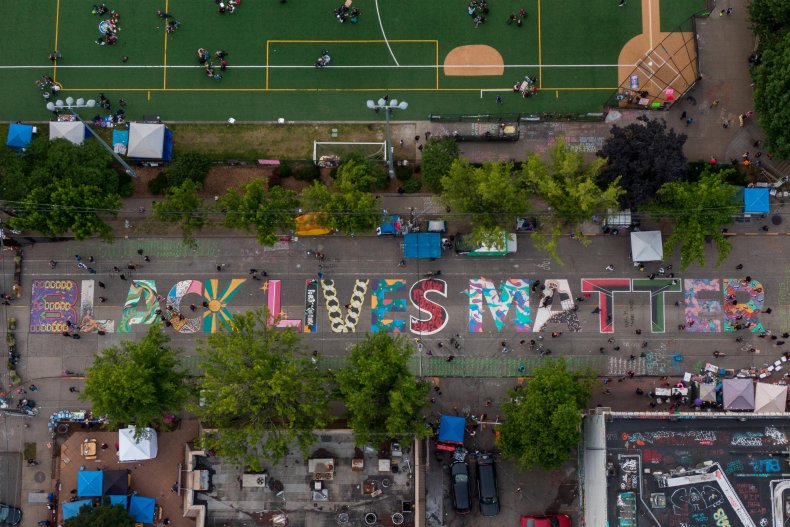 "The Mayor believes that we need to reimagine what policing looks like in Seattle, and in cities across the country. It's clear that not every 9-1-1 call requires a law enforcement presence; we need to ensure that those in crisis are met by a mental health counselor, or those in a heated argument have access to a conflict resolutions specialist. These solutions come from community-based organizations already doing the work, not law enforcement," they told Newsweek in a statement.
Newsweek has contacted Seattle Police Department for comment on the pension demand.
The list of demands was formed after protesters filled the area surrounding the East Precinct in Seattle, after it was evacuated over safety concerns, with authorities reporting there were threats the building could have been set on fire.
Officers have previously expressed a desire to return to the station, with attempts being made to discuss this with protesters in what was formerly referred to as the Capitol Hill autonomous zone (CHAZ).
"We would like to be able to return to the police precinct to our normal operations. This would improve our response times and our capabilities within the neighborhood. It would allow our detectives to return and to work the criminal investigation cases they are working," Seattle Police Department's Assistant Chief Deanna Nollette previously said.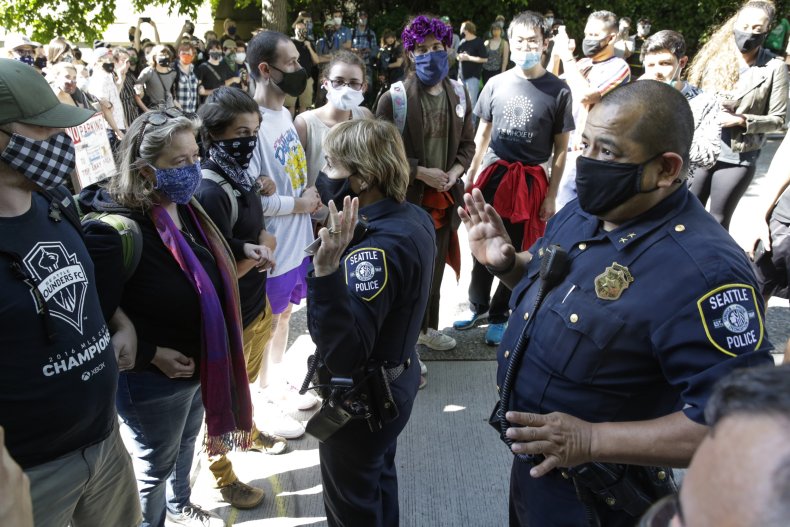 Police have previously said they will respond to 911 calls in the area, despite barricades having been set up around it.
While police attempt to create a line of communication with prominent figures within the protest, the demonstrations have no clear leadership. The list of demands is said to "represent the black voices who spoke in victory at the top of 12th & Pine after 9 days of peaceful protest while under constant nightly attack from the Seattle Police Department." The points made are not attributed to a particular group or specific individuals.
President Donald Trump has previously spoken against the zone, insisting he will intervene if the situation continued, urging Washington Governor Jay Inslee to use National Guard troops to break up the protests there.
The zone was setup amid protests following the death of George Floyd, who died after a police officer put his knee on his neck while arresting him in Minneapolis. Footage of this spread online, sparking demonstrations worldwide.
This has also boosted the conversation around calls to defund the police, with the suggestion funds are shifted from law enforcement budgets to provisions to support communities in other ways. There have also been calls for certain police forces to be abolished entirely.
Questions have similarly been raised over reform of police pensions elsewhere. Last week it emerged it emerged former Minneapolis police officer Derek Chauvin, identified as the man who knelt on Floyd's neck in his arrest, could still receive up to $1 million in retirement benefits, even if convicted of murder.
He is facing a charge of second-degree murder, and would still be eligible for his police pension if found guilty. Less than half of the nation's states revoke the pensions of public officials or employees if they are convicted of a felony.