Ex-Trump Adviser Takes Aim at Glenn Youngkin for SCOTUS Protest Response
A former adviser to President Donald Trump is voicing his displeasure with the Republican governor of Virginia in light of recent protests focused on abortion rights.
Sebastian Gorka, the host of America First with Sebastian Gorka, took to social media on Tuesday morning to publicly air his frustration with Governor Glenn Youngkin over his response to abortion-rights activists protesting outside the homes of Supreme Court justices.
"It's too early for you to fail @GlennYoungkin," Gorka, who served as a deputy assistant to the former president in 2017, wrote on Twitter. "The intimidation occurring outside the homes of SCOTUS Justices is a crime according to VA Statute. DEAL WITH IT."
Gorka's criticism of Youngkin comes after the recent leak of a Supreme Court draft opinion, written by Justice Samuel Alito, that suggested the Court may potentially overturn Roe v. Wade, the case that legalized abortion nationwide. Following the leak, individuals on both sides of the issue demonstrated in various U.S. cities, including in Washington, D.C., where the two groups of protesters faced off outside the Supreme Court.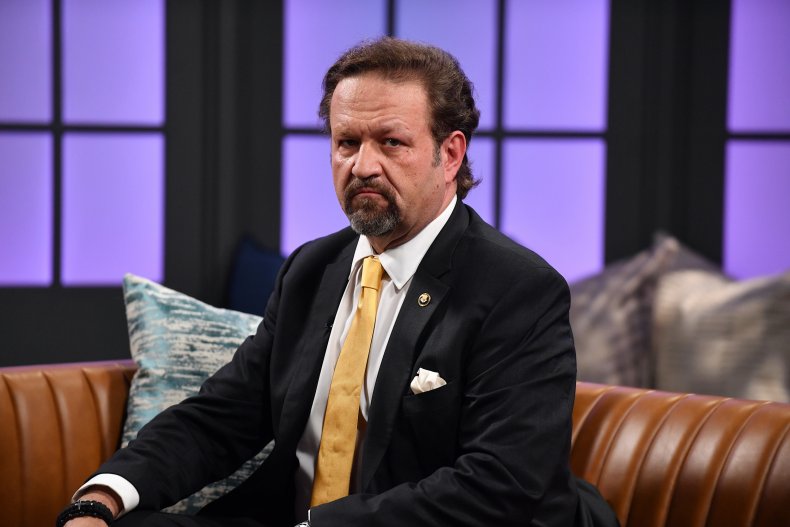 Monday night, after a crowd of protesters was shown having gathered in front of what is reportedly Supreme Court Justice Samuel Alito's Virginia home, Youngkin, in response, posted on Twitter, "We have been coordinating with @FairfaxCountyPD, VSPPIO, and federal authorities to ensure that there isn't violence. Virginia State Police were closely monitoring, fully coordinated with Fairfax Count and near the protests."
However, Gorka was not the only conservative to demand that Youngkin take more action against the protesters.
Matt Rinaldi, the head of the Texas Republican Party, said on Twitter, "Isn't @GlennYoungkin turning a blind eye here? This is Virginia. Do something."
Arizona state Senator Wendy Rogers, an outspoken Donald Trump supporter, demanded that the protesters be arrested.
"@GlennYoungkin arrest the Marxist protesters who are harassing our SCOTUS Justices and disturbing the peace!!!!," she wrote.
Erick Aguilar, a Florida Republican congressional candidate, also called out Youngkin. Aguilar, in his Twitter post, referred to the protesters as "commies" and members of Antifa, and he said they were breaking the law and trying to "intimidate our justices."
Aguilar went on to say Youngkin is becoming a "RINO" (Republican in name only) and that he asks himself daily what Florida Governor Ron DeSantis would do.
While some criticized Youngkin for not taking stronger measures against the protesters, the Virginia Republican Party took up for the governor.
The party wrote that he and "his administration acted swiftly to ensure our Supreme Court Justices and their families remained safe."
Last week, a video of abortion-rights activists outside of Supreme Court Justice Brett Kavanaugh's residence went viral and has now been viewed more than 6 million times.
Newsweek reached out to Gorka and Youngkin's office for comment.