Seeking World Recognition, Taliban Vows to Help Fight Terror and Climate Change
In comments shared exclusively with Newsweek, a senior Taliban official has called for global recognition of his group's rule over Afghanistan, where he vowed militants would never again be allowed to launch attacks against other countries.
And he said his group has plenty to offer if the world embraces it.
In the week since the Taliban, officially known as the Islamic Emirate of Afghanistan, took Kabul in a rapid, largely uncontested march, no country has yet formally recognized the change in power. But the issue has been a major point of discussion as governments, including those of China, Russia, Iran, Pakistan and even the United States, maintain contact with the group now effectively in charge of the country.
As these conversations develop, Abdul Qahar Balkhi, a member of the Taliban's Cultural Commission, told Newsweek that his group sought worldwide recognition of the Islamic Emirate.
"We hope not only to be recognized by regional countries," Balkhi said, "but the entire world at large as the legitimate representative government of the people of Afghanistan who have gained their right of self-determination from a foreign occupation with the backing and support of an entire nation after a prolonged struggle and immense sacrifices despite all odds being stacked against our people."
And he argued that such a move would be to the benefit of not only Afghanistan but nations across the globe.
"We believe the world has a unique opportunity of rapprochement and coming together to tackle the challenges not only facing us but the entire humanity," Balkhi added, "and these challenges ranging from world security and climate change need the collective efforts of all, and cannot be achieved if we exclude or ignore an entire people who have been devastated by imposed wars for the past four decades."
The major concerns associated with the Taliban's rule are rooted in its last takeover of Afghanistan some 25 years ago. The group's treatment of women and minorities were condemned by many within the international community, as was the presence of Al-Qaeda, which used Afghanistan to launch deadly plots against other nations, most infamously the 9/11 attacks that prompted the U.S.-led invasion that dismantled the Taliban administration two decades ago.
As the U.S.-led war comes to an end, not only has the Taliban regained its footing, but other militant groups such as Al-Qaeda and the Islamic State's Khorasan branch, or ISIS-K, have also established a presence in Afghanistan. Balkhi said any extraterritorial attacks would not be tolerated, but neither would intervention in Afghanistan from outside.
"Our policy remains that we will not allow anyone to threaten the security of others from our soil and neither will we allow others to interfere in our own internal affairs," Balkhi said.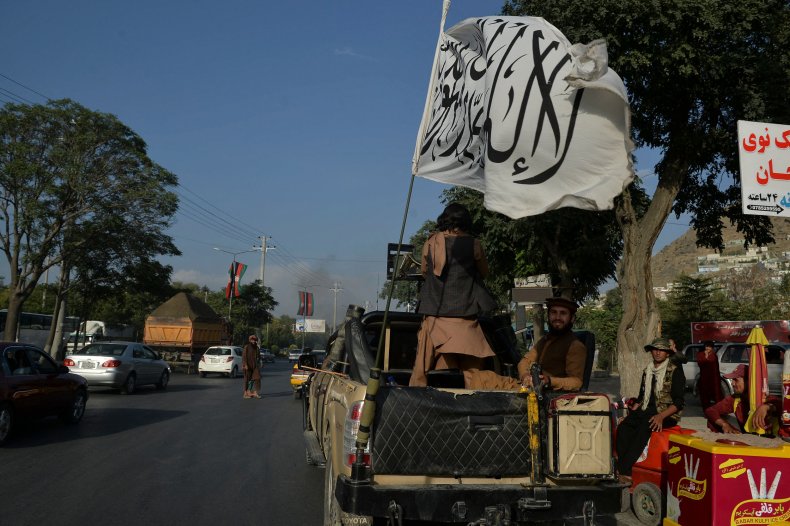 By 2001, the year that the first era of Taliban rule came to an end, the only countries to recognize the Islamic Emirate were Pakistan, Saudi Arabia and the United Arab Emirates. Some such as Qatar and Turkmenistan also had ties with the group, while others like India, Iran, Russia, Turkey, Tajikistan and Uzbekistan backed the embattled Northern Alliance attempting to resist Taliban control.
Today, the Northern Alliance flag flies in the valley of Panjshir, where a band of militias seeks to challenge any Taliban aspirations for absolute rule over Afghanistan. But unlike in their past efforts, regional countries appear more amenable to the Taliban presence in 2021.
Kremlin spokesperson Dmitry Peskov told the state-run Tass Russian News Agency on Monday that Russia and its allies in the Collective Treaty Security Organization, which also includes Armenia, Belarus, Kazakhstan, Kyrgyzstan and Tajikistan, would pursue "non-interference" in Afghanistan, and neither support nor serve as a conduit between rival factions.
During the extraordinary CSTO council meeting, Belarusian President Alexander Lukashenko pushed for a coordinated position between the CSTO and the Shanghai Cooperation Organization. The SCO is a regional bloc that includes China, India, Kazakhstan, Kyrgyzstan, Pakistan, Tajikistan and Uzbekistan as members and Armenia, Belarus, Iran and Mongolia as observer states, though Iran is set to become a full member next month.
"Amid the Taliban's diplomatic efforts to establish relations with the key worldwide and regional players, a number of countries are already inclined to recognize the movement," Lukashenko said. "It is crucial for our organization to clearly understand how real such prospects are and what our position should be in this case."
He said that while all nations had a say, Moscow "is the biggest player, and a lot will depend on Russia."
And while Russian officials have shared warm words regarding the Taliban's initial days in power, Foreign Minister Sergey Lavrov said last week the Kremlin was "not rushing a recognition" of the group. Rather, Russia would first consult its partners, such as China, with which Lavrov said Moscow's position was "in line."
Beijing officials have also repeatedly been asked their stance on recognition since the Taliban take over last week.
Speaking to reporters on Thursday, Chinese Foreign Ministry spokesperson Hua Chunying took note of the Taliban's promises to seek to resolve problems peacefully and form an "open and inclusive Islamic government" that respects the rights of those with different ideological views and ethnic backgrounds.
Hua also said China "noticed that some political figures of Russia and other countries and many international media have recognized Afghan Taliban's behaviors after it entered Kabul, believing that they have been good, positive and pragmatic actions."
"We encourage the Afghan Taliban to follow through its positive statements, unite with all parties and ethnic groups in Afghanistan, establish a broadly-based, inclusive political framework that fits the national conditions and wins public support through dialogue and consultation as soon as possible, and adopt moderate and prudent domestic and foreign policies," Hua said.
She also said Beijing "hoped that the Afghan Taliban can contain all kinds of terrorist and criminal acts and ensure a smooth transition of the situation in Afghanistan to take the long-suffering Afghans away from wars and chaos as soon as possible and build lasting peace."
In addition to ISIS and Al-Qaeda, a Uighur militant group called the East Turkestan Islamic Movement, or Turkestan Islamic Party, has been known to operate in Afghanistan, which directly borders China's Xinjiang province, the heart of Beijing's fierce crackdown on "the three evils" of terrorism, separatism and extremism.
Referring to lingering sentiments of mistrust of the Taliban, Hua said China said it would maintain an open mind, and urged others to do so as well.
"We should look at both the past and the present," Hua said. "We need to not only listen to what they say, but also look at what they do. If we do not keep pace with the times, but stick to fixed mindset and ignore the development of the situation, we will never reach a conclusion that is in line with reality."
"In fact," she added, "the rapid evolution of the situation in Afghanistan also reveals how the outside world lacked objective judgment on the local situation and accurate understanding of the public opinion there. In this respect, some Western countries, in particular, should learn some lessons."
That same day, Secretary of State Antony Blinken met with G7 counterparts as well as the European's Union diplomat to discuss Afghanistan. Afterward, the State Department said the group "agreed that the international community's relationship with the Taliban will depend on their actions, not their words."
The NATO military alliance issued a similar statement the following day, adding that, "under the current circumstances," the 30-member coalition "has suspended all support to the Afghan authorities."
Also on Friday, U.S. Ambassador to the United Nations Linda Thomas-Greenfield discussed the Taliban's desire to be recognized in an interview with Politico. She said Washington would "certainly not" establish such ties if the group did not adhere to international human rights standards.
"I do know that they do want recognition," Thomas-Greenfield said. "And if they want recognition, they're going to have to abide by the international norms that we all live by."
But the president has already expressed hope that the Taliban would make good on their commitments to not allowing militant groups such as ISIS to flourish in Afghanistan at a time when the jihadi group originally founded in Iraq threatened ongoing U.S. military operations in Kabul.
"To make everybody understand," Biden said Friday during his latest remarks on Afghanistan, "the ISIS in Afghanistan have been the sworn enemy of the Taliban."
As for Pakistan, Saudi Arabia and the UAE, the three countries have reacted to the Taliban's resurgent victory with far more caution than in past years.
Pakistani Information and Broadcasting Minister Chaudhry Fawad Hussain told a press briefing last week that Islamabad would first consult with other countries before offering recognition to the Taliban government. Saudi Arabia and the UAE, which received a fleeing Afghan President Ashraf Ghani, have said they would respect the choice of Afghans.
Iran, for its part, has continued to operate its embassy in Afghanistan amid ongoing contacts with the Taliban and has offered to host peace talks. Negotiations are currently taking place between representatives of the Taliban, rival Afghan figures and international officials in the Qatari capital of Doha, where former President Donald Trump's administration first signed the peace deal that ultimately led to the U.S. exit.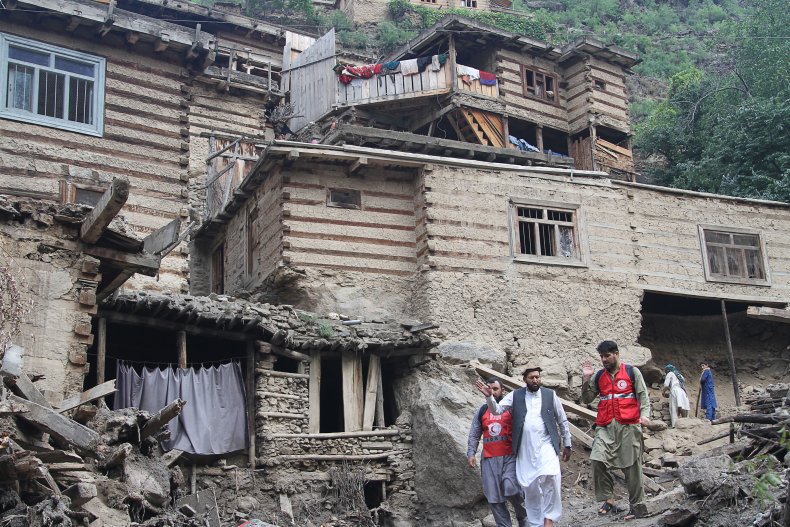 In the year and a half since the signing of the February 2020 accord and the beginning of a chaotic U.S. airlift under Biden this month, the Taliban's lightning gains across the country stunned the world.
While the triumph has been attributed to a range of factors from the inefficiencies that long plagued the Afghan government to the Taliban's shrewd engagement with rival parties, one less likely advantage that appears to have factored into the wins is climate change.
On Friday, CBS News cited experts arguing that droughts and floods due to melting ice on mountain snowcaps helped to fuel discontent in rural Afghanistan. The report was criticized by conservative commentators who have alleged that the impact of climate change has been exaggerated. However, the phenomenon's effects have also been linked to upticks of unrest in other countries such as Syria.
And while the Taliban have been accused of involvement in climate-harming activities such as illicit logging and mining, the group has for years presented itself as a supporter of green initiatives such as tree-planting and environment protection.
While the Trump administration set out to downplay the threat of climate change, Biden and his officials have placed the issue at the forefront of their agenda, recommitting to the Paris Climate Agreement signed by every other country in the world, including Afghanistan, and appointing a new special presidential envoy position headed by former Secretary of State John Kerry. The president also hosted a leaders' summit in April on climate that included even top rivals Chinese President Xi Jinping and Russian President Vladimir Putin.
And though the Taliban have expressed their concern for the environment and its future, the group's takeover place it effectively in control of what's estimated by the U.S. Geological Survey to be up to $1 trillion in mineral resources. The reserves include lithium, an increasingly sought-after rare mineral, which may attract further investment from regional countries such as China, which already dominates the rare-earth market critical for producing modern technology.
On Monday, Chinese Foreign Ministry spokesperson Wang Wenbin hinted at the possibility of Beijing providing economic support for Taliban-led Kabul once the situation calms.
"China always pursues a friendly policy toward the entire Afghan people," Wang said. "For a long time, China has provided much assistance in economic and social development in Afghanistan. China hopes to see an early end of turbulence and restoration of economic and financial order in Afghanistan. China stands ready to continue to play an active role in promoting peace and reconstruction in Afghanistan, and helping the nation to enhance the ability to achieve self-development and improve people's livelihood."