Sending $1,400 Stimulus Checks Is 'Right Thing to Do,' Says Treasury Secretary Janet Yellen
Treasury Secretary Janet Yellen has said that sending $1,400 stimulus checks to Americans hurt by the COVID-19 economic downturn is "the right thing to do."
She made her comment at a Monday virtual event hosted by The New York Times while discussing President Joe Biden's $1.9 trillion economic stimulus package. The House is expected to vote on the package, which includes the checks, this week.
Speaking of the $1,400 payments, Yellen said, "That really helps to make sure that pockets of misery, that we know exist out there, that aren't touched by more targeted things, that help is provided there as well. I believe we're going to be better off for it, and that it's the right thing to do," according to The Hill.
The legislation would give a $1,400 payment to single people who earn less than $75,000 a year or a $2,800 payment to married couples who earn less than $150,000 a year. Individuals and couples who make more would receive smaller payments. Individuals who earn over $100,000 annually and couples that earn over $200,000 annually wouldn't receive checks.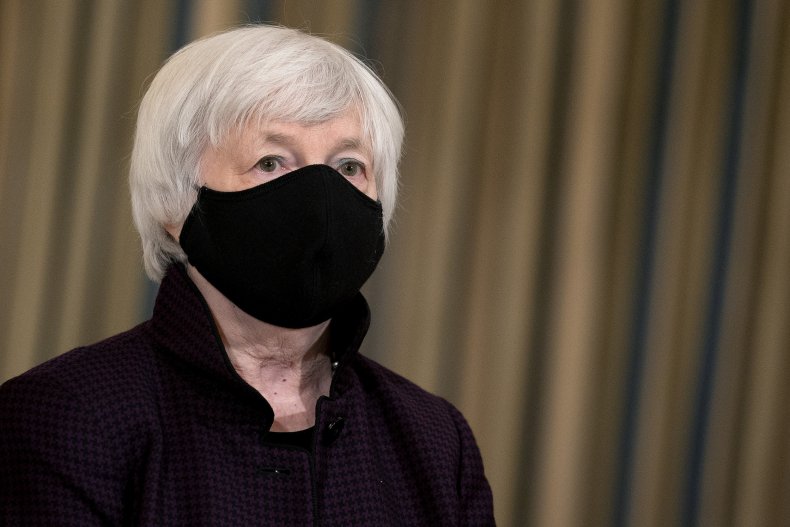 On Friday, Biden said that his administration remains "committed" to issuing the checks. He said the checks will arrive "as soon as Congress passes my legislation."
The checks themselves have become contentious among congressional lawmakers, with some Republicans calling the direct payments too costly.
On Friday, House Democrats released the full text of their $1.9 trillion coronavirus relief bill, which included the $1,400 direct cash payments for Americans who qualify. House Minority Speaker Nancy Pelosi has said that Congress would pass the $1,400 checks "before the end of February."
But in an email to Republican House representatives sent last week, House Republican Minority Whip Steve Scalise of New Orleans urged party members to vote "no" to the bill. The bill is likely to be approved by the Democratic-led House regardless.
Though the plan lacks Republican support in the Senate, Democratic leaders have said they may use the budget reconciliation process to pass the bill without Republican support. Doing so would bypass the Senate filibuster and allow the bill to be passed with a simple majority vote.
Approximately 53 percent of Republicans support passing Biden's entire stimulus plan. Among that percentage, 50 percent cited the stimulus checks as the reason they most support Biden's plan, according to a survey released last Thursday by the Democratic polling organization Navigator Research.
On February 1, a group of economists and think tank leaders wrote a letter urging Congress members to quickly pass Biden's $1.9 trillion proposal.
"The risk from providing too little in relief and economic recovery far outweighs the risk of providing too much. We urge you to act quickly to pass a robust pandemic relief package to control the virus, address hardship, and boost the economy," their letter concluded.
Newsweek contacted Yellen for comment.