Seth Meyers Mocks 'Sociopath' Donald Trump Over Rally Claims: 'It's a Pandemic'
Late-night hosts have had a field day mocking Donald Trump this week following the president's leaked phone call with Georgia Secretary of State Brad Raffensperger.
The phone call has been widely ridiculed and been deemed an "impeachable offense" and now Seth Meyers is taking aim at Trump's claim during the call that he should have won the election because he had larger attendances at his campaign rallies.
"I know Trump is going to keep giving rallies after leaving office, because it's either that or pay for therapy, but it just won't be the same," Meyers said in his Tuesday monologue on Late Night With Seth Meyers.
The NBC host joked that going to a Trump rally after he leaves the White House will be like going to a Grateful Dead concert, "but it's nothing but old people dancing with knee braces on, and it ends at 9:30 p.m., and instead of joints they're passing around a tube of Fixodent."
He added: "As president, Trump has power but, in two weeks, he'll just be a guy hosting a show from whatever rental van they shoot NewsMax out of, ranting about low-flush toilets and meaningless celebrities from the 90s."
During the phone call to Raffensperger, Trump said it was clear that he had won Georgia because of the large attendance at his rallies.
"We won very substantially in Georgia," the president said. "You even see it by rally size, frankly. We'd be getting 25-30,000 people a rally and the competition would get less than 100 people."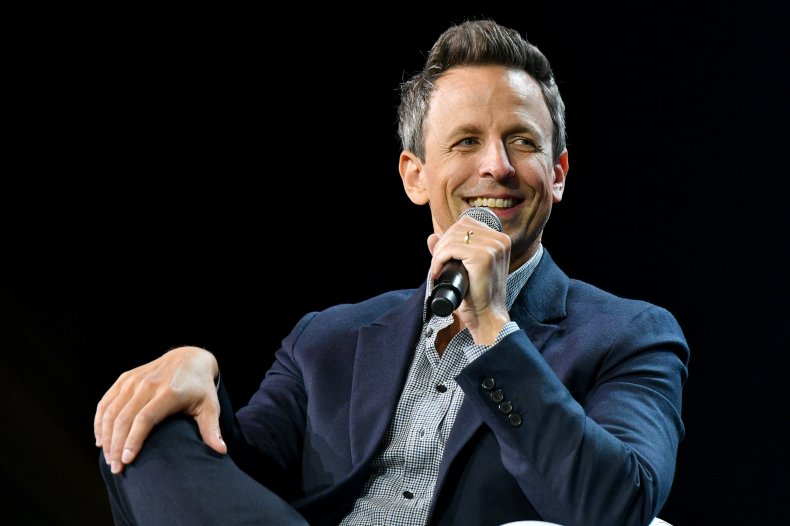 "First of all, Biden had smaller crowds at rallies because it's a f****** pandemic, you sociopath," Meyers said of Trump after playing the tape of the call.
"The reason Biden didn't need big rallies is because people weren't going to vote for him, they were going to vote against you."
He continued: "One of the reasons they were voting against you was because of the way you behaved at rallies. So, the irony is, Biden did have giant rallies. They were just yours."
Meyers' mockery of Trump follows many late-night monologues on Monday, with Jimmy Fallon, Jimmy Kimmel and James Corden also ridiculing the president's pleas to Raffensperger.
Stephen Colbert labeled the call "jaw-dropping."
"This call is like if Watergate and the Ukraine scandal had a baby that they made on the Access Hollywood bus," Colbert said. "When you're a star they let you do it."