Shania Twain Says Dinner With Oprah Turned 'Sour' When Discussing Religion
Shania Twain has said how a discussion about religion almost ruined a dinner with Oprah Winfrey.
The country-music superstar and the broadcaster have worked together many times over the years for interviews and even a documentary, but Twain said during a podcast appearance on Wednesday that their conversation once turned "sour" when the topic of God was raised at the dinner table.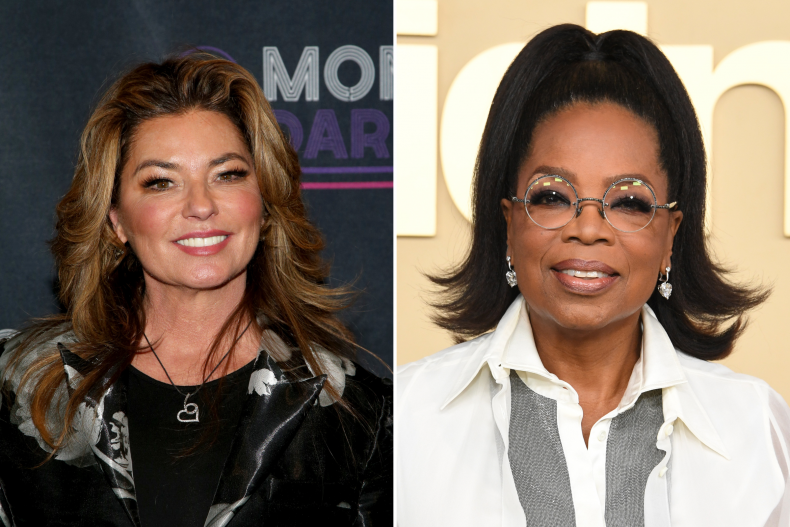 "I think one of my most memorable dinners was with Oprah Winfrey," Twain said in an episode of the Table Manners podcast with Jessie Ware and her mother, Lennie.
The 57-year-old singer said that she and Winfrey, 68, ate at a restaurant, and added: "She's such a smart lady."
On this particular occasion, Twain learned the age-old lesson—never discuss politics or religion at the dinner table.
SUBSCRIBE TO THE PARTING SHOT WITH H. ALAN SCOTT
ON APPLE PODCASTS OR SPOTIFY
"It was great to just sit and have real talks, but as soon as we started talking about religion, it all went sour. So, I said, 'Let's stop talking about religion!'" Twain said. "She is quite religious."
The "You're Still The One" hitmaker added: "I'm not religious in the sense that I'm dedicated to a religion. I'm much more of a spiritual person. I would say I'm a seeker."
It's unclear when this specific dinner took place, but Twain hinted that it was in the '90s.
Noting the famous adage, Twain said: "Everyone always says, 'Never talk about politics or religion.'"
She recalled that the discussion about religion with Winfrey "just wasn't debatable."
"There was no room for debate, and I like to debate," Twain said. "Canadians like to debate everything. So, I'm like, 'Oh, OK. It's time to change the subject.'"
Twain was the subject of a Netflix documentary earlier this year titled, Shania Twain - Not Just A Girl, and is set to release her latest album in 2023.
Earlier in September, she released an '80s-inspired single called "Waking Up Dreaming" and posed topless for the artwork.
"I styled that photograph myself. It was all about taking off the bra, taking off the shirt, tying the shirt around my waist," Twain said to U.K. newspaper The Sun. "This is a statement of being comfortable in my own skin and just being really myself."
Twain added: "You have to be strong. I never really get angry with criticism. You can't please everybody. That's normal."
Of her upcoming album, Twain said: "This album is very chirpy, and I'm very frank with my lyrics on it, so it's not a fluffy, lyrical album. It's a happy album."