Shark-Hunting Tournament Planned in Florida Sparks Outrage
A shark-hunting tournament has been arranged by local fishermen in Jupiter, Florida, leading to anger and protests by wildlife activists.
Fisherman Corey Hexter posted on social media a flyer for the event, which is due to occur on July 9, 2022. Participants are asked to pay $100 per boat, and will apparently receive cash prizes for the top three heaviest sharks caught. The tournament is being hosted by WarBird Tournaments LLC, according to a petition calling for its cancellation.
"Finally we can do something about this problem," said Hexter in the caption of the post. "NOAA [National Oceanic and Atmospheric Administration] and other marine biologist on-site to study and take reports of shark problem."
Local wildlife activists and concerned public members reacted with anger in the comments.
"Please don't do this," read one comment, with another saying: "This is the stupidest thing I've ever heard of. The sharks LIVE in the OCEAN! They have a right to be there. You do not."
State regulations stipulate that harvestable sharks are limited to one caught per person and two per boat, but many are concerned that the participants won't stick to these limits. A petition has been set up by OneProtest, an advocacy organization, to protest the tournament, and has over 110,000 signatures at time of writing.
Rayna O'Nan, a local underwater photographer for Ocean Rays Photography, told WPTV: "We are scared of the damage to the ecosystem that this tournament will do. Sharks are incredibly important. They are apex predators that control the populations from the top down."
Other divers are also concerned about the effects this tournament will have on the local ecosystem.
"This is mainly a money-making scheme, similar to 'legal' trophy hunts in Africa," Raven Lynette, a diver and shark campaigner from California, told Newsweek. "The people who pay for these permits are mainly fishermen that are uneducated on the importance of sharks or simply think that the sharks are the enemy competing with their catch. They are not interested in 'research.' No observer is required for these tournaments, making it easy for fishermen to kill and sink protected species. Also, there is ZERO reason to kill sharks, regardless of their protected (or not) status. As a whole, they are rapidly declining."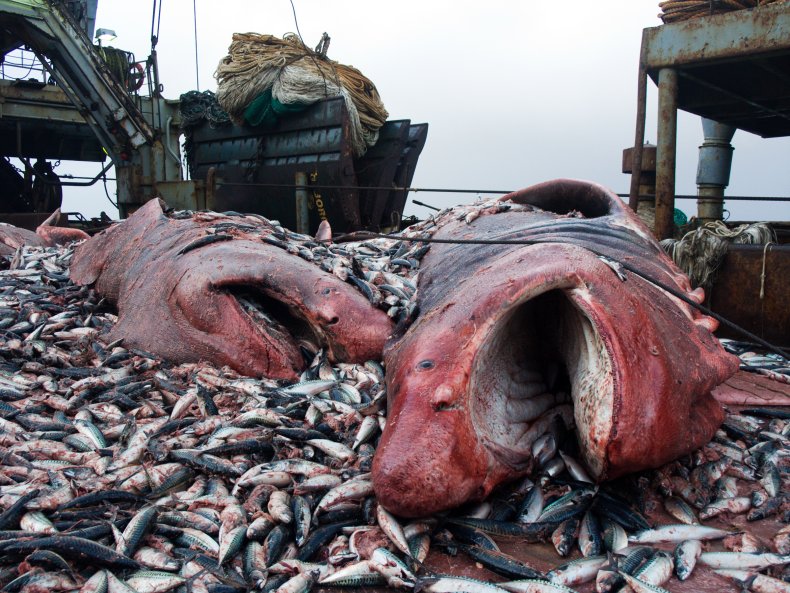 Jason, the tournament organizer, said that there was no problem with the tournament, and if anything, it would prevent the local sharks from eating the fishermen's catches.
"We can't get anything to the boat now without it getting taken by a shark," he told WPTV. "It's not even going to put a dent in the actual population that's out there. We're only targeting the bull shark species for the scale."
Even if the participants only harvest bull sharks, these sharks are classified as vulnerable on the International Union for Conservation of Nature (IUCN) red list, and their populations are in decline. Overall, 100 million sharks of all species are killed by major fishing countries every year, contributing in part to the observed population decline of over 70 percent over the last 50 years, according to Greenpeace.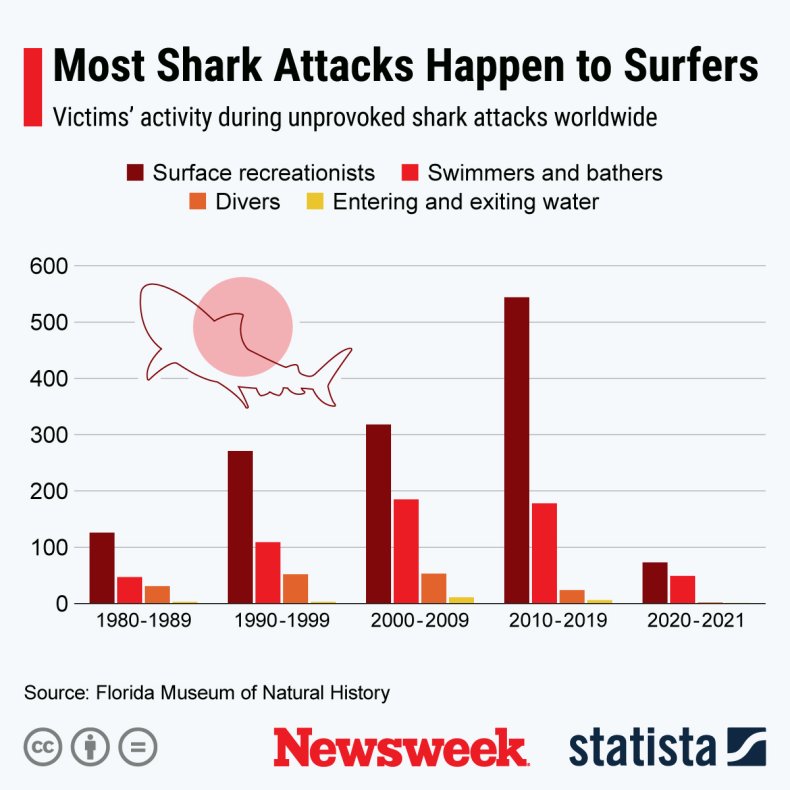 This chart, provided by Statista, shows victims' activity during unprovoked shark attacks worldwide.
Newsweek contacted NOAA for comment regarding the claim that a NOAA representative would be on site at the tournament.
Katie Wegner, a spokesperson for NOAA, told Newsweek: "NOAA Fisheries does not operate or sponsor any fishing tournaments for Highly Migratory Species including sharks. The tournament organizers are aware of the federal shark regulations for each vessel. All participants are expected to follow the rules of the tournament, as well as all relevant state and federal regulations. Vessel owners and operators who do not follow state and federal regulations may be subject to enforcement actions. NOAA Fisheries manages all of these species to end overfishing and rebuild populations. This is consistent with the Magnuson-Stevens Fishery Conservation and Management Act, the foundation of all domestic fisheries regulations."
The Florida Fish and Wildlife Conservation Commission (FWC) said that it was aware of the tournament but that it wasn't in its power to shut it down.
Emily Abellera, a spokesperson for the FWC, told Newsweek: "We are aware of an advertised shark-fishing tournament scheduled for southeast Florida on July 9. Fishing tournaments in Florida do not require approval by the FWC; however, they must comply with state and federal fishing regulations. As fishing tournaments do not require permission from FWC, FWC does not have the authority to 'cancel' fishing tournaments. FWC does not sponsor such events but may communicate with tournament officials regarding marine fisheries regulations, best practices, or opportunities for scientific data or samples to be obtained through tournament activities."
They do say that they will be sending FWC officers to ensure that the fishermen are catching the correct numbers of the correct species.
"FWC Law Enforcement is also aware of the tournament and will continue to patrol and protect the waters and resources of the state. Officers will incorporate these activities into their daily patrol plan and as usual, will take appropriate action to address any violations that are discovered," Abellera said.