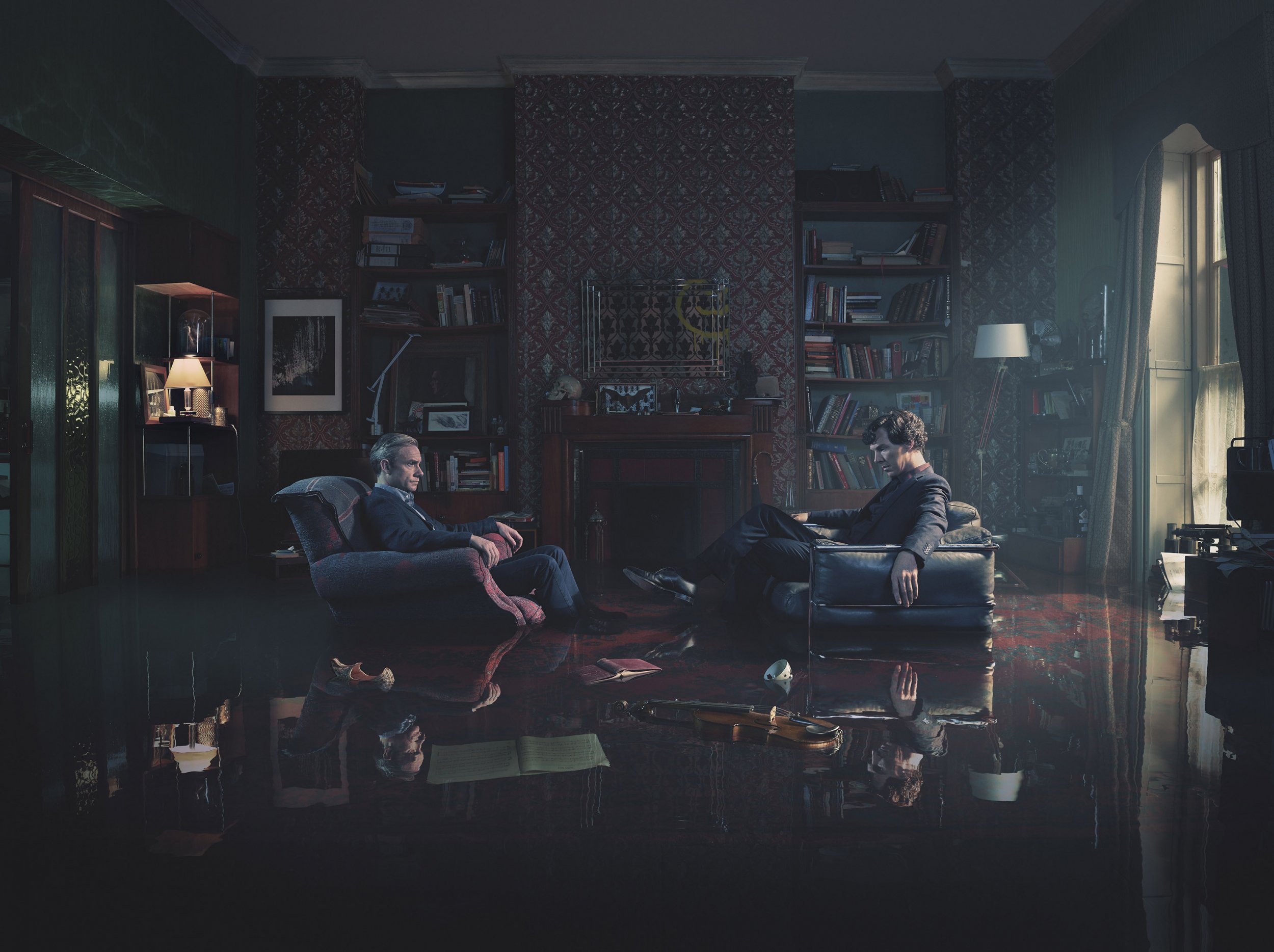 Since it began in 2010, Sherlock, Steven Moffat and Mark Gatiss's cinematic, modern-day adaptation of Arthur Conan Doyle's detective stories, has gained a cult following—on Tumblr, memes devoted to Benedict Cumberbatch's unpredictable, quicksilver Sherlock and Martin Freeman's weary sidekick Dr. John Watson can feel unavoidable.
But its stars' popularity could be its undoing: Season four, premiering on New Year's Day in the U.K. and U.S., was almost impossible to make because both actors are so in demand, in Hollywood and elsewhere. Could this be Sherlock's last case?
Season four picks up two years after Sherlock's last full outing, and a year after one-off special The Abominable Bride provided a brief departure from the modern day narrative—transporting Holmes and Watson to the 19th century Victorian London. This time, the three new 90-minute episodes include Watson and wife Mary (Amanda Abbington) becoming parents to baby daughter Rosamund. But the big question is how Sherlock will address the season three cliffhanger in which the super-sleuth's archnemesis Moriarty (Andrew Scott) seemingly returned from the grave to challenge Sherlock and Watson one last time.
To find out all about Sherlock season four, Newsweek picked up its magnifying glass and interrogated Moffat and Gatiss. [This interview has been condensed and edited for clarity.]
Newsweek : You've teased that this season will be a "story about to reach its climax." Is this really the end, or just another one of your famous red herrings?
Steven Moffat: You were always going to say that, weren't you? We don't actually know. We thought [season] three would be the last one.
Mark Gatiss: We did The Abominable Bride , because we couldn't get everyone together for a [full season]. Everyone would love to carry on—the will is so much there.
Logistically, how hard is it getting Cumberbatch and Freeman back to film Sherlock ?
Moffat: It's difficult. It's not impossible because we don't need that much time from anyone. But it's finding the right gap. If Benedict or Martin get a life changing film offer and it's standing in opposition, not to Sherlock [as a whole], but to [season] three, four, five—you think, well, Sherlock 's done its job. It's a tribute to their loyalty and to the vitality of show that they do it at all. They've nailed those parts, that's never going away...you get to keep that fan base and adoration whether or not you make it.
The stakes are raised this time: Last season ended with Sherlock's nemesis, Moriarty, haunting him from beyond the grave. How did you avoid spoilers when you filmed in London?
Gatiss: We were filming on a Bank Holiday Monday, so it was quite spoilery, but there was literally nobody. I was thinking at the time: "If somebody walked by now…!" And nobody did. I don't know if people are attuned to the idea we might be spinning them deliberate red herrings.
This season is the first time Sherlock has hired a female director, Rachel Talalay, to helm the first episode, "The Six Thatchers." Was it important to have a more diverse directing pool?
Gatiss: It wasn't a conscious decision. She's done wonderful work on Doctor Who , so she was a natural choice and she was keen to do it. You want people that want to make it. There's no box-ticking. She was just the best person for the job. We've interviewed a lot of directors over the years. You meet ones that say, "I've seen a couple of them." There's only 13 [episodes] now. You want someone to say, "I love this show, I want to do this show."
In the first episode, six busts of Margaret Thatcher are suspiciously broken. Is there a political comment there, in this post-Brexit world, or is it just a coincidence?
Gatiss: I've been writing this since last August. Thatcher is a natural substitute for Napoleon. [The story is based on Conan Doyle's 1904 Sherlock story The Adventures of the Six Napoleons.] We wanted to have fun with it and update it.
Steven, you recently criticized the government decision to reveal the salaries of BBC stars paid over £150,000. If, hypothetically, Cumberbatch and Freeman did not want their salaries on Sherlock revealed, would you take the show elsewhere, like Netflix?
Moffat: Would we take it away from the BBC? No. I can't see it. I'd be against that. It's been a BBC show, they supported it in the first place. If Benedict or Martin or any of us were that greedy we'd already not be doing the show. We've all had better offers.
Have you an idea of how the plot would develop in a fifth season?
Moffat: We've had the most sketchy discussions on what we'd do.
Gatiss: We have an idea for season five on a Post-it note. That's as far as we've got. Unless I'm lying?
'Sherlock' season four begins January 1 on BBC One in the U.K. and PBS in the U.S.