Should Europe Accept Russian Refugees Fleeing Putin's Draft?
Russian men susceptible to President Vladimir Putin's partial mobilization are fleeing the country in hordes, and some European countries are wary of accepting the refugees.
Putin announced a partial mobilization on Wednesday that requires 300,000 men with military experience to join the war efforts against Ukraine. Russians protested the announcement, calling for Putin to be sent to the trenches, and men fled the country in such droves that it caused flight prices to skyrocket and tickets to sell out.
Those who managed to leave the country may have avoided being sent to war, but they might find difficulties entering certain European countries.
European View on Russian Immigrants
According to an article by Euronews, countries in the European Union are working together to establish a common stance on Russians seeking refuge. However, some countries have taken stark opposition to Russians crossing their borders.
Latvia, Lithuania and Estonia leaders have spoken out against Russians seeking refuge and have already closed their borders to Russians.
Latvia Foreign Minister Edgars Rinkēvičs cited security concerns in a tweet posted Thursday morning. Since Russian citizens were "fine with killing Ukrainians," Rinkēvičs said it was not right to "consider them conscious objectors."
Michael Kimmage, who served on the Secretary's Policy Planning Staff at the U.S. Department of State, told Newsweek certain doors to European countries may remain closed to Russian immigrants until Russia "changes gears" in its efforts against Ukraine.
"If countries feel an existential threat from Russia, they don't see taking in young Russian men as a solution," Kimmage said. "They have a more punitive attitude, not just against the Kremlin and Russian government, but a punitive attitude at the Russian society at large."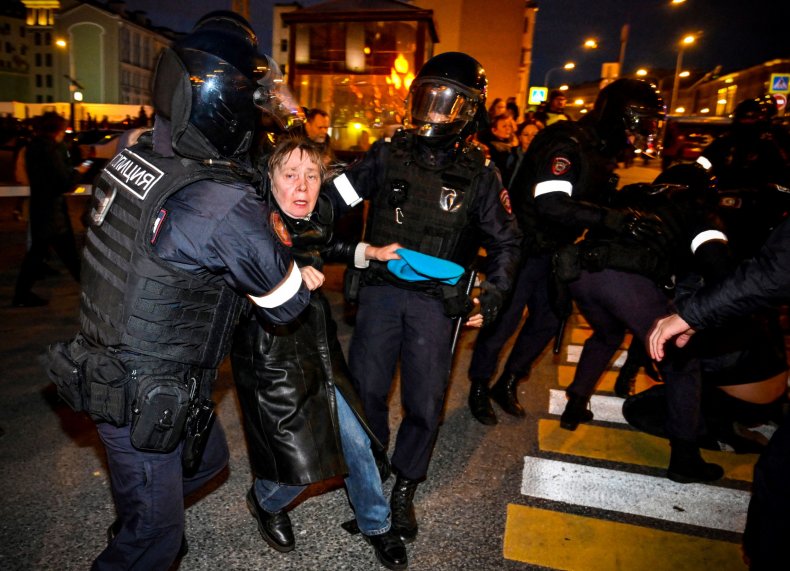 Other countries are responding to the mass influx of Russians as well, and several have voiced plans to completely restrict Russian tourists or to strengthen requirements to enter. Finnish Foreign Minister Pekka Haavisto held a news conference in New York, saying that Finland plans to stop all Russians from entering the nation on tourist visas.
Other countries are adding an extra requirement for Russians wishing to visit. The Center for European Policy Analysis (CEPA) reported that some residents in Tbilisi, Georgia, are pressuring the government to re-introduce visas for Russians visiting the country. At one bar in the South Caucasus nation of Georgia, Russians must sign a form claiming they believe Putin is a dictator and that they condemn Russia's actions against Ukraine among other topics.
Others still are welcoming Russians with open arms. German Justice Minister Marco Buschmann tweeted Wednesday that "anyone who hates Putin's path and loves liberal democracy is warmly welcomed in Germany," including Russians leaving their homeland, although Russians need a visa to enter Germany.
A Threat to the Economy?
Security risks might not be the biggest challenge countries face if they open their doors to Russian immigrants, according to Kimmage. Rather, it's if Russian immigrants will be able to integrate themselves into a new economy somewhere in Europe.
Ileen DeVault, a labor history professor at Cornell University, told Newsweek it will be "hard to know" the impact of Russian immigrants on European countries.
"[The impact] will vary in every single case," she said. "We don't know what [the Russians'] skills are and don't know what the country they are going to needs. They are leaving so fast at this point, there's not a lot of time for planning on either side."
Kimmage said political asylum applies in the case of Russians fleeing their country to escape the draft, but how the Russians will provide for themselves when starting anew in a foreign country is up for debate. Kimmage said that the Russians who had access to significant financial resources already left Russia when the war began in February.
"Hundreds of thousands have already left––white collar professionals and working-class Russians. The logistical problem is how they can provide for themselves [upon arriving in a new country]," Kimmage said.
Who Will Open Their Doors?
It is uncertain which European countries will accept Russian refugees, but DeVault expects countries that opened their doors to Ukrainian refugees to do the same for Russians fleeing the draft.
"My guess is that they will have similar feelings of this as a way they can help people who are caught in impossible situations," DeVault said.
DeVault compared the situation to the Vietnam war when Americans fearing the draft fled to Canada.
"It adds a whole political cast to the entire immigrant experience that is not there normally," she said of the draft.
Some pro-immigration groups are providing information for Russians who are seeking asylum in other countries. Pro Asyl, a German pro-immigration group, wrote a slew of tweets educating people on the matter.
"At first—you cannot apply for asylum from abroad. Only those who are already in Germany can apply for asylum. Russian citizens need a visa to enter Germany legally," Pro Asyl tweeted Friday afternoon.
Pro Asyl also announced there would be no deportations from Germany to Russia.
On the other hand, while many countries readily accepted Ukrainian refugees, some countries threatened by Russia may hesitate when allowing Russians to cross their borders because of their beliefs that the Russians should resist Putin's actions and fight back.
"In Estonia and other European countries, there's a sense these people should stay in Russia to resist and push back against Putin and that to take them into Europe is unfair," Kimmage said.
DeVault told Newsweek that how a country views Russian citizens is a key factor in how those refugees will be treated if they arrive in a European country. She said it will be tough to estimate all the hurdles a Russian immigrant might face, such as needing to navigate a country that speaks a different language while also working against prejudices. She compared the situation to governors in southern U.S. states busing Mexican immigrants north.
"We certainly see asylum seekers here in the U.S. facing real difficulties," she said. "Many of those are immigrants who are seeking asylum from a very different situation. It's not as well-known of a crisis as in [Russia], but they too are looking for ways to come to a safer country."