Saturday Night Live used a sketch about a vaccine game show to roast several embattled politicians.
The show's cold open saw Kate McKinnon reprise the role of Dr. Anthony Fauci to host a game show called "So You Think You Can Get the Vaccine."
Describing herself as "America's voice of reason and celebrity hall pass for some reason," McKinnon's Fauci explained there was much confusion about who could get the coronavirus vaccine.
The show would "give everyday Americans a chance to vie for vaccine eligibility," she said. "Getting the vaccine shouldn't be a competition, but Americans will only want to get it if it means someone else can't."
McKinnon's Fauci then introduced the panel of judges who would decide the fate of the show's contestants.
First up was California Gov. Gavin Newsom, who she said was "hated by every single person in California except those 10 people he had dinner in Napa that one time."
Alex Moffat, who portrayed Newsom, then provided a status report on his state. "Teeth? White. Bodies? Tight. COVID? Pretty bad," he said.
McKinnon then introduced New York's scandal-hit governor, Andrew Cuomo, saying that he was "currently under fire for futzing with old dead people and also the kind of sexual harassment allegations that make you go, yeah, I could see that."
Pete Davidson, playing Cuomo, greeted the audience, saying, "Yes, hello... nice bodies, some of you."
He added: "I know, I know, I'm in the friggin' dog house again. Remember when your favorite movie was my PowerPoints? Remember, 'Today is Tuesday'? Why can't we go back to that? I mean, come on!"
The third judge was Michigan Gov. Gretchen Whitmer, played by Cecily Strong.
McKinnon's Fauci said she had "narrowly escaped being kidnapped by a group of men whose fingerprints probably had Cheetos dust on them."
Strong's Whitmer, compared herself to the other governors by saying: "People yell at them about their policies, and they yell at me, 'Get her!' But hey, that's life."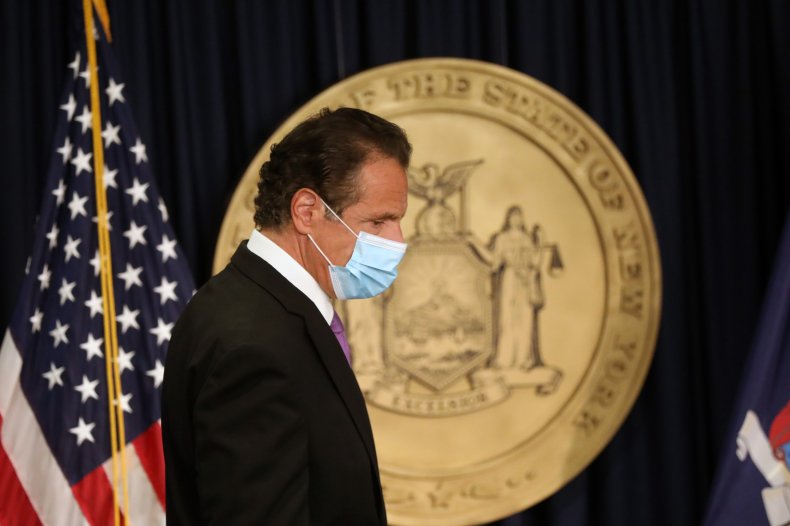 Then came a series of contestants that sought a vaccine—Heidi Gardner as a woman who claimed she was an essential worker because she does IT for the OnlyFans website; Ego Nwodim in a gray wig pretending to be a very old woman and Bowen Yang as a man claiming to be a lifelong smoker from New Jersey.
All three were rejected, but a pregnant Melissa Villaseñor was told she could receive a trial Kirkland Signature vaccine, which was developed by Costco that came with a free pack of 24 hot dogs.
Then, Aidy Bryant returned as Texas Sen. Ted Cruz and made jokes about his widely criticized trip to Cancun during his state's winter weather crisis.
"It is great to be back in New York City," she said. "I'm sorry, my arms are tired. Because I just flew back from Cancun, Mexico. But can you really blame a brother for wanting some sun?"
Finally, the contestant deemed eligible for a proper vaccination was Mikey Day, playing an 85-year-old former Army doctor and grandfather.
However, he was told he needed to make his appointment online.
The judges suggested the man enlist the help of a young person, with Davidson's Cuomo suggesting that person spare at least three days to it refresh on the website.
"But if you do feel sick, make sure you leave the nursing home and get to the hospital. Wink," Cuomo added.
McKinnon's Fauci then informed everyone that the power had gone out at a nearby CVS. "The vaccines are all going to expire so it's first come, first stab," she said.