Texas Senator Ted Cruz's approval rating took a major hit following last week's Cancun trip fiasco, according to a Yahoo/YouGov poll. The poll, released Wednesday, found that 24 percent of voters approve of the Republican senator's job performance, while 49 percent disapprove.
The poll was conducted from February 20 to 22 following the severe winter weather conditions that left many Texas residents without power or water. The poll, which surveyed over 1,500 adults across the U.S., has a 2.9 point margin of error.
Among Republicans, Cruz's approval rating sits at 53 percent, a 23-point decrease from his January rating in a Morning Consult poll. In that survey, conducted from January 9 to 18, 76 percent of Texas Republicans supported him.
The drop in the senator's approval follows his decision to leave Texas for a trip to Cancun, Mexico, while millions of Texans were without power and water amid severe winter weather conditions last week.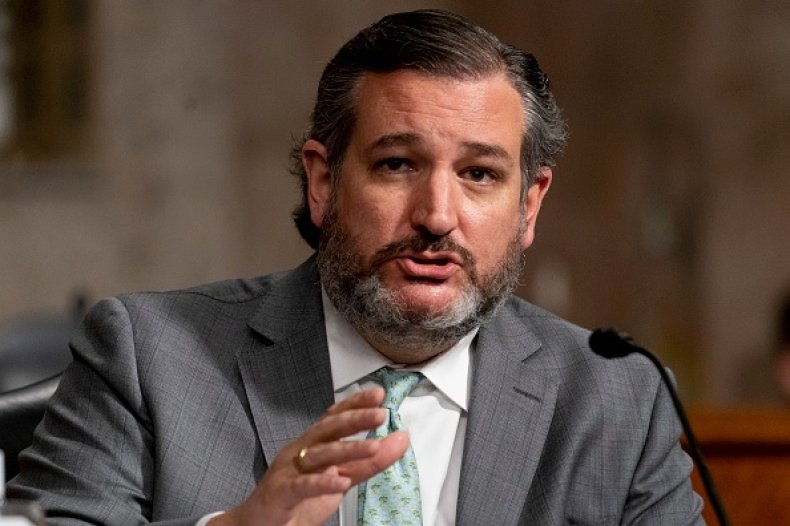 After the news broke about his vacation, Cruz quickly booked a return trip to Texas and apologized for leaving Texas.
"This has been an infuriating week for Texans. The greatest state in the greatest country in the world has been without power," Cruz said in a February 18 statement. "Like millions of Texans, our family lost heat and power."
He continued, "With school canceled for the week, our girls asked to take a trip with friends. Wanted to be a good dad, I flew down with them last night and am flying back this afternoon."
He added that he was in "constant communication with state and local leaders to get to the bottom of what happened in Texas."
Despite Cruz's statement, he faced a significant backlash for his trip. Protesters called for his resignation, and a local business mocked the senator by making a piñata of him wearing the same outfit he was photographed in on his return trip from Cancun.
Cruz, however, was losing support before his Cancun controversy. The senator had an 81 percent approval rating among Republicans in a Morning Consult survey conducted from December 27 to January 5. That number dropped 5 points to 76 percent later in January, following his decision to object to the congressional certification of President Joe Biden's Electoral College votes on January 6.
Cruz and other Republican lawmakers who objected to the certification were criticized for inciting the violent mob that attacked U.S. Capitol that day. Cruz was last elected in 2018 and is up for reelection in 2024.
Newsweek reached out to Cruz's office for comment but didn't hear back in time for publication.