Somalia: At Least 13 Killed in Double Suicide Bombing Near Mogadishu Airport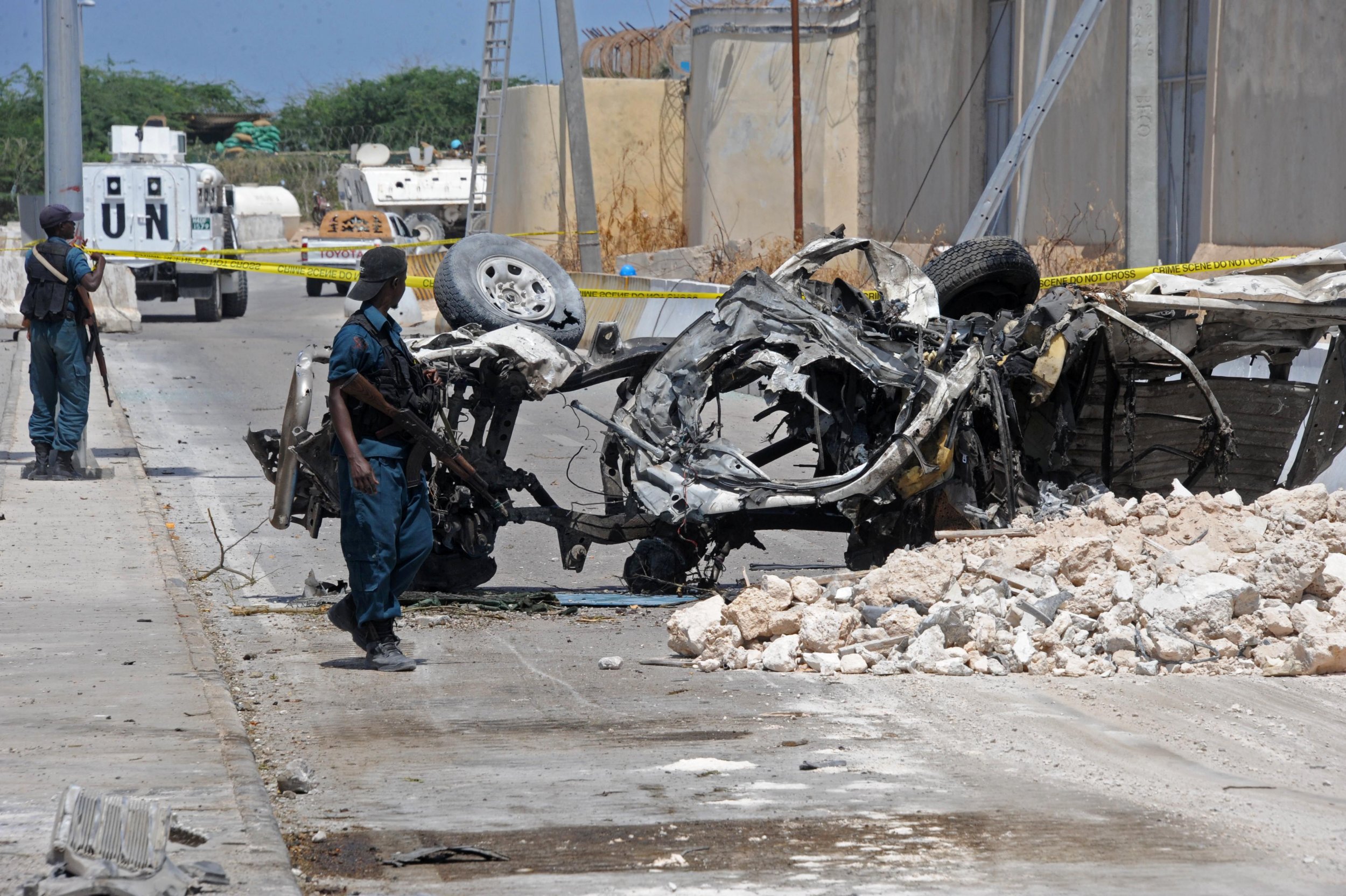 A twin car suicide bomb attack close to the international airport in Somalia's capital Mogadishu has killed at least 13 people, according to Somali police.
Thick plumes of white smoke have been pictured rising from the area near the Aden Adde International Airport on Tuesday. A base for African Union (AU) peacekeepers deployed as part of a mission in Somalia known as AMISOM is also located in the affected area. AMISOM confirmed via its Twitter account that there have been "two bomb explosions at checkpoints near entrances to its base" at Halane, a diplomatic compound in Mogadishu, and condemned the "senseless attacks that aim to disrupt and cripple the lives of ordinary Somalis."
Al-Shabab, a Somali militant group affiliated to Al-Qaeda, claimed responsibility for the attack and said it was targeting the AU force's headquarters, the BBC reported. Somali police chief General Mohamed Sheikh Hassan said at a press conference on Tuesday that the first suicide bomber attempted to break through the barrier at a United Nations office but was shot dead by security guards, while the second bomber targeted a checkpoint near the AU base, AP reported.
Despite being driven out of the capital, Al-Shabab increased its attacks in 2016 ahead of planned elections in the Horn of Africa country once the current government's mandate expires in August. The group regularly targets AMISOM soldiers—in January, Al-Shabab militants attacked an AMISOM base manned by Kenyan soldiers in El Adde, near the Kenyan border. Somali President Hassan Sheikh Mohamud said that up to 200 soldiers may have died in the attack, although Kenya never provided an official death toll.
The airport area in the Somali capital is designated a secure "green zone" for United Nations operations, as well as for AMISOM and foreign embassies to operate, the BBC reported. The armed group attempted to bring down a plane leaving Mogadishu's airport for Djibouti in February, but the botched suicide bombing only killed the bomber himself. Al-Shabab has recently targeted several hotels in the capital that are known to be popular with Somali politicians and foreign diplomats.
This article has been updated with a revised casualty toll and further details of the attacks.