South Korea Is Giving Away North Korea's Expensive Holiday Gift: Wild Pine Mushrooms
South Korean President Moon Jae-in received an expensive gift from North Korea's supreme leader Kim Jong Un ahead of a holiday shared by both rival nations. Nevertheless, Moon was set to give the present away to those he felt needed it more.
Moon's press secretary Yoon Young-chan told reporters Thursday that Kim sent two tons of pricey wild pine mushrooms—known locally as songyi and in Japan as matsutake—across the border just ahead of the South Korean leader's return from their third inter-Korean summit in Pyongyang. Rather than enjoy them himself, however, Moon would reportedly distribute them among 4,000 South Koreans separated from family members in North Korea by a decades-long conflict.
"In particular, the senior citizens will be given priority among the 4,000 people, and they will receive about 500 grams of pine mushroom each before Chuseok," Yoon said, referring to the three-day Korean Thanksgiving feast set to begin Sunday.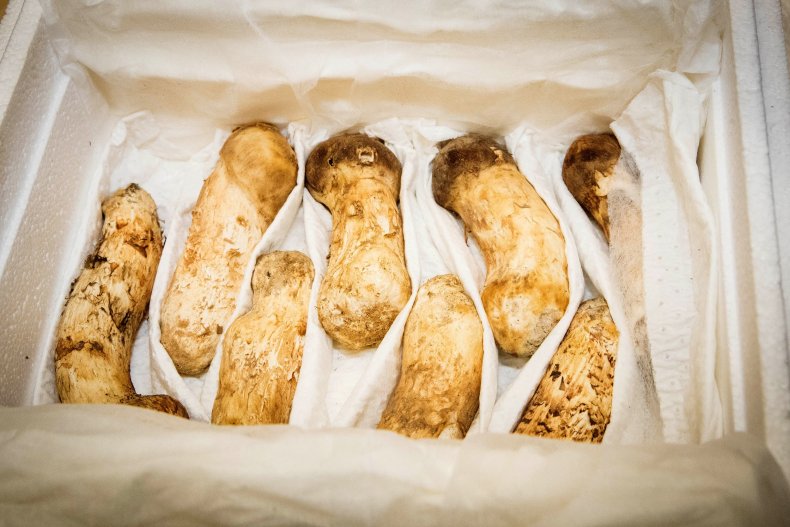 Since being separated by Cold War powers after World War II in the 1940s and going to war in the 1950s, the two Koreas have been largely isolated from one another, but both sides have made efforts to ease the pain of separated families over the decades. Political strife and the passing of time, however, has blocked many of the original 132,603 people who registered for family reunions in 1988 and only about 57,000 remain alive as of July, according to The Korea Herald.
Just 89 families were chosen last month to cross the world's most heavily fortified border last month in the first such event in three years. The resumption of family reunions came as North Korea engaged itself in unprecedented ways with Seoul and Washington, with Kim meeting Moon twice and Trump first in the first bilateral summit of its kind. Moon brought further hopes of peace following his latest sit-down with the young North Korean ruler.
"I hope these mushrooms, with the fragrance of the North preserved, can offer a little comfort," Moon said in a statement. "The day of embracing your family and seeing their faces will surely come. Please be healthy until that day."
In 2000, Kim Jong Un's father and predecessor Kim Jong Il gave South Korean President Kim Jae-dung three tons of wild pine mushrooms after the first-ever inter-Korean summit and four tons, or 500 boxes, of wild pine mushrooms to South Korean President Roh Moo-hyun after the second summit in 2007, according to The Korean Times. That batch was estimated to be worth up to $2.6 million, but prices for the rare fungus have since fallen considerably, Quartz reported in April.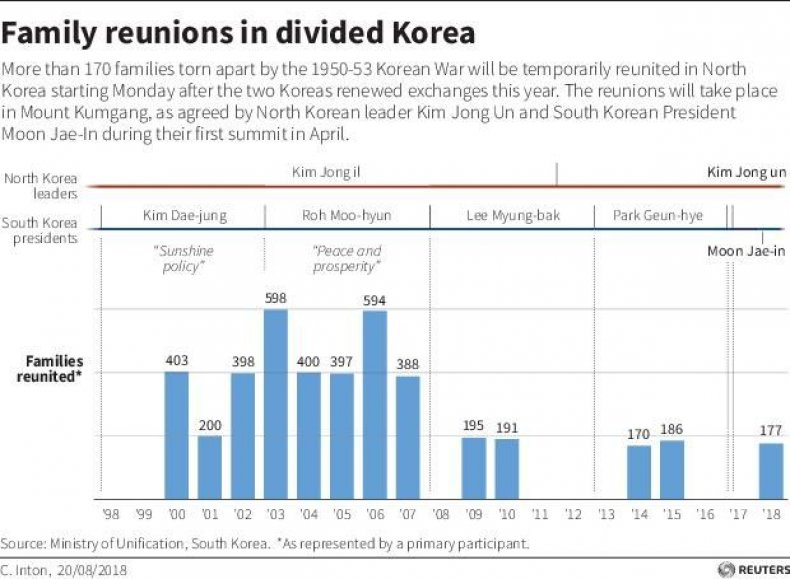 In a sign of progressing peace efforts, Kim became the first in his position to cross the border in his debut meeting with Moon in April. That summit became produced the Panmunjon Declaration—a roadmap for reunification and denuclearization—and was followed by two more such meetings, the latest of which saw the Pyongyang Declaration adopted, further propelling a mutual push to formally cease hostilities and normalize relations.
The latest summit also came at a time of stalled talks between North Korea and the U.S. President Donald Trump became the first sitting U.S. president to meet a North Korean supreme leader during the Singapore summit in June and has expressed confidence in Kim. A perceived slowdown in the pace of denuclearization efforts, however, led the U.S. leader to cancel a planned visit by Secretary of State Mike Pompeo to Pyongyang last month, but a letter from Kim himself appeared to smooth things over.
Following his return to Seoul, Moon said he had new details regarding the inter-Korean dialogue that he planned to share with Trump during their meeting next week. He also said he would discuss officially ending the Korean War by declaring peace, a move Kim has been pushing for.