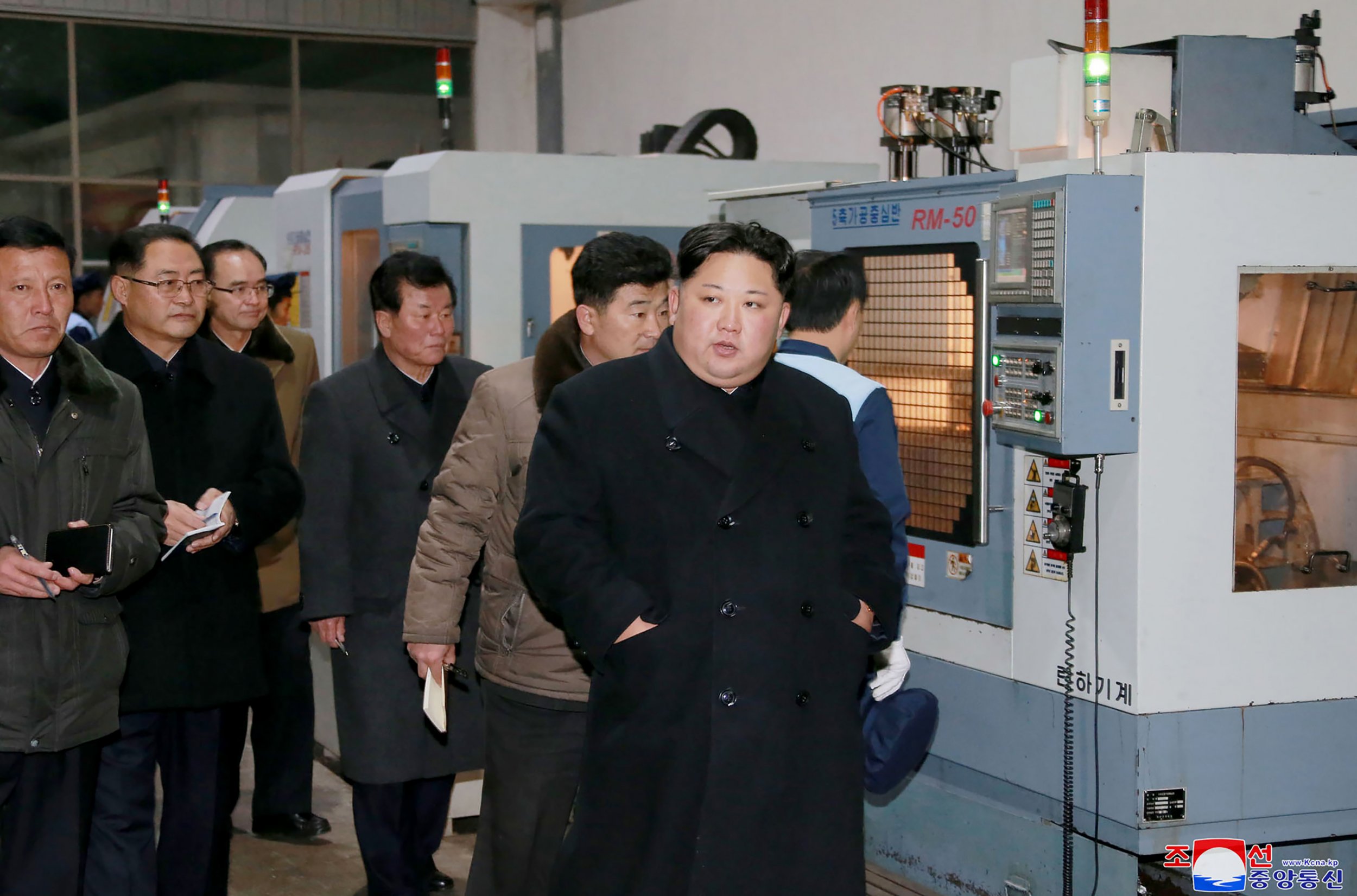 The South Korean government sounded optimistic on Tuesday about the potential for talks between North Korea and the United States in 2018, despite the tense situation over the reclusive nation's nuclear program.
"North Korea will seek negotiation with United States, while continuing to pursue its effort to be recognized as a de facto nuclear-possessing country," South Korea's Unification Ministry said in a report, without providing an explanation as to how it reached this conclusion, according to Reuters. South Korea made this prediction the same day it announced it was creating a special bureau to counter the North Korean nuclear threat.
Pyongyang conducted its sixth nuclear test in early September and has since threatened to conduct a seventh test over the Pacific Ocean. This has rattled the international community and led to discussion of a potential war between the U.S. and North Korea.
Related: Trump and North Korea: President has a 'three-in-10 chance' of starting war with Kim Jong Un, Lindsey Graham says
North Korea's ultimate military goal is to prove to the U.S. government it has developed a nuclear weapon capable of reaching the mainland U.S. There is debate among experts over whether it has reached this goal and "there may be more missile testing" before talks with the U.S. become a realistic possibility, Charles Armstrong, a historian and the Korea Foundation professor of Korean studies in the social sciences at Columbia University, recently told Newsweek.
North Korea conducted a series of missile tests in 2017. Its most recent launch in late November displayed Pyongyang's most powerful intercontinental ballistic missile yet. This test "may have satisfied the North Koreans that they have sufficient deterrent capacity," Armstrong said, which could increase the probability of negotiations between the U.S. and North Korea. But neither side has shown much interest in such talks. North Korea has refused to give up on its nuclear program under any conditions.
During a recent visit to Pyongyang, a senior U.N. envoy was reportedly told by the North Korean government it's "too early" to consider talks with the U.S. On Sunday, North Korea described economic sanctions leveled against it by the U.N. on Friday over its recent missile test as an "act of war."
Over the course of December, the Trump administration also repeatedly said the time is not right for talks. Earlier this month, Secretary of State Rex Tillerson proposed sitting down with North Korea without preconditions regarding its nuclear program. The White House promptly undermined this suggestion and Tillerson quickly shifted his position, stating no talks would be held until there was "a sustained cessation of North Korea's threatening behavior."
White House national security adviser H.R. McMaster echoed these sentiments last Tuesday during an interview with CBS, stating, "[President Donald Trump] has made very clear that on North Korea...now is not the time to talk. And what he means is, there can't be negotiations under these current conditions."
Related: South Korea creates North Korea nuclear team as crisis with Kim Jong Un escalates
Trump and North Korea's Kim Jong Un, whom the president refers to as "Rocket Man," have frequently traded threats and insults as the state has rejected all calls to step back from its nuclear ambitions. Trump has often exhibited a desire for military options over diplomacy as well, sometimes publicly contradicting his top advisers on the matter. In October, the president tweeted: "I told Rex Tillerson, our wonderful Secretary of State, that he is wasting his time trying to negotiate with Little Rocket Man..." In this context, South Korea's prediction the U.S. and North Korea will hold talks next year is arguably quite bold.