Euro 2016: Why No Nation's Pride Can Compare to That of the Welsh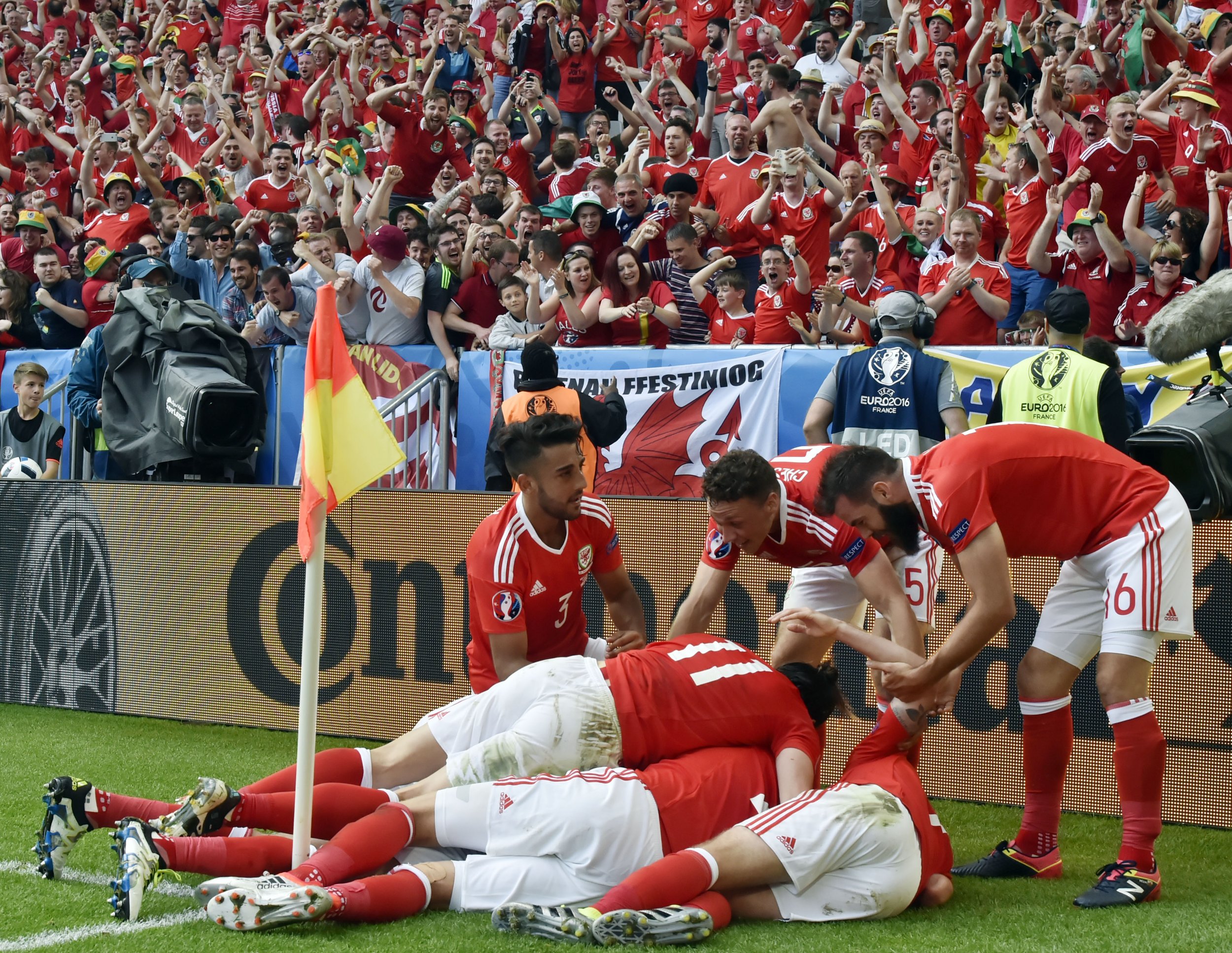 Do the Welsh show more pride and passion than any other country? If you listen to Gareth Bale, then we certainly have at least more pride and patriotism than the English. And as his deceptively good free-kick slammed into the Slovakian goal after 10 minutes last week, the pride and passion was there for all to see.
He didn't run off to celebrate by himself, he ran straight to the bench. The players, the subs and the management team all celebrating together as one.
I was at the Cardiff fanzone in Bute Park. The very fact we had the fanzone is a result of our pride and patriotism in Wales. Cardiff Council initially refused to have it. Lack of money and taking business away from the pubs were given as excuses. But there was such a hunger for the fanzone from fans that even tight-fisted Cardiff Council had to give in.
I have to say that I, and thousands of others, am so glad they did. As that Bale free-kick hit the back of the net the scenes were like nothing I've experienced before. The place absolutely erupted. People were jumping, flags were waving, the roar was deafening and some were on their knees in ecstasy. Of course, we were all soaked in beer too. It was a truly special moment.
But that was nothing compared to when Hal Robson-Kanu's winning goal went in. Here we were on one of the biggest stages not only performing, not only winning, but truly enjoying ourselves as we did it.
But why do the Welsh show so much passion for our football team?
To understand where our pride and passion comes from you have to understand our national anthem "Hen Wlad Fy Nhadau" ("Land of Our Fathers"). No other country sings their anthem with the passion of the Welsh and that's because the lyrics and melody so perfectly embody Wales. When you're singing about your poets, your ancestors, your culture surviving and the defenders of your country giving their blood for our freedom, then there is no better preparation for a match.
Then you have to understand where we've come from. After decades of near misses, or outright failure, Welsh football was in trouble. Attendances were low and interest even lower. When we failed to qualify for the World Cup and when our manager, Gary Speed, took his life, it seemed like another generation would miss out on a major tournament.
But going through these hard times made us stronger. A new group of players were coming through who had confidence and such passion when they played for their country. And it's not just the superstars like Bale and Aaron Ramsey. It's the Championship footballers playing alongside them, too.
These players' passion became infectious. Even after all the heartache the fans started to believe and they demanded new standards for the Welsh team. If the players are tiring or losing focus the fans are now there, constantly reminding them to give everything they can.
And, of course, there is no escaping that we are a smaller nation than many. It's still not uncommon to go to a different country and find people who have never heard of Wales. But, if they know anything about us, two names will usually come out of their mouths: "Ryan Giggs" and "Gareth Bale."
Football is one of the biggest expressions of popular culture in the history of humanity. It is an absolute global obsession, so playing in the Euros is a chance to put ourselves on the map.
This desire for recognition is something that feeds us. We've had to exist next to one of the most culturally dominant people in history. For centuries, English culture and customs have been imposed on or shared around the world. After living next to such a dominant people for thousands of years most cultures would have disappeared. But not the Welsh.
As the famous folk singer Dafydd Iwan captured in his epic song "Yma o Hyd" ("We're Still Here"). In spite of everyone and everything, with all the odds stacked against, we still endure as a distinct people and nation.
But make no mistake, just being here isn't enough. We're forging our own path and we're increasingly doing things our way. There's a new confidence surging through Wales that loves to take part but craves so much more than that.
We are here to win and we're here to show the world what we can do. The players and the fans, Stronger Together.
In the next few days, both England and Russia will not just come up against the players on the field. They'll have a whole nation, as proud and as patriotic as ever, willing them on to victory.
Neil McEvoy AM is a member of the Plaid Cymru party and Wales's shadow minister for sport and tourism.