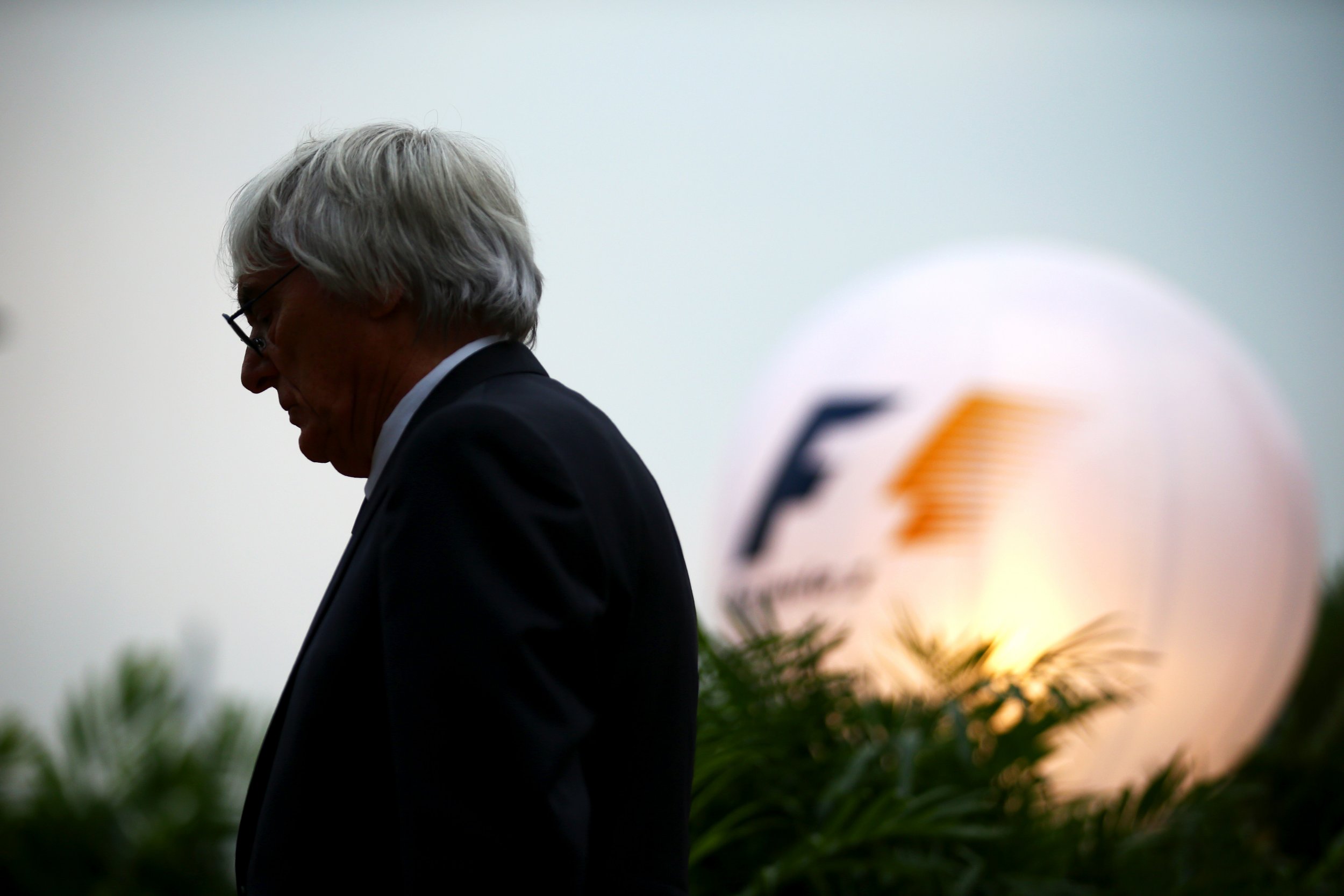 Former FIA president Max Mosley fears Bernie Ecclestone's Formula One legacy may be in jeopardy after he was removed as chief executive by the motorsport's new owner.
U.S. giant Liberty Media removed 86-year-old Ecclestone from his role as chief executive, and replaced him with chairman Chaser Carey, after completing its £6.4 billion ($8 million) takeover of the sport in January.
Ecclestone worked closely with Mosley throughout his 39 years at the head of Formula One, and Mosley insists there is uncertainty surrounding the future of the sport.
"His [Ecclestone's] legacy at the moment is going to be Formula One. How that survived remains to be seen," Mosley tells Newsweek. "Because there is now change and it may get better, it may get worse.
"For sure, it's going to change, and that may not be bad because, in a way, Formula One depends on fashion and fashion means change. It's absolutely impossible to predict whether it will be successful or not."
Mosley, who served as FIA president from 1993 through 2009, worked alongside Ecclestone as a legal advisor in the Formula One Constructors Association, formed in 1974. The 76-year-old believes Liberty has made a mistake in removing Ecclestone from his position.
"I think it's a pity," Mosley adds. "If it had been me, I would have asked him to stay on and do the things he's really good at. But it's their business, they own it. They have to decide what to do."
Liberty has appointed Ecclestone as chairman emeritus, a newly-created position, and he will remain in an advisory role to the board. But Mosley believes the title has little meaning. "I think that's like being an emeritus academic; it means he's retired," he says.
As part of the changes implemented by Liberty in Formula One, former Mercedes team principal Ross Brawn has made a return to the sport to lead the technical side. Former ESPN executive Sean Bratches has been appointed to lead the commercial side.
Mosley spoke to Newsweek at an F1 event in aid of children's charity Starlight, where Anthony Hamilton, father of Mercedes driver Lewis, also expressed his concern at the removal of Ecclestone.
"I think it's a big, big shame; I'm going to miss him," Hamilton tells Newsweek. "If it is real, because I still can't believe it, then I think it's a big shame for the sport.
"He is Formula One, isn't he? What are you going to do? Are you going to unravel the rule book? Just what are you going to do? Because I am not clear."
Hamilton is urging Liberty to take a year or two before making any drastic changes, but he believes the first aim should be to get more fans attending Grand Prix races.
"You get bums on seats, you get more people with bums on seats at home, don't you?" he says. "And I think the other important thing is we need great drivers. Not just drivers with lots of budget behind them, mummy and daddy have got lots of money… If we go [down] that route, Formula One will disintegrate in the next five years."
The 2017 season begins in Melbourne for the Australian Grand Prix on March 26.
Uncommon Knowledge
Newsweek is committed to challenging conventional wisdom and finding connections in the search for common ground.
Newsweek is committed to challenging conventional wisdom and finding connections in the search for common ground.