Kevin Durant Makes Bet With Bill Simmons Over LeBron James' Future in Cleveland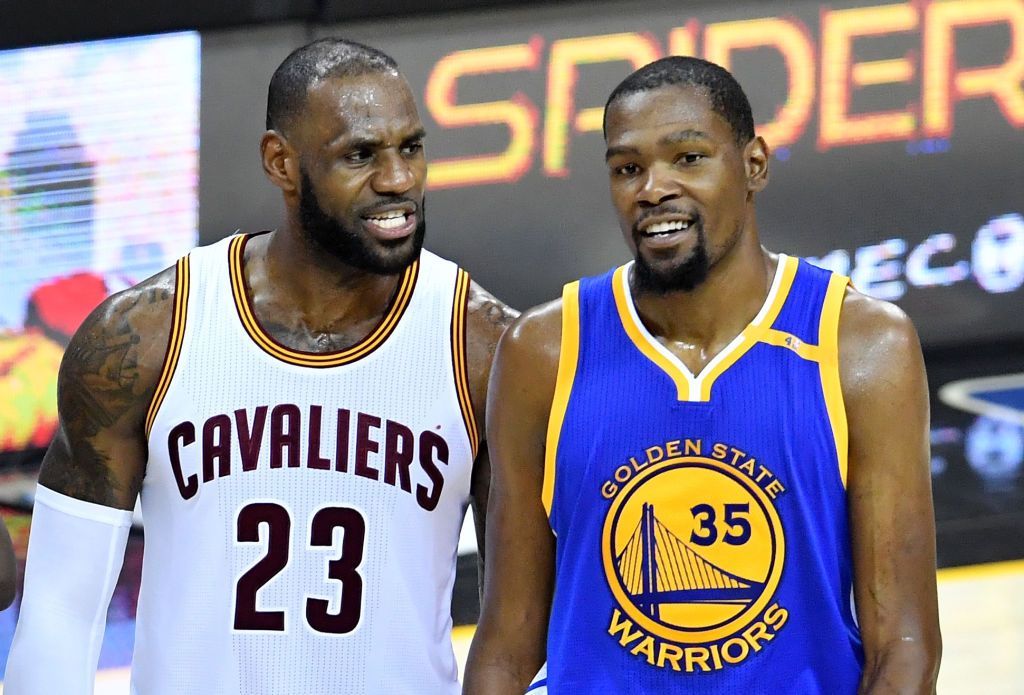 The speculation will go on for another 12 months. With the option to leave Cleveland next summer, what NBA jersey will LeBron James be wearing in a year's time?
It is debated at the Quickens Loan Arena, in newspapers, in bars across the country, and on The Bill Simmons Podcast. Simmons was joined by Golden State star Kevin Durant to discuss the future of the Cavaliers man, and they have different opinions.
Both men believed in their prediction so much so that a wager was placed on the outcome: The loser would buy the other man a Fat Sal's combo meal. So, what were the predictions?
Durant expects little change. "I personally always said he was staying," the Warriors forward said. "I told him this. That's me. I feel like he's going to end it in Cleveland. That's his crib now. He run it and he gonna turn it into something mega when he's done. He's going to do something."
But Simmons sees James heading west. "I'm betting L.A.," he said. "I think the Lakers thing makes a lot of sense."
Related: The Trade Cavaliers Must Make to Hold Onto LeBron James Next Summer
The turbulent offseason in Cleveland has been one signal that James may head for the exit when he has the opportunity next summer. David Griffin, the former General Manager of the Cavs, was popular with James but was fired by owner Dan Gilbert.
There has been change in the roster as well. James was disappointed to see Kyrie Irving make a trade request, and is yet to comment on the incoming Isaiah Thomas, who is coming the other way from the Celtics as part of the trade.
Simmons' prediction that James will end up with the Lakers is partly backed up by the fact the 32-year-old has a home in Los Angeles, where he has spent much of the summer.
But the two men will have to wait until next summer to find out what James will do next, and, more importantly, who wins the Fat Sal's combo.