Manchester City: Is This How Pep Guardiola's New-Look Team Will Line Up Next Season?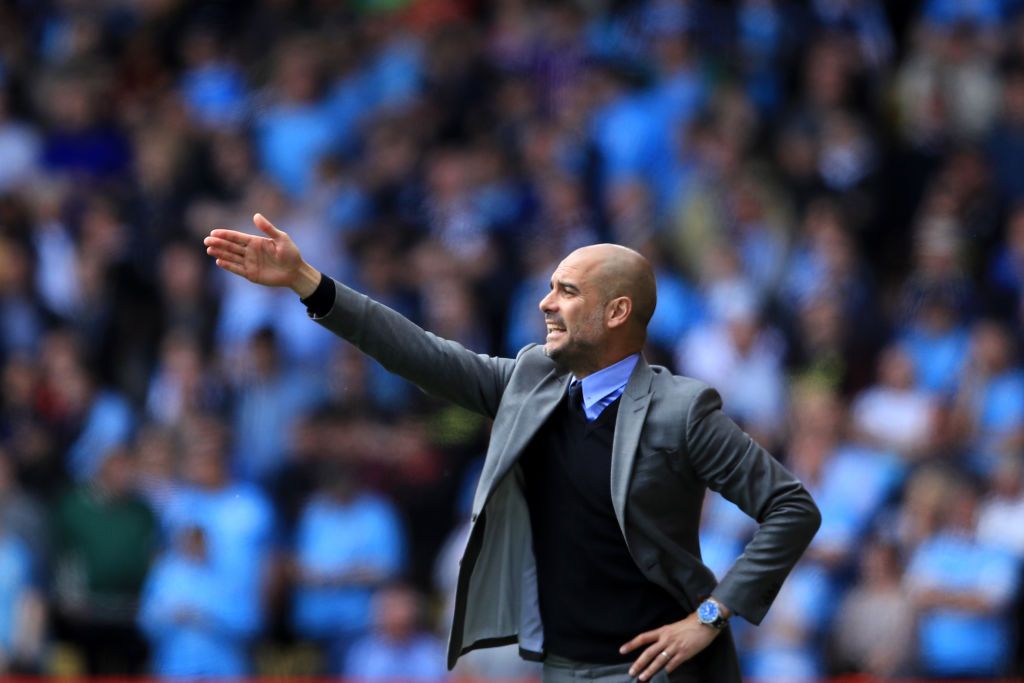 Pep Guardiola can be either envied or pitied when it comes to looking ahead to Saturday, August 12, in the opening weekend of the new Premier League season.
Guardiola's Manchester City travels to the AmEx Stadium on the south coast of England to take on newly promoted Brighton and Hove Albion, with Guardiola having to choose from his team of superstars.
This summer, the Spanish manager has already spent £130 million (about $170 million) to strengthen his squad further, with more investment expected to take place before the transfer window closes August 31.
So, here, Newsweek attempts to take a look at how Guardiola's team may line up next season:
Goalkeeper
The man between the posts was one of the most debated positions at the Etihad Stadium last season. Claudio Bravo was brought in from Barcelona to replace Joe Hart as the No. 1 choice at City. Hart left for Torino on loan, and Bravo and Willy Caballero shared the position after Bravo's terrible start to life in English football. Guardiola has had another punt this summer, spending £34 million (about $44 million) on Benfica's Ederson, who is expected to be promoted to first choice.
Defense
Last summer, Manchester City made John Stones the most expensive defender in the world after signing him from Everton for £50 million ($65 million), and he is expected to hold the center back position this coming campaign. But the 23-year-old no longer holds that title after Guardiola's team spent £54 million ($71 million) on signing right-back Kyle Walker from Tottenham Hotspur. On the left-hand side of a back-three, Guardiola still seeks a new figure to fill that position, with Southampton's Ryan Bertrand expected to make the move from St Mary's.
Related: What does Pep Guardiola have to do to be fired by Manchester City?
Midfield
The position that Guardiola is most fond of. Before joining Manchester City last season, he said, "I would like to have a thousand midfield players in my squad, in my team, because I believe the midfield players are intelligent, understand the game." And though he may not have a thousand players in that position at the Etihad Stadium, he certainly has the largest choice in the Premier League. To protect Stones, Fernandinho and Ilkay Gundogan are expected to play the shuttling role in midfield, helping speed up the transition from defense to attack. And who better to act as the artists in that midfield than Belgium's Kevin De Bruyne and David Silva, the Spaniard with the deft touch? Guardiola also has the option of summer signing Bernardo Silva, from A.S. Monaco, as well as Yaya Toure and possibly Samir Nasri.
Attack
After a superb first campaign in English football, Leroy Sane is expected to continue on the right-hand side of the City attack, cutting in on his left foot with pace. The other side of the attack, one that will be fluid and interchanging, could be Alexis Sanchez, the Arsenal forward who looks to be seeking a way out of the Emirates Stadium. Sanchez scored 30 goals last season for Arsenal, which will see Arsène Wenger's team attempt to resist selling the Chilean over fears he would improve City hugely. Despite having Sergio Aguero at his disposal, Guardiola seems to prefer the style of Gabriel Jesus, signed last January. The 20-year-old Brazilian scored seven goals in 11 games for City last season and looks to be the future at the Etihad Stadium.