Manchester United vs. Tottenham: Can Pochettino Produce Another Tactical Master Class Against Mourinho's Men?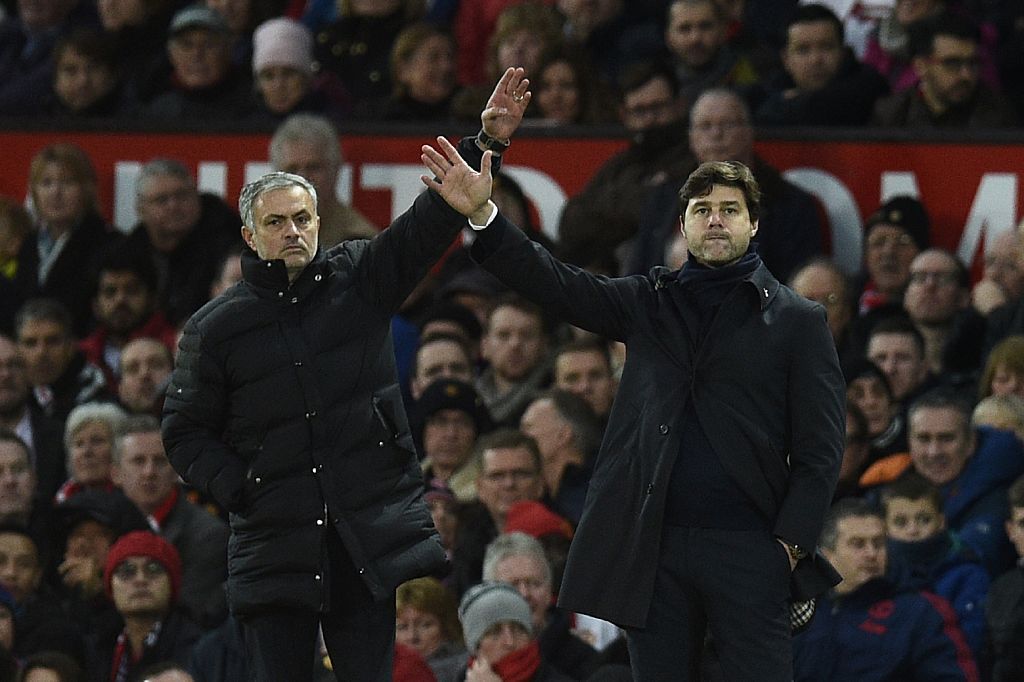 As Mauricio Pochettino prepares to take Tottenham Hotspur to Old Trafford on Saturday to play José Mourinho's Manchester United, he would do well not to look at the record between the two teams.
Over the years, United has been the dominant force in this fixture, winning almost double the amount of games it has lost. Yet the recent rise of Spurs under Pochettino has changed the dynamic between the two clubs somewhat, with Tottenham achieving victory in two of the last three encounters.
This fixture has produced some high-quality results and plenty of excitement in the past, with seven- and eight-goal thrillers. It has also seen some of English football's best managers go head-to-head, and this game will be no different. Mourinho and Pochettino are among the Premier League's most talented managers, and their futures may be interlinked.
Before Mourinho took on the enormous task of revitalizing United in summer 2016, Pochettino was tipped to manage the side after showing great potential at Southampton. With Mourinho adding to rumors of a move to Ligue 1 giant Paris Saint-Germain by saying he will not end his career at Old Trafford, Pochettino is viewed as a potential replacement.
Related: Five Things We Learned as Harry Kane and Tottenham Tore Through Liverpool at Wembley
Real Madrid also has reportedly expressed interest in Pochettino; that was the rumor surrounding the Spanish team's clash with Spurs in the Champions League last week. According to Spanish newspaper Marca, Pochettino is being considered to succeed Zinedine Zidane when his reign comes to an end. Spurs' draw at the Bernabeu will have only fueled interest from Real Madrid president Florentino Perez. If Tottenham manages to beat the United on Saturday, it may prove that Pochettino has the tactical nous that could see him take on Mourinho's Madrid record.
A former Real boss, Mourinho won every domestic trophy at the Galacticos in his first two seasons. In fact, as Espanyol manager, Pochettino never beat Mourinho's Madrid, suffering heavy defeats such as 4-0 and 5-0.
However, since Pochettino has worked in English football, he has been victorious twice against Mourinho, demonstrating his managerial progression. Last season proved his development as Tottenham challenged for the title, finishing four places above and 17 points better off than Manchester United.
Overall, Mourinho's win rate against Pochettino is still a staggering 75 percent, but this is a falling figure and may drop further after this weekend's crucial clash.
The battle between two of the Premier League's leading goal scorers will also be an intriguing one. Both Harry Kane and Romelu Lukaku are vying for the Golden Boot award—presented to the league's top scorer at the end of the season—after showing prolific form over the last year.
Only Barcelona's Lionel Messi has more goals for his team (46) than Kane in 2017 within Europe's top divisions. Kane is in joint second with PSG's Edinson Cavani on 38 goals, while Lukaku has 27—with 11 of those made since he joined Manchester United in the summer.
Graeme Souness, the former Liverpool player and manager turned Sky Sports pundit, noted how the two strikers were among the best in the world right now.
Writing in The Sunday Times, he said: "Kane is a fabulous player, with a great football brain and technique. He's maybe more accomplished overall, but I reckon he sees himself as a part number nine and part number 10, whereas Lukaku is an outright number nine, a center-forward. They are rare today, the hardest thing to find in football."
Lukaku has seven goals in eight appearances for United in the league this season, stepping up to the level many thought he was capable of and justifying his expensive price tag, believed to be around £75 million (about $99 million). Kane also has shown the longevity of his prolific record at Spurs, scoring nine goals in his last six games for Spurs, having gone through August without hitting the net.
These statistics promise a fascinating fixture on Saturday, with two of the best managers and arguably the best strikers in English football going head-to-head.