Sri Lanka Terrorist Bombings: Who Are the Victims of the Attack Known so Far?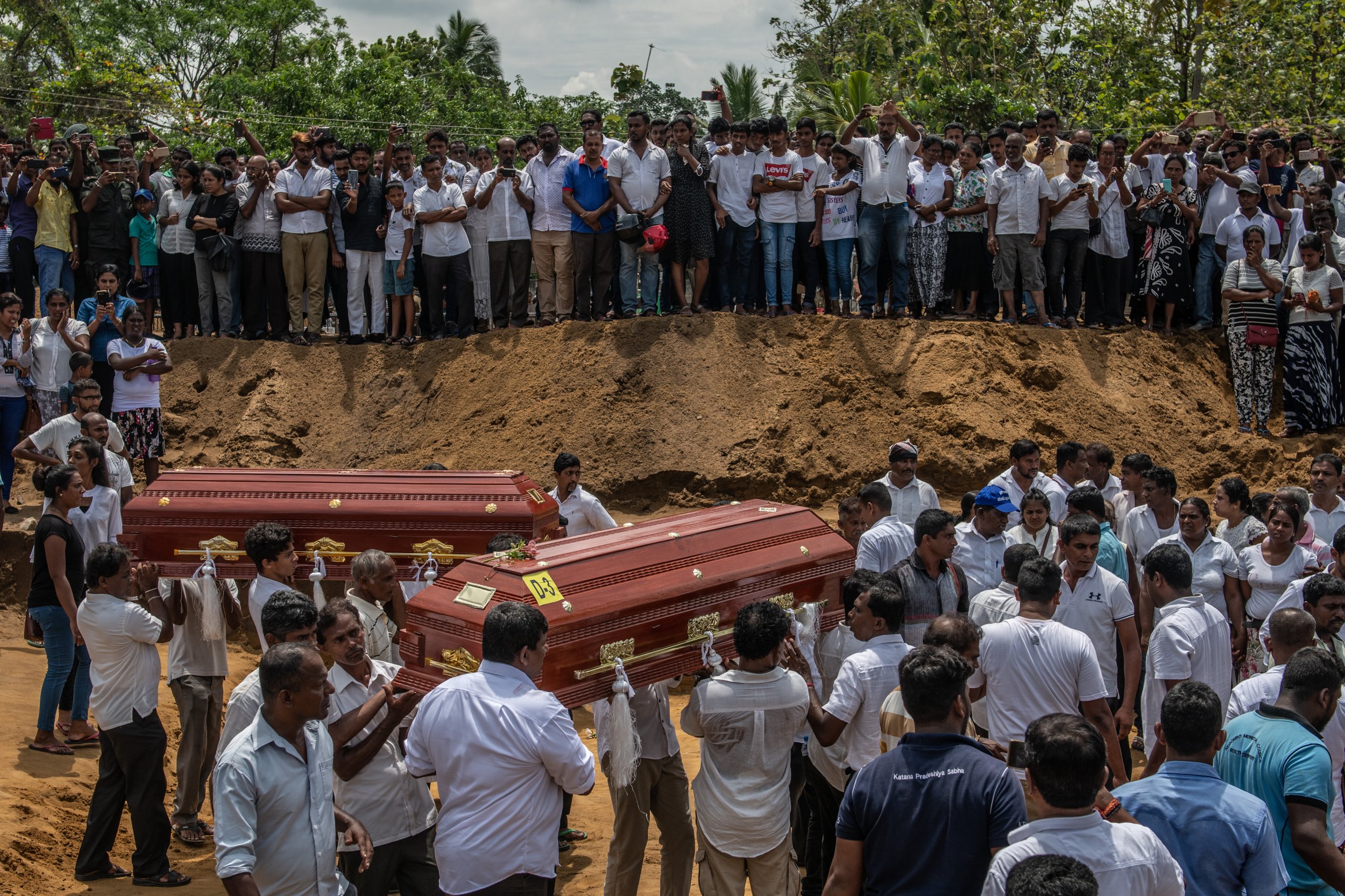 At least 321 people were killed, and more than 500 were injured in Sunday's bomb attacks in Sri Lanka. Eight coordinated explosions over a 24-hour period targeted churches and hotels, inflicting carnage not seen in Sri Lanka since the country's brutal civil war ended a decade ago.
Details of the victims are still emerging, but the death toll includes at least 38 foreigners, defense minister Ruwan Wijewardene told reporters on Tuesday. American, Australian, British, Indian, Danish, Japanese Saudi, Chinese and Turkish nationals are all believed to be among those killed.
"While many details of the attacks are still emerging, we can confirm that several U.S. citizens were among those killed," Secretary of State Mike Pompeo said in a statement released Sunday. At least four Americans have reportedly been killed, with at least one other wounded.
It now appears that Sri Lankan government officials may have had prior warning of the attacks. Prime Minister Ranil Wickremesinghe said that it would be necessary to look into why there were not adequate precautions taken despite numerous forewarnings. The recent fracturing of Sri Lanka's government may well have helped the militants and their plot slip through the net.
Local Islamist group National Thowheed Jamaath is believed to have been behind the attacks. Officials suspect the small group had assistance from an international terrorist organization, and that the plot was inspired by last month's terrorist attack on two mosques in Christchurch, New Zealand. The Islamic State militant group (ISIS) has claimed responsibility for the attack via its Amaq news agency, but provided no evidence to support its claim.
Details of the victims are now emerging as Sri Lanka grapples with the attacks, which shattered a long-sought-after peace in a country where the horrors of war and communal violence are still fresh in the collective memory.
Dieter Kowalski—United States
Dieter Kowalski was killed in one of the bombings at the Cinnamon Grand hotel, where he was staying while on a work trip for the company Pearson. A Facebook profile matching his name and workplace had a post about traveling to Sri Lanka on Friday, and the company confirmed his death Monday.
"Let's remember the love that Dieter had for his family, friends and colleagues—and the love they had for him. Let's remember his love of life and his love of solving people's problems. In these desperately difficult days, let's honour Dieter by showing that love ourselves, by taking extra care of each other—at work, at home and in our communities," said an announcement from Pearson CEO John Fallon.
Kieran Shafritz de Zoysa—United States
Kieran Shafritz de Zoysa was a fifth-grader enrolled at Sidwell Friends—an elite private school in Washington, D.C., CNN reported. His death was confirmed by the school in an email sent to friends and families of students. "Passionate about learning, he adored his friends, and was incredibly excited about returning to Sidwell Friends in the coming school year," school principal Mamadou Guèye wrote.
Three children of Anders Holch Povlsen—Denmark
Danish billionaire Anders Holch Povlsen was on vacation in Sri Lanka with his family when the bombings happened. Three of his four children were reportedly killed, though their names have not been released, CNN reported.
Shantha Mayadunne and daughter Nisanga—Sri Lanka
Celebrity chef Shantha Mayadunne was reportedly one of those who died in the explosions, along with her daughter, The Washington Post reported. Shantha was a popular television chef in Sri Lanka and had written two books and taught classes. Nisanga posted a selfie of her family, including her mother at breakfast Sunday morning at the Shangri-La Hotel in Colombo, to Facebook.
Zayan Chowdhury—Bangladesh
Zayan Chowdhury, the 8-year-old relative of Bangladesh's Prime Minister Sheikh Hasina, was killed at one of the Colombo hotels, according to The Guardian. He was eating breakfast with his father when a suicide attacker detonated explosives. Chowdhury was the grandson of a cousin of the prime minister.
Anita Nicholsen and children Alex and Annabel—U.K.
Three of four Nicholsen family members were killed in the explosion at the Shangri-La hotel in Colombo. Ben Nicholsen—who survived the attack—said his wife, Anita, 14-year-old son, Alex and 11-year-old daughter, Annabel, all "died instantly with no pain or suffering," according to the BBC.
Nicholsen said Anita "was a wonderful, perfect wife and a brilliant, loving and inspirational mother to our two wonderful children." Alex and Annabel were "the most amazing, intelligent, talented and thoughtful children, and Anita and I were immensely proud of them both and looking forward to seeing them develop into adulthood," Nicholsen added.
At least five other British nationals were killed in the attack, the U.K. High Commissioner to Sri Lanka James Dauris confirmed.
Kaori Takahashi—Japan
Kaori Takahashi, 39, a mother of two, worked for the women's chapter of a volunteer support group for Japanese expatriates and their families living in Sri Lanka, The New York Times reported.
According to the Asahi Shimbun, she moved to Sri Lanka with her husband—a chef working in Colombo—in 2015. She was killed in the attack on the Shangri-La Hotel while eating breakfast with her husband, who was wounded but survived.
Serhan Selcuk Narici and Yigit Ali Cavus—Turkey
Two Turkish engineers were among the dead, the country's Foreign Minister Mevlut Cavusoglu confirmed. Narici's Facebook profile indicated he had moved to Colombo in 2017, and his father, Baba Memhet Narici, told news agency Anadolu the electrical engineer had recently done work at the U.S. Embassy in Sri Lanka.
Manik Suriaaratchi and daughter Alexandria—Australia
Manik Suriaaratchi, her daughter, Alexandra, and father, Sudesh Kolonne, moved to Sri Lanka from Melbourne in 2014. The BBC noted that they attended mass at the St. Sebastian Church in Negombo every week. Kolonne left the church ahead of his wife and daughter, just before the bomb went off. "I heard a huge noise...I saw my daughter on the floor and I tried to lift her up, [but] she was already dead," he told ABC.
Bangalore political workers—India
Ten Indians were confirmed dead, among them seven political operatives who were on holiday after polling for the national elections in Karnataka ended last week. K. G. Hanumantharayappa, M. Rangappa, K. M. Laxminarayan, Lakshmana Gowda Ramesh, H. Shivakumar, A. Maregowda and H. Puttaraju were all members of the Janata Dal Party.
The chief minister H. D. Kumaraswamy said on Twitter that he was "deeply pained" by their deaths in what he called a "heinous attack."