Starbucks CEO Grilled About Union-Busting in Intense TV Interview
Starbucks CEO Howard Schultz was questioned during a recent interview about the company's anti-union campaign as the coffee giant comes under growing pressure after nearly 290 of its stores have voted to unionize since December 2021.
In an interview with CNN last week, journalist Poppy Harlow asked Schultz about accusations that Starbucks is "not playing fair" with its unionized employees, raising the point made recently by Vermont Senator Bernie Sanders that the company is involved in an "illegal union-busting campaign."
Starbucks Workers United, the organizing union for Starbucks workers across the United States, has filed hundreds of unfair labor practice charges against the coffee chain. In some cases, the National Labor Relations Board (NLRB) found that Starbucks illegally fired and threatened workers who were unionizing.
On Wednesday, Sanders vowed to subpoena Schultz next week over Starbucks' aggressive actions to strangle the unionizing movement in its stores across the U.S. and accusations of breaking federal labor law.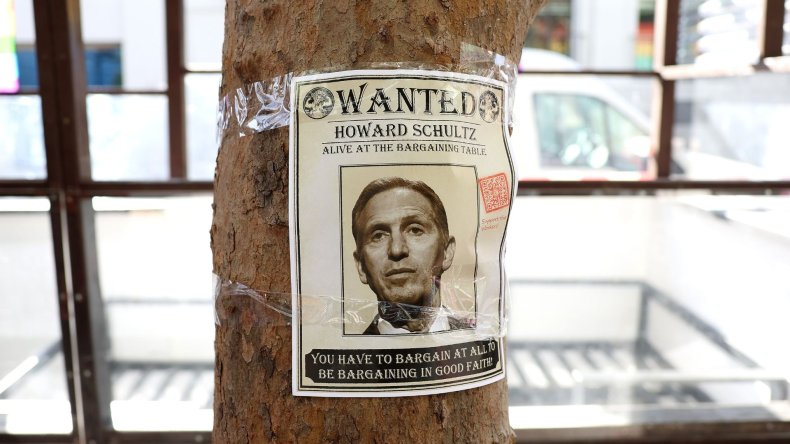 Sanders had already called for Schultz to testify to Congress next month, but the Starbucks CEO declined as he's set to leave the company in March. "Unfortunately, Mr. Schultz has given us no choice, but to subpoena him," Sanders said in a statement on March 1.
It will be the Senate's Health, Education, Labor and Pension (HELP) Committee to decide, on March 8, whether to vote to subpoena the Starbucks CEO.
The possibility of Schultz being subpoenaed is, according to a statement Starbucks made to CNBC, "a disappointing development," but the company said it will "continue our dialogue with Chairman Sanders' staff and are optimistic that we'll come to an appropriate resolution."
Questioned by Harlow last week, Schultz saying that the company doesn't want to stop a debate about unionizing, but simply "enter into collective bargaining" in person.
"What's the facts? The facts are that we want to enter into collective bargaining, but we want to do it in person. In person, not on Zoom," Schultz said in the interview, clips of which are being circulated on Twitter. "We don't know who's on a Zoom call, we don't know how many people are on a Zoom call, we don't know what's been taped. We want to do it in person, and until now there's been a refusal to bargain in person."
Harlow fired back saying that Starbucks Workers United calls this reasoning "hypocritical" and describes it as a "clear union-busting strategy."
Schultz has sustained that unions are contrary to the vision of Starbucks, saying that unions in the U.S. have existed and succeeded "in the past" only because of companies that "did nefarious things on the back of their people." In Schultz's opinion, as presented during the interview with CNN, "Starbucks's employees [...], we provide unprecedented benefits."
This claim has been challenged by Starbucks Workers United, which wants power sharing and accountability from the company, and claims that the company's stores are understaffed and workers are underpaid.
"Howard Schultz should be held accountable for directing one of the most flagrant campaigns of federal law breaking against workers in the history of federal labor laws," the union told Newsweek in a written comment.
"He should appear before the HELP committee where he can have his say and answer to that committee's questions. Starbucks workers play by the rules every day in joining the union by the thousands, and no one is above the law in this country."
But, as only 283 Starbucks stores out of the company's total of 9,300 across the U.S. have voted to unionize, Schultz claims that a majority of Starbucks stores fall in line with the company's vision for itself—including denying the need for unions.
Newsweek reached out to Starbucks for comment.
Update 3/6/2023 ,10:46 a.m. ET: This article has been updated to include a statement from Starbucks Workers United.