California Students Protest Mask Mandate After Seeing Photo of Unmasked Gavin Newsom
Hundreds of students at a California high school protested their school's mask mandate this week.
About 300 students from Chino Hills High School decided to protest after seeing photos of California Gov. Gavin Newsom and Los Angeles Mayor Eric Garcetti without masks during the NFC Championship Game, according to Fox 11.
The school accommodated the students by opening up the lunch area quad, where they spent Tuesday working on assignments.
But some students told the station they were not happy because no one is teaching them and they are receiving less credit for work.
"While the District respects an individual's right to form and exercise personal opinions, it cannot ignore federal, state, and local directives that govern school operations," a spokesperson for the Chino Valley Unified School District told Newsweek.
"Following the California Department of Public Health's masking requirements for K-12 schools that require face coverings indoors while students are present, CVUSD has provided an outdoor learning environment for students without a mask exemption on file that have selected not to wear a face covering while indoors. Supervision is provided by certificated teachers and staff."
The spokesperson said district administrators "continue to monitor the situation to ensure our school campuses have resources necessary to support CVUSD students."
Their protest came a day after students at high schools in the Chicago area walked out to protest their school district's mask mandate.
Newsom, a Democrat, sparked outrage after he was pictured without a mask while posing for a photo with NBA Hall of Famer Magic Johnson during the 49ers-Rams game at the SoFi Stadium on January 30.
Johnson also shared photos of himself with Garcetti and San Francisco Mayor London Breed.
All were unmasked in the images, prompting a backlash for violating California's COVID-19 guidelines which require people in all indoor setting to wear masks regardless of their vaccination status.
Newsom defended himself at a press conference the following day, saying he had been "very judicious."
"You'll see in the photo that I did take, where Magic was kind enough, generous enough to ask me for a photograph, and in my left hand's my mask and I took a photo," he said. "The rest of the time I wore it, as we all should."
Garcetti also offered a defense, saying that he held his breath while posing for photos without a mask. "I wore my mask the entire game and when people ask for a photograph, I hold my breath," he said. "There's a zero percent chance of infection from that."
California on Monday announced plans to end its indoor masking requirement for vaccinated people on February 15, but mask requirements in schools will remain in place.
The state is among about a dozen with mask mandates in schools, according to the National Academy for State Health Policy.
Also on Monday, the Democratic governors of four states—Connecticut, Delaware, New Jersey and Oregon—announced plans to lift statewide mask requirements in schools by the end of February or March, citing the decline of an Omicron-fueled surge in COVID-19 infections.
The U.S. Centers for Disease Control and Prevention recommends everyone, including children aged 2 and older, wear a mask in indoor public settings, regardless of vaccination status.
The governor's office and Garcetti's office have been contacted for comment.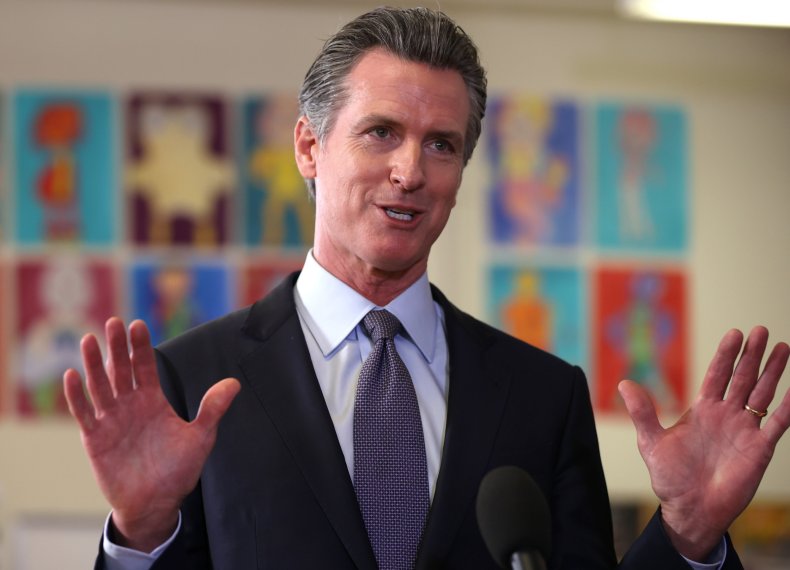 Update 02/10/22, 3:39 a.m. ET: This article has been updated with a statement from the Chino Valley Unified School District.