Subpoenaed Trump Lashes Out at Clinton, AG James for 'Travesty of Justice'
Former President Donald Trump has railed against political opponent Hillary Clinton and New York Attorney General Letitia James, who issued subpoenas to Trump and his two eldest children, in a statement decrying the "travesty of justice" against him.
"So crooked Hillary Clinton one of the most corrupt politicians ever to run for president can break into the White House, my apartment, buildings I own, and my campaign—in other words, she can spy on a presidential candidate and ultimately the President of the United States," Trump wrote in a Thursday statement.
His statement referred to his repeated claim that Clinton's campaign spied on him during the 2016 presidential election. However, the court filing on which Trump based his allegation doesn't actually accuse Clinton of any illegal wrongdoing, legal experts told Newsweek.
Clinton recently referred to Trump's allegation as a "fake scandal," adding, "It's funny, the more trouble Trump gets into, the wilder the charges and conspiracy theories about me seem to get."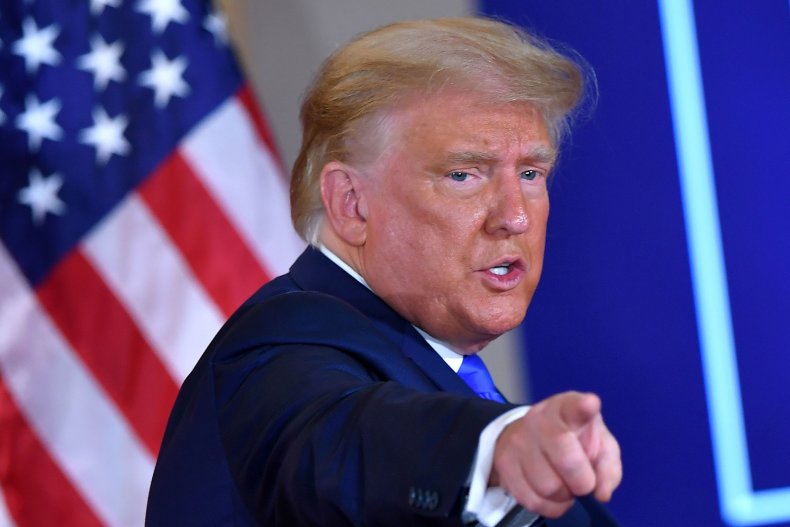 Trump's Thursday statement continued, "On the other hand, failed gubernatorial candidate Letitia James can run for the office of AG on saying absolutely horrendous and false things about Donald Trump, a man she doesn't know and has never met, go on to get elected, and then selectively prosecute him and his family."
Trump likely mentioned James because of a Thursday ruling by a New York judge stating that he and his children—Donald Trump, Jr., and Ivanka Trump—must answer questions under oath about the Trump Organization's finances and accounting practices.
The ruling will assist James' continued investigation into whether the Trump Organization unlawfully undervalued its assets to avoid paying taxes and overvalued certain assets to secure large bank loans.
"The targeting of a president of the United States, who got more votes while in office than any President in History, by far, and is a person that the Radical Left Democrats don't want to run again, represents an unconstitutional attack on our country—and the people will not allow this travesty of justice to happen," his statement continued.
Trump has long accused James of "prosecutorial misconduct" and conducting a "witch hunt" against him.
At the Thursday court hearing over the subpoenas, Trump's defense attorney Ronald Fischetti said that Trump would refuse to testify unless he was granted legal immunity in exchange. James has vowed not to let legal delays stop Trump and his family from being questioned.
Trump's lawyers will likely appeal the ruling. Until then, the judge gave the Trumps 21 days to sit for depositions. If Trump undergoes questioning, he will have to either answer inquiries or invoke his Fifth Amendment protection against self-incrimination.
Newsweek contacted Trump's office for comment.