'Succession' Star Sanaa Lathan Confused When She Got Emmy Nomination News
Some might feel a sense of euphoria upon hearing they were nominated for an Emmy. Sanaa Lathan just felt perplexed and irritated.
"I was on vacation in Colorado staying at a friend's house and got a call at like 9 in the morning and I was actually kind of annoyed," she said during SAG-AFTRA Foundation's recent roundtable of guest actress in a drama nominees.
"I had no idea that there were nominations and I was like, 'Why are these people calling me so early?' And I get on, 'Congratulations.' 'For what?' 'You've been nominated.' 'For what?' 'An Emmy.' I said, 'For what?" I did not expect it. Such a surprise. Such a delightful shock and surprise."
Lathan is nominated for her first Emmy for her role as attorney Lisa Arthur in the third season of Succession. She appeared at the roundtable alongside co-stars Harriet Walter (who is also nominated for guest actress in a comedy for Ted Lasso) and Hope Davis; Marcia Gay Harden (The Morning Show); and Martha Kelly (Euphoria). Lee Yoo-Mi, who is nominated for Squid Game, did not attend.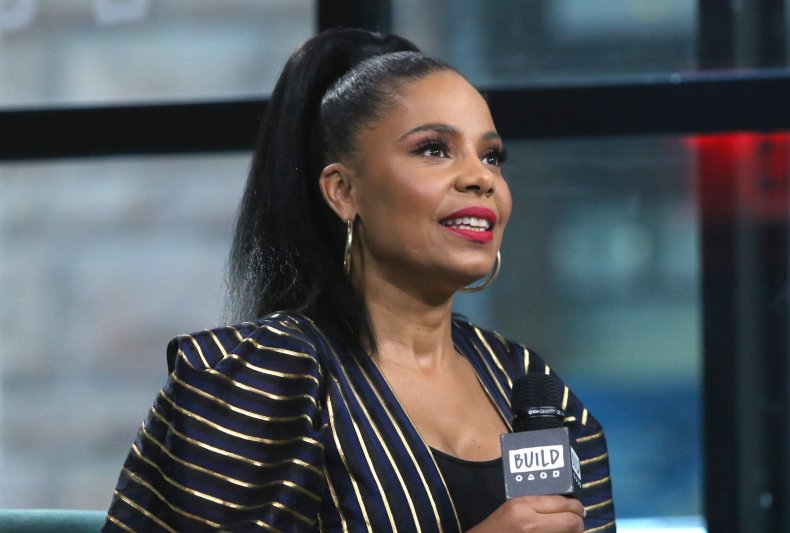 Harden's experience was similar to Lathan's.
"I hadn't followed that they were doing the announcements, and so I was upstate in New York, the actress, who plays journalist Maggie Brenner on The Morning Show, said. "I had just finished throwing a wedding for my nephew who got married on my property, and you think you'll just be there as a guest, but it's on your property, so you're hauling the trash and on the tractor, and the publicist called and said, 'Do you want really good news?' I didn't expect it either."
Euphoria's Kelly was perhaps the most alarmed of the group to find out she was up for TV's biggest award. Her breakout role as the eerily calm drug dealer Laurie had gotten her lots of attention, but Kelly considers herself first and foremost a comedian.
"I'm still in shock and somewhat having a nervous breakdown as more of a stand-up comic than an actor," she said, "but it's lovely, it's just mystifying."
Lathan was quick to jump in with some moral support and actorly feedback. "I have to say, I watched Euphoria and when you would come on, I was like, Who is that? You were brilliant. I was like, Did they get a real drug dealer? She's so strange and scary and funny. I just loved your work. And I have to just say this to all of you ladies: I am such huge fans, and I've been watching you for years, and so, it's exciting for me to be amongst you all."
The Emmy Awards will air September 12 on NBC and stream on Peacock.
Watch the full roundtable video below.