MAGA Goes Into Meltdown Over Super Bowl
A number of Republicans and MAGA loyalists have criticized Sunday's Super Bowl, venting their anger at everything from Rihanna's halftime show to the singing of the so-called Black national anthem "Lift Every Voice and Sing."
The game itself was a thriller, with Kansas City Chiefs staging a comeback to beat the Philadelphia Eagles 38-35 to win the trophy for the second time in four years.
However, a number of conservatives slammed the "wokeness" of the performance of "Lift Every Voice and Sing" ahead of the game, as well as Rihanna's halftime performance.
Actress and singer Sheryl Lee Ralph sang "Lift Every Voice and Sing," the first time that the song had officially been performed during Super Bowl proceedings.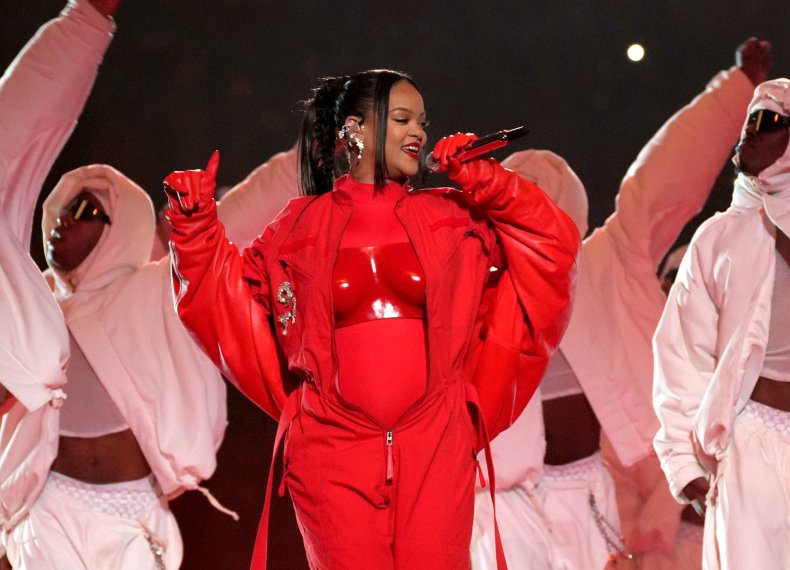 Ralph's performance at the State Farm Stadium in Glendale, Arizona, took place before the National Anthem, which was sung by country star Chris Stapleton.
On Sunday, images emerged on social media appearing to show former Arizona gubernatorial candidate Kari Lake refusing to stand during Ralph's performance.
The campaign team for Lake, who was endorsed by Donald Trump and has refused to concede her midterm defeat to Katie Hobbs, explained why she didn't stand via their "War Room" Twitter account.
"Our girl is against the idea of a 'black National Anthem' for the same reason she's against a 'white National Anthem," they tweeted. "She subscribes to the idea of 'one Nation, under God.' Katie Hobbs is against it because she just simply hates black people."
Ahead of the game, Colorado congresswoman Lauren Boebert also condemned the inclusion of "Lift Every Voice and Sing" in the Super Bowl.
"America only has ONE NATIONAL ANTHEM. Why is the NFL trying to divide us by playing multiple!? Do football, not wokeness," Boebert tweeted.
A similar sentiment was shared by fellow MAGA congresswoman, Georgia's Marjorie Taylor Greene.
"Chris Stapleton just sang the most beautiful national anthem at the Super Bowl," Greene tweeted. "But we could have gone without the rest of the wokeness."
When it came to the halftime show, conservatives were further incensed by Rihanna's performance.
The halftime show was the singer's first live show in four years and she ripped through a medley of some of her biggest hits, including "B**** Better Have My Money," "We Found Love," "Umbrella" and "Diamonds."
Former president Donald Trump said the performance was an "EPIC FAIL" and "without question, the single worst Halftime Show" in Super Bowl history.
"This after insulting far more than half of our Nation, which is already in serious DECLINE, with her foul and insulting language. Also, so much for her 'Stylist," Trump wrote on Truth Social.
Trump had previously criticized the Barbados-born singer, who uploaded a picture of herself spray painting the words "f*** Trump" in August 2020, claiming that "without her 'Stylist' she'd be NOTHING. Bad everything, and NO TALENT!"
Similar to Sam Smith's recent performance at the Grammys, far-right and conservative figures suggested that Rihanna's halftime show was "satanic" mainly because she wore a red jumpsuit.
"Another Sunday, another nationally televised Satan worship ceremony," tweeted conspiracy theorist and podcast host Stew Peters.
Texas congressman Ronny Jackson, who previously suggested Rihanna shouldn't play the halftime show because she has made a career "spewing degenerate filth while badmouthing America every chance she gets," was unsurprisingly also not happy with her performance.
"Ted Nugent would've been a MUCH BETTER halftime performer!!" Jackson tweeted on Sunday.