Susan Collins Undecided on Vote for Deb Haaland, Xavier Becerra, Opening Door for Rocky Confirmations
Disunity among Senate Democrats is keeping President Joe Biden from finalizing his Cabinet sooner than later, while Republican Senator Susan Collins of Maine hasn't signaled if she'll be the one to provide the chamber with the necessary support for confirmations.
Collins, who has already voted no on Neera Tanden, the president's Office of Management and Budget nominee, told reporters this week she is undecided on Democratic Congresswoman Deb Haaland of New Mexico, Biden's nominee for Department of the Interior, as well as Xavier Becerra, the president's pick for Health and Humans Services secretary. Haaland and Becerra each testified before the Senate this week.
Confirming Cabinet selections requires a simple majority in the Senate, and the Democrats have a slim majority secured in the chamber because two independents caucus with them. But the process hasn't been so easy, as splinters among Democrats are stopping what could have been a fast and simple confirmation process.
Democratic Senators Joe Manchin of West Virginia and Kyrsten Sinema of Arizona haven't followed party lines when it comes to Biden's picks. After prolonged decision making, Manchin eventually said on Wednesday he would support Haaland's nomination, but Sinema hasn't expressed her vote yet. Both have remained silent on Becerra as of Thursday.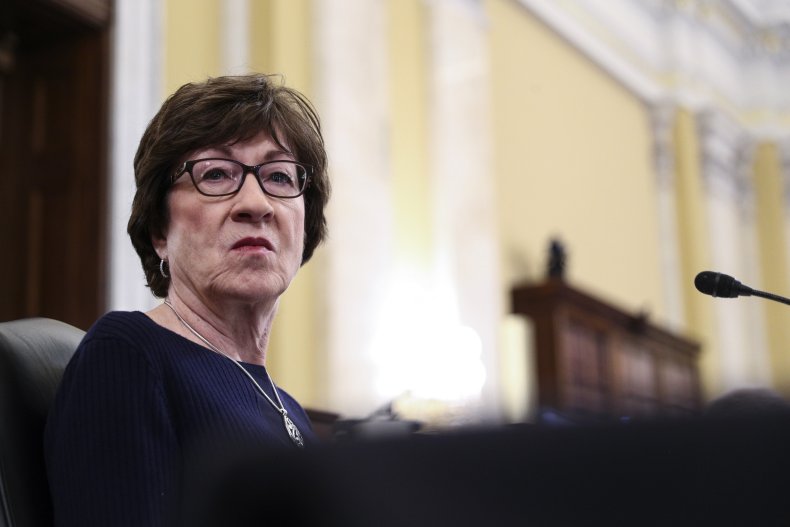 Now all eyes are on Collins, a moderate Republican who has not taken a side on Haaland and Becerra.
If Collins were to vote with the Democrats, Haaland and Becerra's confirmations would be secured. But if she backs Republicans unified against Haaland and Becerra, Politico reported, it will make it tougher for Senate Majority Leader Chuck Schumer to rally support for Biden's picks.
It's not clear if Collins will support Biden's picks. She has had a strained working relationship with Schumer ever since he attempted to unseat her last year, according to Politico. When asked by reporters if she had a relationship with Schumer, Collins said: "No."
The Maine senator has had direct lines of communication with Biden, though. A spokesperson for Collins confirmed to Newsweek she led 10 Republican senators in the first official Oval Office with Biden on February 1, which Collins said was "excellent."
"I've talked to the president four times since the election, he's called me. I've talked to his legislative director, Louisa Terrell, and I talk to a host of Democratic senators as well," Collins said. "I've not had anyone in the White House call me on a nominee."
In the Senate, Collins pushed Becerra on the urgency to reopen schools, taking a hard line on the administration's effort so far to address emotional and learning gaps among children caused by the pandemic.
Newsweek has reached out to Schumer for comment.
Update: This story has been updated to include a comment from Susan Collins' spokesperson.