Patrick Thompson Identified as San Francisco Stabbing Suspect Who Attacked Two Asian Women
Police have arrested a 54-year-old man on suspicion of stabbing two Asian women at a bus stop.
Officers located and arrested the man in the 600 block of Eddy Street in San Francisco, California, at around 7 p.m. on Tuesday, KPIX-TV reported.
Police identified the man as San Francisco resident Patrick Thompson, according to the station.
ABC7 reporter Kate Larsen tweeted that police located the suspect after a photo of him was disseminated to officers in the field.
He was taken into custody hours after allegedly stabbing the women, aged 65 and 85, while they waited for a bus on Market Street.
Officers arrived in the area at around 5 p.m. and located the injured women, who were then transported to hospital.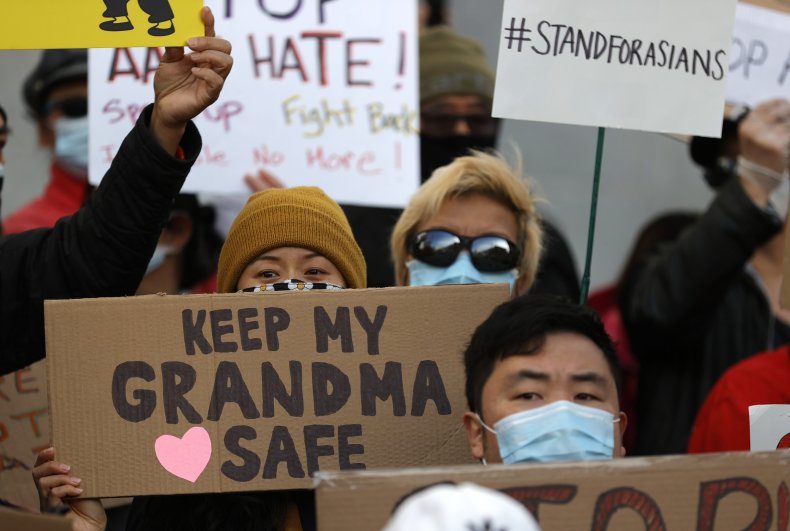 The 85-year-old woman was identified as Chui Fong Eng. Her grandson told KPIX-TV that she had finished her grocery shopping in Chinatown and was waiting for the bus when she was attacked.
"She didn't know the other victim, and they were both at the bus stop and both stabbed there," Drew Eng said. "I think the other lady was stabbed first."
Witnesses told the station that the assailant was walking down Market Street clutching a knife when he approached a bus stop, stabbed the women, and then walked away.
San Francisco's District Attorney Chesa Boudin tweeted: "Heartbroken tonight for two elderly AAPI victims of a stabbing on Market. We're awaiting more info & praying for the victims as they undergo medical treatment."
Boudin added: "We will not tolerate brutal attacks like this."
San Francisco's District 6 Supervisor Matt Haney called the attack "disgusting and horrific."
"Nothing more sickening than stabbing an 85 year old woman while she waits for the bus. Horrific," Haney wrote.
In a later tweet, Haney said both women were out of surgery and in a stable condition at San Francisco General Hospital.
Police have not said whether they believe the woman were specifically targeted or if the stabbing might be a hate crime, but officers are reportedly not ruling it out.
The San Francisco Police Department have been contacted for additional comment.
The stabbing is the latest in a rising number of unprovoked attacks targeting Asians and Asian Americans in the U.S. during the coronavirus pandemic.
Earlier this week, two Asian women were hospitalized after being attacked by a man with a cement block inside their Baltimore business.
Also this week, a Chicago man was charged with attempted murder after allegedly striking a woman with his truck moments after shouting anti-Asian remarks.
Over the weekend, two Asian women were walking down the street in New York City when a suspect demanded they remove their masks. Video posted by the New York Police Department's Hate Crime Task Force showed one of the women, a 31-year-old, was then struck with a hammer.
Anyone with information about the stabbing is urged to call the San Francisco Police Department's Tip Line at 1-415-575-4444 or Text a Tip to TIP411 beginning with SFPD.