China Invasion Fears Grow in Taiwan After West Failed To Deter Russia: Poll
Nearly 4 in 10 people in Taiwan believe a Chinese invasion is likely under current tensions, according to new polling data released this week.
Monday's survey results by Taiwanese news site Formosa recorded a rise in concern of more than 10 percentage points, after a quarter of respondents felt similarly in another poll conducted the week before Russia's invasion of Ukraine.
President Vladimir Putin was nearly guaranteed to avoid a direct military clash with NATO when the alliance said it had no plans to send troops into Ukraine. The threat of sanctions, whose deterrence effect has been disputed by President Joe Biden himself, culminated in the West's failure to stop Russia from invading its neighbor.
A month after hostilities began in Ukraine, 37.4 percent of the Taiwanese public now believes China could move militarily to annex the island, according to Formosa's survey, which interviewed 1,082 adults above the voting age of 20 between March 23 and 24. While 55 percent still felt a war was unlikely to break out across the Taiwan Strait under the current circumstances, it was a notable increase accompanied by a dip in confidence about potential U.S. military assistance—most believe Taiwan, like Ukraine, will have to fight alone.
Cross-strait tensions have been a hot-button issue for more than seven decades since the end of World War II. China has never governed Taiwan, but successive Chinese Communist Party (CCP) leaders have laid claim to the island as part of the country's "historic territory." Beijing has never ruled out the use of force against Taiwan, and during a call with President Joe Biden in November 2021, China's Xi Jinping said he could be "compelled" to do so.
The Formosa poll found that most respondents—55.9 versus 35.9 percent—didn't believe war was an inevitable outcome of Taipei and Beijing's attempts to solve their differences peacefully. However, they were divided on the question of how far Taiwan should go to avoid political "unification" under Chinese rule.
Asked whether they believed unification by the CCP should be avoided "at all costs"—including the sacrifice of one's own life—48.9 percent of respondents agreed, a 3.7 point rise from April 2021. 44.8 percent disagreed with the statement.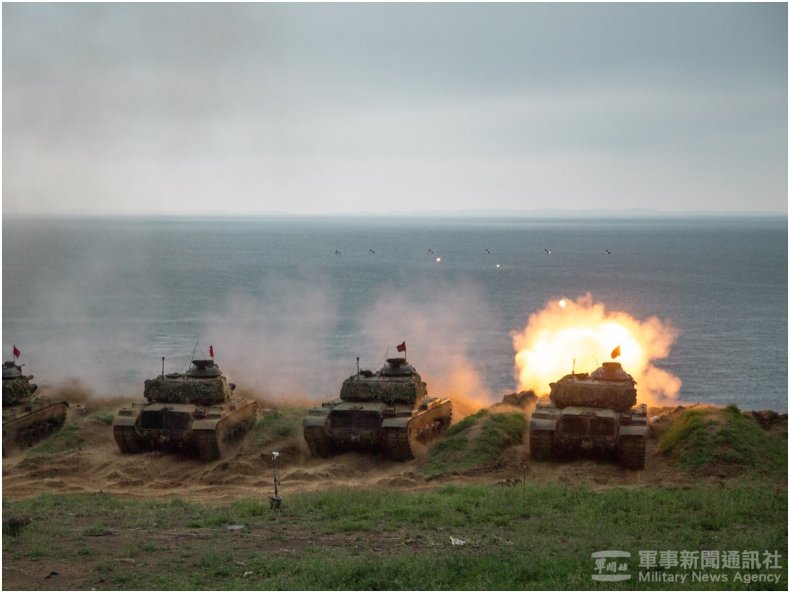 For many in the island nation, the probability of Taiwan's withstanding a sustained all-out assault by China is greatly dependent on the degree of security assistance it receives from the United States, its strongest international backer. Washington is Taipei's No. 1 supplier of foreign arms, but many in Taiwan also expect American troops to come to their defense in the event of a cross-strait war, according to polling over the years. This has been true even when trust in the U.S. leadership has not been high.
In this week's poll, 59.1 percent of respondents said they felt Taiwan was valued by the U.S. government, a drop of 0.1 point, but still higher than the peak confidence recorded during the administrations of Donald Trump (56.5 percent) and Barack Obama (52.9 percent). The public opinion survey didn't include the perennial question about whether the U.S. would intervene militarily in a Taiwan crisis.
In an interview broadcast on Wednesday, Taiwanese Foreign Minister Joseph Wu said a binary yes-no response to possible American military assistance risked oversimplifying complex factors in U.S. decision-making. Washington views Taiwan as a "strategic asset," he said, but most important is Taiwan's own will to defend itself.