Taiwan cannot rely on China's goodwill or charity and must defend itself against those who seek to take the country by force, President Tsai Ing-wen told ruling party members and supporters in an address on Wednesday.
Speaking virtually at a meeting of the Democratic Progressive Party's (DPP) Central Standing Committee, the Taiwanese leader's remarks were a response to external and internal debates about the democratic island's fate following the highly watched U.S. withdrawal from Afghanistan.
Discussions in media commentary and among opposition opinion leaders ranged from whether officials of Taiwan's ruling party would flee the capital in the event of a Chinese invasion, to questions about Washington's security commitments to Taipei and to Asia more broadly.
The Tsai administration has acknowledged the growing asymmetry in the overall military balance across the Taiwan Strait. The government insists Taiwan is ready and willing to fight, rather than capitulate or depend solely on foreign military assistance.
"Taiwan's only option is to make itself stronger, more united and more determined to defend itself," Tsai told party members in an address later shared with supporters via her social media accounts.
"We must make our existence meaningful," she said. "That is, Taiwan has to become indispensable to the upholding of democracy and freedom, and to the international community's collective security and prosperity."
In an opaque reference to Beijing's ambitions and its promise of prosperity for the island's population, Tsai added: "It is not an option for Taiwan to do nothing and depend on the protection of others, nor is it an option to rely on the short-lived goodwill or charity of those without basic values, who refuse to renounce the use of force against Taiwan.
"In the face of various challenges and threats, if our generation doesn't work hard to lay the foundations of Taiwan's security, freedom and democracy, and chooses instead to give up, it would be a disservice to the generations of Taiwanese to come," the president said.
"This is the mission of our times," she concluded.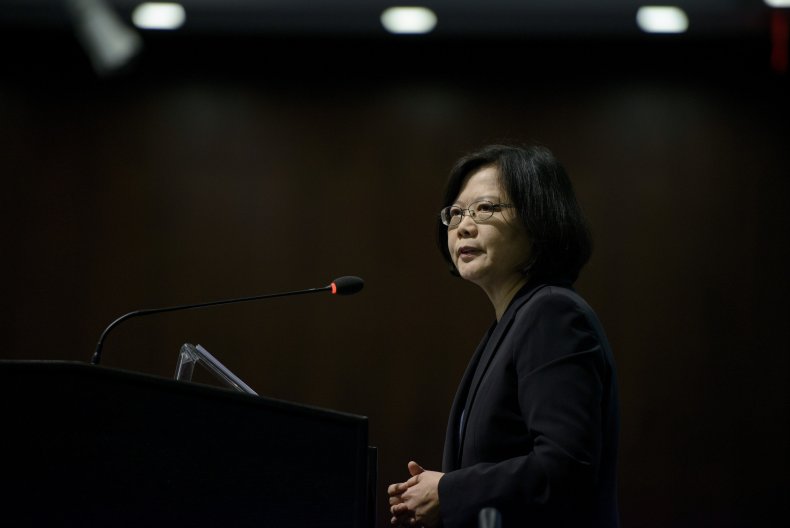 Taiwan, whose military is dwarfed by the People's Liberation Army's size and budget, has faced escalating military pressure and so-called "gray-zone coercion" since Tsai first took office in 2016. High-level cross-strait dialogue has stalled during the same period, despite an attempt by Tsai to kickstart talks with a cabinet reshuffle in February.
On Tuesday, her premier, Su Tseng-chang, dismissed suggestions that the Tsai administration would abandon Taiwan's public in a conflict.
"Today, a powerful country wants to annex Taiwan through the use of force. Likewise, we fear neither death nor imprisonment. We will safeguard this country and this land," he said.
Su added: "Only by helping ourselves will willing friends have the opportunity and time to help. That is why since assuming office, President Tsai has placed special emphasis on Taiwan's relationships with like-minded countries."
"To the foreign forces that seek to invade Taiwan, we say this: Don't be delusional," he said.
On Thursday, a DPP spokesperson confirmed that planning was underway for an upcoming meeting with representatives of Japan's ruling Liberal Democratic Party. The semi-official dialogue, which reports said could take place in August, is expected to touch on mutual security concerns related to China.