Tamir Rice's Mother Angry As Cop Who Killed Son Given New Job: 'Pathetic'
Tamir Rice's mother is furious after the former Cleveland officer who killed her 12-year-old son in 2014 was hired by another police department.
Rice, who was Black, was playing with a pellet gun outside a Cleveland recreation center when he was shot and killed by Timothy Loehmann seconds after he and his partner arrived on the scene.
The officers, both white, responded after a man who called 911 to report a "guy" was pointing a gun at people. He told the dispatcher that it was probably a juvenile and the gun might be "fake"—information that was not relayed to the officers.
Cleveland fired Loehmann in 2017, not for killing Rice but for providing false information on his job application. He was hired in 2018 by another police department in Ohio, but withdrew his application within days after Rice's mother Samaria Rice and others protested.
But this week, it emerged that Loehmann had been hired by a police force in rural Pennsylvania.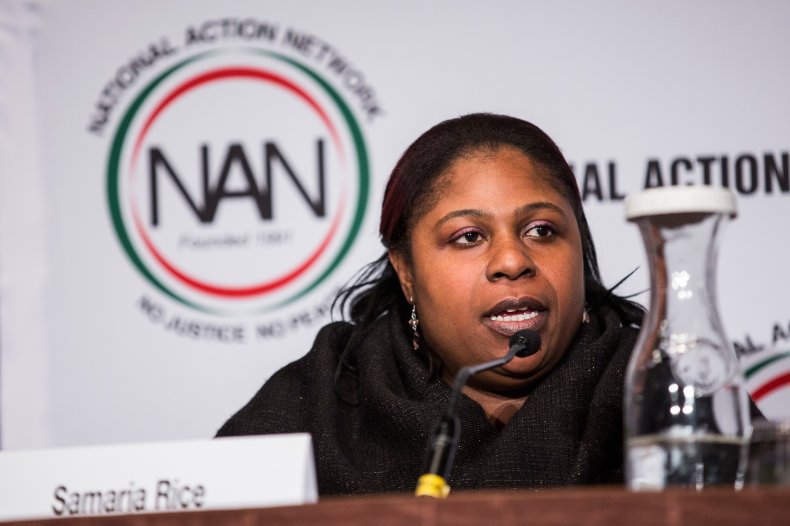 "Timothy Loehmann is your new Tioga police officer," wrote Tioga Borough Council President Steve Hazlett on Facebook alongside a photo of Loehmann being sworn in.
Samaria Rice slammed officials for hiring Loehmann. It's "pathetic, it's pitiful, it's a shame," she told 19 News.
"The system is broken, because police reform is actually not working. You would hire someone knowing he has murdered a 12-year-old child. How dare you. How dare you do it."
She said officials in Tioga Borough should reconsider hiring Loehmann. "He is a bad apple for anybody's police department across the country," she said.
Hazlett's Facebook post attracted numerous comments criticizing the decision.
"If this is the same guy who killed Tamir Rice, he doesn't belong here. He's a danger to the community. Who else's child has to die before he's locked up?" one person wrote.
Tioga Mayor David Wilcox said that Loehmann's hiring "has nothing to do with me."
The council "hires, fires and background checks," he wrote in response to a comment. "I literally wasn't even allowed to take his resume with me the day they interviewed him."
Wilcox joined a crowd who gathered outside the Tioga Borough office on Wednesday to protest Loehmann's hiring, according to local news station WETM.
Speaking to the demonstrators, Wilcox repeated that he had played no part in hiring Loehmann.
"I make his schedule, so I would determine the day that he's actually patrolling," he said, the station reported.
When some questioned if that meant Loehmann would never be on patrol, Wilcox said: "At this point, it's not happening."
Wilcox, Hazlett and Samaria Rice have been contacted for further comment.
A state grand jury declined to bring criminal charges against Loehmann and the other officer involved in Rice's death. Federal prosecutors in late 2020 said they would not bring charges against the two officers.
Rice's family asked the Biden administration to take a fresh look at the case. But earlier this year, the Justice Department said it would not reopen the federal investigation into Rice's death.
Cleveland settled a lawsuit with the Rice family for $6 million in 2016.