Taylor Lautner's Fiancee Having Same Name as Him Sparks Marriage Jokes
Taylor Lautner revealed his fiancée, Taylor Dome, will take his last name after they marry, prompting a wave of jokes on social media.
The Twilight actor, 30, reflected on his 2021 proposal to the 25-year-old during an appearance on The Kelly Clarkson Show. A photo of their engagement was shown to the audience, with the model down on one knee in front of a neon "Lautner" sign.
"I love that you have the neon sign like, 'Are you into this last name?'" Kelly Clarkson teased.
"We already share one name, so it's going to be extra complicated," the model responded, before adding, "We're literally going to be the same person."
"Oh my God! I actually didn't think about that until just now," Clarkson said.
Lautner explained that the duo has a simple system for when they refer to each other—he goes by "Taylor," while she goes by "Tay." The Michigan native also said their friends sometimes call them "boy Tay" or "girl Tay."
Newsweek reached out to Lautner's representative for additional comment.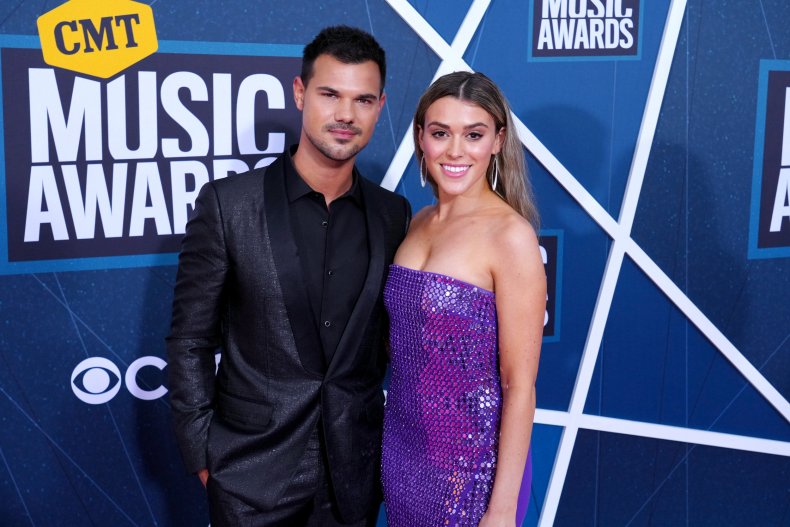 On Wednesday, August 17, "Taylor Lautner" began trending on Twitter, with thousands of users loving the double moniker.
"I feel very strongly that this is a bad idea and also that they simply must name all their children Taylor Lautner too," author Jill Twiss tweeted via her verified account. "No halfway on Taylors Lautner." At the time of publication, her comment garnered more than 2,200 likes and over 130 retweets.
Reporter Alex Abad-Santos, meanwhile, shared a meme that same day using the caption: "Taylor Lautner, who once dated Taylor Swift in 2009, officially began dating Taylor Dome in 2018. They were engaged in 2021 and they decided when they get married they will both be Taylor Lautner."
"This rules," novelist Jeff Grubb said on August 18. "I would pay to be able to enter a room with my partner and say, 'We are Taylor Lautner.'"
Another person added, "The plural of Taylor Lautner is Taylors Lautner, like attorneys general or notaries public," while someone else chimed in, "If I had a nickel for every time Taylor Lautner dated a girl named Taylor I'd have two nickels, which isn't a lot but its weird that it happened twice."
Lautner and Swift, 32, dated for a few months in 2009 before calling it quits that December. He and Dome have been together since 2018 and got engaged in November last year.
The Abduction alum said on the talk show that the couple met during a game night set up by his sister, Makena Moore.
"She always said she was going to introduce me to my future wife," Lautner divulged to Clarkson. "We hit it off, and the rest is history."