Taylor Swift Takes Aim at the Media with "Reputation." Will She Finally Acknowledge Trump's Existence?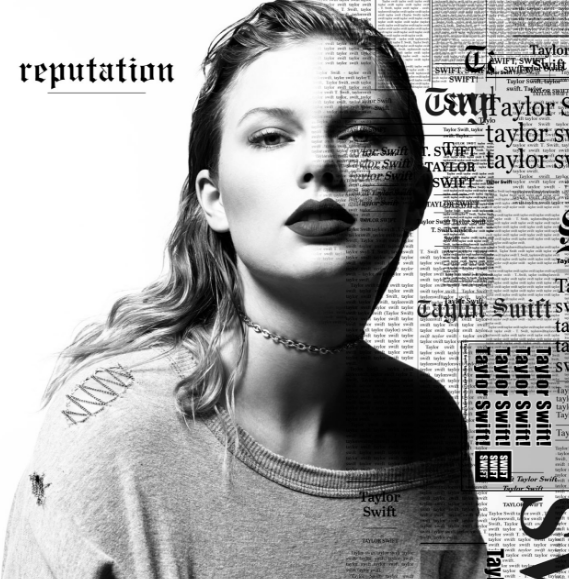 The new Taylor Swift album cover is a gloriously unsubtle piece of found art.
The pop superstar stares ahead, stony-faced and defiant, in grim black-and-white. In the upper-left corner, the album's title, Reputation, is rendered in a black font. On the right side, Swift's face is partly obscured by newspaper clippings—The New York Times, Page Six and others—whose text consists of nothing but her name cloned over and over.
Swift's stern expression contrasts with the more playful, colorful images on the cover of 2010's Speak Now and 2014's 1989. But the image makes its point: Taylor Swift is being engulfed—quite literally shadowed—by the media's obsession. Swift sang about this on "Shake It Off," the single that debuted almost exactly three years ago and ushered in the 1989 era. But this time, she doesn't appear to be shaking it off.
Is Taylor Swift declaring war on the media?
There's a deep history of pop stars taking tabloids to task in song, from Britney Spears's "Piece of Me" ("They're still gonna put pictures of my derriere in the magazine") to Michael Jackson's "Scream/Childhood" and Prince's "Controversy." (Even Carly Rae Jepsen had a fun dig at "BuzzFeed buzzards and TMZ crows" on her E•MO•TION album.) Swift's cover imagery reminded some viewers of Guns N' Roses' Lies, others of Prince's aforementioned Controversy cover, still others of the Dixie Chicks' iconic Entertainment Weekly cover​, in which the trio's nude bodies are adorned with epithets tossed at them after their Iraq War remarks.
Related: What it's like to share a name with Taylor Swift
But the timing is, frankly, odd. The Reputation cover hints at a simultaneous obsession and repulsion with one's own coverage in the media. It's hard not to be reminded of...well...you know...
It is a very weird time to be a wealthy celebrity lashing out against the mainstream media! That activity has become, more or less, the daily morning ritual of one President Trump, who was in Arizona ranting and raving about the "dishonest" media the night before Swift's album cover appeared on our Twitter feeds. (And, in another odd coincidence, Reputation is set for release on November 10—almost exactly a year after Trump's unexpected victory.)
I doubt Swift really voted for Trump (though this speculation is going to follow her to the grave), but I do wonder whether she'll be forced to address the specter of the orange president during the three-month publicity blitz she's about to launch. In recent months, Swift has laid low and scrupulously avoided commenting on anything even remotely political.
This was Swift policy in 2016 as well: no politics. Back then—during election season—this seemed patently reasonable. Swift has never positioned herself as any sort of political artist; she is very, very good about writing songs about other subjects; she presumably did not want to alienate her millions of fans scattered throughout right-leaning states; and nobody expected Trump to win anyway. Plus, she wasn't inclined to hop on the Hillary Clinton endorsement bus after her archnemesis Katy Perry became Clinton's biggest champion in the pop world.
Despite some strongly worded pleas for Swift to break her neutrality and denounce Trump, she remained silent. The star only publicly acknowledged the existence of the 2016 election once—with an Election Day Instagram post that showed her waiting on line to vote. "Today is the day," she caption the photo, giving still no indication of who she was voting for. "Go out and VOTE." (That evidence was deleted, along with all of Swift's other Instagram posts, when she wiped out her social media profiles last week.)
Nine months later, Trump is president, the country is regularly seized by racial turmoil and unrest, and it almost requires an active effort for celebrities not to comment on the political climate. The subject tends to drown out everything else in the room. And there is an entire internet full of white supremacists and neo-Nazis who creepily regard Swift as some sort of Aryan idol.
Swift, though, remains tight-lipped. It's her style—she's nothing like Kanye West, who once blurted out that he would have voted for Trump if he'd bothered to vote at all, or Chrissy Teigen, who clowned Trump on Twitter weekly until she got blocked by the commander-in-chief. Of course, she's nothing like the verbal-spewing commander-in-chief, either, aside from the fact that they both have sizable fortunes and armies of Nazi fans. (And, well, a distaste for their treatment in the media.)
Swift did tweet in support of the Women's March, but it was a nonspecific, pro-women statement that gave no reference to the historic context. (The Daily Beast charged her with "spineless feminism" and "opportunism.")
And that was it. Since then: silence.
One plausible theory is that Swift, a longtime Dixie Chicks fan and country musician at heart, saw what happened to the Dixie Chicks in 2003 and has no desire to replicate that experience.
It's none of our business what the biggest pop star in the world thinks of all this. But who isn't curious? And isn't silence pretty complicit at this point? How will Swift handle the question when it comes up during the inevitable magazine profiles dropping in September or October?
The first single from Reputation drops Thursday night, and it may or may not have something to do with a snake. We'll see if it complements the media image theme of the album art.
Eventually, we'll find out if 2017 is the year that Taylor Swift formally acknowledges the existence of Donald Trump—and how she navigates it. There's more at stake than her Reputation.