Ted Cruz Faces Decision Whether to Endorse Donald Trump for President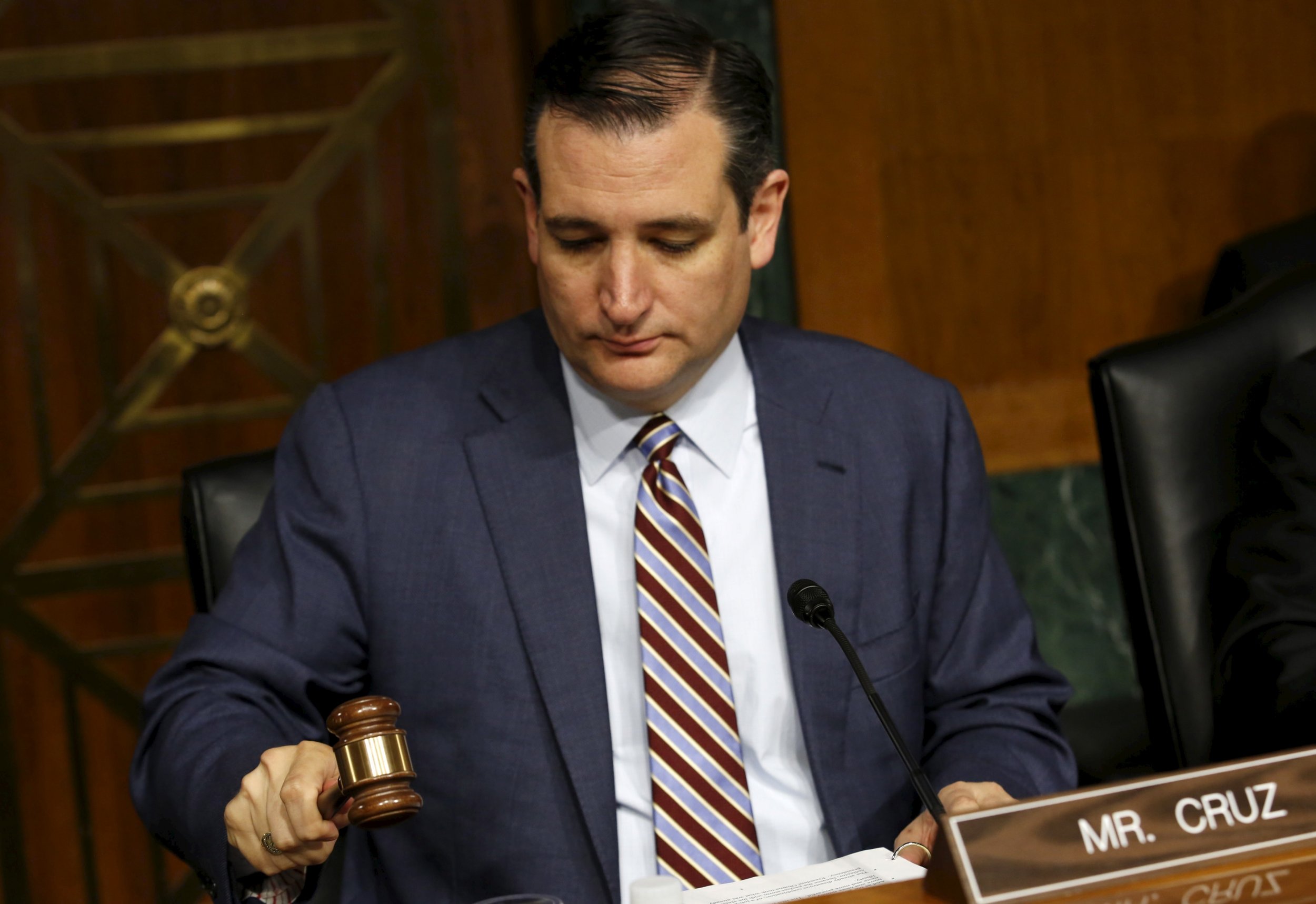 As Ted Cruz returns to the Senate this week to resume his duties representing Texas following the end of his presidential campaign, he's faced with the difficult decision many in the GOP are mulling over: whether or not to endorse Donald Trump.
Cruz, who was the first 2016 candidate to declare his presidential bid last year in March, is perhaps best known as an outspoken and ferocious critic of Republican congressional leadership. When he bowed out of the race for the White House on May 3, after he lost to Trump in the Indiana primary, his campaign paved the way for Republican National Committee (RNC) Chairman Reince Priebus to declare the New York billionaire the "presumptive nominee." Trump is now fewer than 200 delegates short of earning the required 1,237 to clinch the party's nomination.
Cruz has certainly made many enemies among his colleagues on Capitol Hill. He most notably became D.C.'s pariah for the 16-day government shutdown in October 2013, after he faux-filibustered Obamacare for more than 21 hours in an attempt to defund the Affordable Health Care Act.
Now, as a man without a campaign, the question remains whether Cruz will endorse his ex-rival or join the growing list of Republicans who vow not to support the real estate mogul in November's general election. The day before he ended his 13-month campaign, Cruz refused to say whether he would support Trump.
In the first indication that Cruz won't simply hand over his delegates to Trump, The New York Times on Monday reported he is trying to motivate his supporters to show their power ahead of the party's national convention in July, where Republicans officially select their nominee. He reportedly is planning a conference call for Monday night, in which his former officials plan to "discuss what we can do at the convention to protect against liberal changes to our platform."
ForAmerica, a not-for-profit corporation, has worked with Cruz on legislative priorities over the years. Its president, David Bozell, says Cruz should think about his decision, possibly after a vacation with his wife and two young daughters. In fact, a local reporter spotted Cruz at the Kentucky Derby on Saturday afternoon, where the senator declined a media interview, telling The Courier-Journal's Joseph Gerth, "I'm just here to have a good time."
"I suspect he will probably take as much time as he needs," Bozell tells Newsweek. "I think it's a 50/50 call whether he does or whether he doesn't."
Cruz's religious and conservative views widely appealed to evangelical voters throughout his campaign, helping him to win races in Iowa and Wisconsin, and he touted himself as an anti-establishment crusader.
In recent weeks, Trump effectively dubbed the Texas senator "Lyin' Ted," in an attempt to shift perceptions of his opponent in the eyes of many Republican voters. On the defensive, Cruz spent the last several months laying into his competitor by calling him a "bully," "narcissist," "pathological liar" and "utterly amoral," to name a few insults lobbed. Now, if he were to support him, he'd have to walk those comments back.
Cruz also blamed Trump for a salacious tabloid story published in March in the National Enquirer that accused him of having multiple extramarital affairs. He denied the allegations from the article, which was released as the war of words between the two candidates escalated. In one of his first instances speaking out against Trump as the Republican nominee, Cruz hinted at not supporting the real estate tycoon.
"Donald Trump's consistently disgraceful behavior is beneath the office we are seeking and we are not going to follow," he said in a March 25 Facebook post.
Days later, when asked by CNN's Anderson Cooper whether he continued to pledge his support for the eventual Republican nominee, Cruz said, "I'm not in the habit of supporting someone who attacks my wife and my family.… I think nominating Donald Trump would be an absolute train wreck, I think it would hand the general election to Hillary Clinton." In response, Trump said he doesn't need Cruz's endorsement.
In September, the RNC had asked each of the presidential candidates to sign a statement promising not to run as a third-party candidate, as the establishment tried to prevent Trump from campaigning as an independent. Many in the GOP worry the billionaire isn't a true Republican, and differ on policy stances. A pocket of GOP members are trying to draft a third-party candidate to prevent Trump and Clinton, the Democratic front-runner, from taking over the White House.
In March, the strained tone between Cruz and Trump was shifting when the mogul threatened to "spill the beans" on Cruz's wife, Heidi, and tweeted an uncomplimentary image of her next to his own wife, Melania, a former model. It remains unclear what Trump alluded to, but speculation in the media focused on a heavily redacted police report first obtained by BuzzFeed that explains how, in 2005, a police officer responded to a call about a woman with her head in her hands sitting just feet from an expressway in Austin, Texas. The woman reportedly identified herself as Heidi Cruz. She hasn't elaborated much on the incident, but she told The New York Times earlier this year that "we all have rough patches."
The bitter feud between the two continued straight into the Cruz campaign's final day, as Trump falsely accused the senator's father, Rafael, of spending time with Lee Harvey Oswald before he assassinated President John F. Kennedy in November 1963.
As the primary season unfolded, Cruz even teamed up with rival John Kasich in an effort to stop Trump from advancing. Their plan was for the Ohio governor to stand down in Indiana for Cruz to rack up support there, and for Cruz to give Kasich a clearer shot in Oregon and New Mexico. Both candidates lost to Trump in Indiana, and dropped out of the race before the primary-season contests took place in Oregon (May 17) and New Mexico (June 7).
The pros of endorsing Trump do exist: He could land a spot in the White House, and thus become a voice for conservatism, Bozell says. During George W. Bush's 2000 presidential bid, Cruz had worked as a domestic policy aide for the campaign. But he failed later to earn a job in the administration, and instead worked for the Federal Trade Commission.
Meanwhile, Cruz has his reputation to consider when deciding whether he will support the former reality TV star.
"Do you want to throw your hat in the Donald Trump lot when you have absolutely no idea where Donald Trump stands on any single issue in our time, at any hour?" Bozell asks. "If Ted Cruz does endorse Donald Trump, he's going to be asked—and it will probably be demanded—that he does become a surrogate for Donald Trump."
As he heads back to the Senate after a week of recess, Cruz joins three other former Republican candidates who have returned: Marco Rubio of Florida, Rand Paul of Kentucky and Lindsey Graham of South Carolina. Graham, for one, as well as former Florida Governor Jeb Bush, are warning that Trump hasn't demonstrated the temperament of a president. Not long after he dropped out of the race Rubio, who implied he will leave politics when his term ends in January, said a Trump nomination "would fracture the party and be damaging to the conservative movement." And when he ended his campaign in February, Paul pledged to support the eventual nominee when the primary season has ended.
Since he learned about Cruz leaving the race, Trump has softened his rhetoric toward the senator and congratulated him on his efforts.
"I have met some of the most incredible competitors that I have ever competed against right here on the Republican party," Trump said last week during his Indiana victory speech. "Just so you understand, Ted Cruz—I don't know if he likes me or if he doesn't like me—but he is one hell of a competitor. He is a tough, smart guy. And he has got an amazing future."
Some have even questioned whether Cruz, despite his rivalry with Trump, could be a possible vice presidential pick for the mogul.
"There's some pros in that, in the sense that you're right there," Bozell says of the role. "You have an opportunity to shape Washington. You're a tie-breaking vote in the Senate."
Cruz, 45, could also run for president again in the 2020 election. If he endorses Trump now, the decision might not carry weight in the next voting cycle, according to Bozell.
"I think 2020," he says, "is going to be about, 'What have you done for me lately?'"
Ted Cruz Faces Decision Whether to Endorse Donald Trump for President | U.S.