Ted Cruz Deletes Retweet on Ottawa Protestor Supposedly Trampled to Death
Texas Republican Senator Ted Cruz on Saturday deleted a message he shared on Twitter by a Fox News network contributor who falsely stated that a Canadian protester was trampled to death by police during "Freedom Convoy" demonstrations.
"I deleted my retweet about a Canadian protestor being trampled to death because the journalist who first reported it now says it was in error," Cruz tweeted Saturday. "I remain deeply concerned about the abuse—seizing money & employing violence against peaceful protesters—that we're seeing in Canada."
Cruz initially shared the tweet from Fox News network contributor Sara Carter who wrote on Friday that there were reports that a "woman trampled by a Canadian horse patrol just died at the hospital."
Cruz, who has been a vehement supporter of the protesters, quickly retweeted the message, writing, "This...is...horrific," according to The Hill Reporter.
However, Carter later corrected her report and noted that a protester was instead taken to the hospital for a heart condition.
"The reports I was given earlier yesterday from sources on the ground that someone may have died at a hospital during the trampling was wrong. Someone was taken to a hospital with a heart condition-not due to trampling. I want to clarify this again and apologize for any confusion," she tweeted on Saturday.
Though Cruz moved to delete the false tweet, some Twitter users criticized him for sharing misinformation online.
"Maybe it would be good to check things out BEFORE you amplify them?" wrote one user.
Ottawa police have maintained that no protesters were trampled after a video appeared to show two people falling to the ground after officers on horseback rode through a crowd.
"We are not aware of any protesters being trampled by horses," a spokesperson for the Ottawa Police Department told Newsweek on Friday. "We understand that one protestor fell, got up and walked away."
However, protests in Ottawa have become more physical this weekend as demonstrators continue to amass outside of the Canadian parliament building and prime minister's office for a third week. On Saturday, police moved to disperse crowds by using stun grenades, pepper spray and loudspeakers. A day earlier, authorities cleared crowds by arresting roughly 100 demonstrators.
Police have also begun arresting individuals who have been instrumental in organizing the demonstrations. Forty-six-year-old Chris Barber, a prominent leader for the "Freedom Convoy" was arrested on Thursday alongside fellow leader Tamara Lich.
Barber spent just 24 hours in an Ottawa jail and was released on bail Friday on the condition that he return to his home in Saskatoon and never support the protests again, prompting him to state that his "organizing days are over."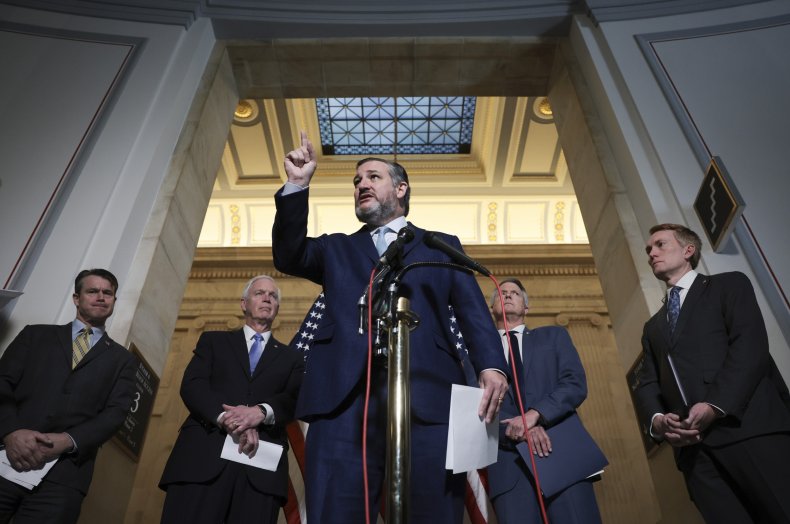 The "Freedom Convoy" protests initially began last month when a group of Canadian truck drivers demanded the end to a cross-border COVID-19 vaccine requirement. However, the movement has since spread across the country and even internationally as larger demonstrations against government mandates and other pandemic restrictions have taken place.
Protesters in Canada have blocked major bridges and roads, leading to widespread economic and social disruptions, and resulting in a heavy police response throughout several cities. In the U.S., Cruz and other Republican lawmakers have publicly supported the protesters for standing up for "freedom."
"God bless these Canadian truck drivers. They're defending Canada, America, and they're standing up for freedom! The government doesn't have the right to force you to comply to their arbitrary mandates," the Texas Republican tweeted last week.
"Freedom Convoy" protests have also been sparked in the U.K., France, the Netherlands, and New Zealand.
This article has been corrected to indicate that Sara Carter is not a Fox News reporter, but rather a network contributor.