Ted Cruz Shares Video of Him Playing Poker While Uvalde Funerals Begin
Texas Senator Ted Cruz has been criticized for sharing a video of him having "ridiculous fun" playing a charity poker game soon after first funerals of the Uvalde school shooting victims began taking place.
On Wednesday, Cruz tweeted out a link to a Poker After Dark episode he features alongside other well known figures such Outkick founder Clay Travis, YouTuber MrBeast and professional poker player Phil Hellmuth.
Hours later, Cruz tweeted out another clip of him playing a round with Hellmuth, adding: "Head-to-head vs. an iconic poker player like @phil_hellmuth was ridiculous fun!"
Cruz explained in a follow-up tweet that the episode he appeared in was recorded "several months ago," but is only just being aired online now.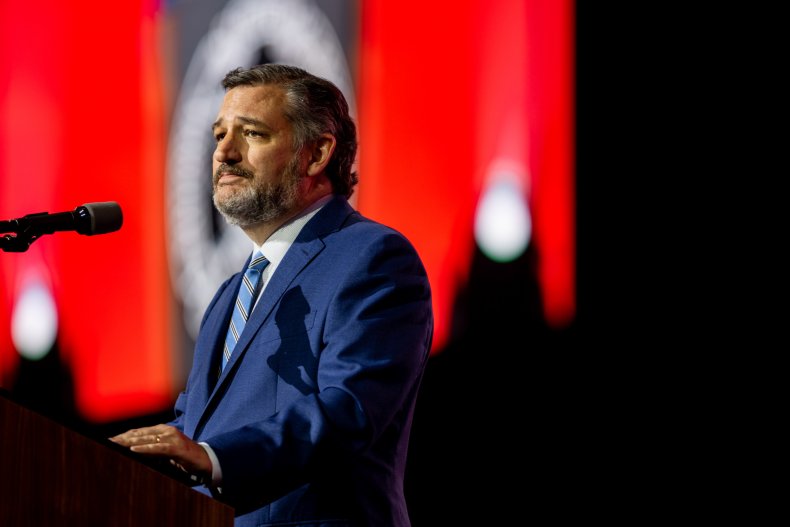 However, social media users still condemned the Republican, who has also faced criticism for his response to the Robb Elementary School shooting and subsequent appearance at an NRA event in Houston days later, for promoting the episode so soon after the first child funerals for the victims were taking place.
On Tuesday, Amerie Jo Garza and Maite Rodriguez, both aged 10, were buried in ceremonies in Texas.
Wednesday was the day that Robb Elementary School teacher Irma Garcia — who also killed in the mass shooting at Uvalde, was buried alongside her husband Joe — who died two days later from a heart attack.
Cruz also shared the poker footage the same evening a gunman killed four people in a mass shooting in Tulsa, Oklahoma, which once again sparked debate abut the need for gun reform in the country.
Film producer Kim Sherell tweeted: "Aren't you glad Ted Cruz is having ridiculous fun knowing America's schools, theaters, malls, churches, and hospitals are being shot up?"
MSNBC host Mehdi Hasan tweeted: "There's absolutely no reason for a Texas senator not to be having 'ridiculous fun' right now. None whatsoever."
The account for the Sleeping Giants campaign group wrote: "Safe to say that there's so much to be outraged about right now, but given that this senator had 19 children massacred in his state by an AR-15 last week, this tweet just might make the Outrage Hall of Fame."
Russell Foster, a former Texas congressional candidate, said: "Multiple mass shootings today & Ted Cruz is too busy talking about poker games instead of the violence in America. From Podcasts to poker shows to interviews on propaganda networks, does he do anything at all in the Senate besides using the basketball court?"
Professional chess player Jennifer Shahade added: "Who cares if you had nines, when nine year old children are being buried in your state?
"This is the worst poker tweet I've ever seen and that is saying a lot."
Fellow Twitter user Paul Leslie wrote: "You are either insanely stupid, or insanely callous. Potentially both. Your timing and actions with these tweets today show who you really are. Despicable."
Cruz was also criticized on Wednesday for his previous suggestion that "having one door that goes in and out" of Robb Elementary School would have helped prevent the massacre in Uvalde, rather than stricter gun laws.
Social media users condemned Cruz and other Republicans' suggestions for preventing mass shootings after a gunman carried out the attack at Saint Francis Hospital in Tulsa on Wednesday.
"What are the 'solutions' the GOP will pitch after today's Tulsa hospital shooting? Fewer hospital doors? Arm the nurses? Teach the patients self-defense as they are admitted? Do you see how stupid these ideas sound? Enough," tweeted the anti-Donald Trump political group MeidasTouch.
Cruz has been contacted for comment.