Ted Cruz's Approval Rating Sees Double-Digit Decline Following Cancun Fiasco: Poll
Texas Senator Ted Cruz's approval rating saw a significant decline following his Cancun trip fiasco in February, according to a Monday Morning Consult poll released Monday.
The poll, conducted February 19-28, found that 43 percent of Texas voters approve of Cruz's job performance, while 48 percent disapprove.
Cruz's net approval rating saw a double-digit drop from plus 6 to minus 5, according to Morning Consult.
The poll surveyed over 2,000 Texas voters and has a 2 point margin of error.
The senator's approval rating decline came after his decision to leave Texas for Cancun, Mexico, while millions of Texans were without power and water during severe winter weather conditions that hit the state last month.
Cruz has since apologized for leaving Texas, saying that his "girls asked to take a trip with friends. Wanting to be a good dad, I flew down with them last night and am flying back this afternoon."
He added that he was in "constant communication with state and local leaders to get to the bottom of what happened in Texas."
Cruz, however, faced significant backlash for his trip despite his apology. Protesters called for his resignation, and a local business mocked him by making a piñata of him wearing the same outfit he was photographed in on his return trip from Cancun.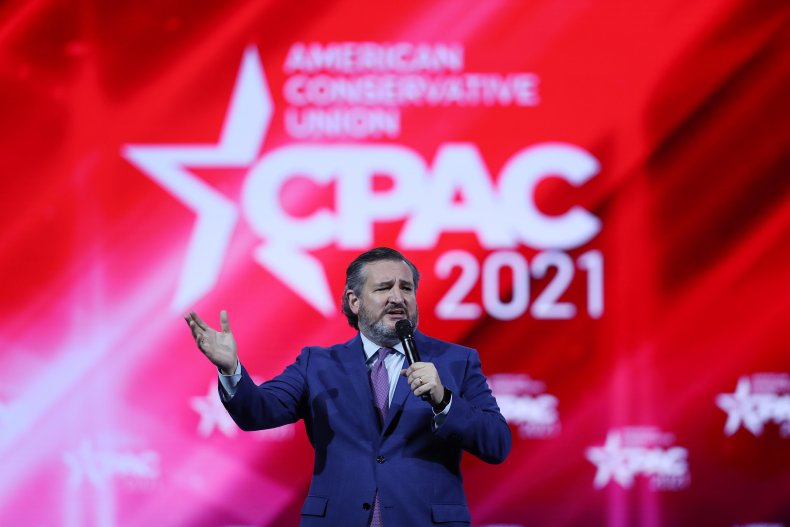 A Yahoo/YouGov poll from earlier this month showed an even lower approval rating for the Republican senator. The poll, released on February 24, found that 24 percent of voters approved of his job performance, while 49 percent disapproved.
According to that poll, Cruz's approval rating among Republicans sat at 53 percent, a 23 point decrease compared to his January rating, which found that 76 percent of Texas Republicans supported him.
Cruz, however, was losing support prior to his Cancun controversy.
The Texas senator had an 81 percent approval rating among Republicans in a Morning Consult survey conducted from December 27 to January 5. His approval rating then dropped 5 points to 76 percent later in January, following his decision to object to the congressional certification of President Joe Biden's Electoral College votes on January 6.
Cruz, among other Republican figures who objected to the certification, was criticized for inciting the violent mob riot at the U.S. Capitol that happened on the same day.
Newsweek reached out to Cruz's office, but didn't hear back in time for publication.