Texas Coronavirus Deaths in Single Day More Than Hurricane Harvey, Ike and Rita Combined
Novel coronavirus cases in Texas have reached nearly 418,900. While more than 251,300 have reportedly recovered, nearly 6,200 have died following infection, as of Thursday, according to Johns Hopkins University.
The state reported a record 313 new deaths on Wednesday, which is more than the nearly 300 total combined deaths reported following Hurricane Harvey, Hurricane Ike and Hurricane Rita.
Texas reported 68 direct deaths from Hurricane Harvey in 2017 and 35 additional deaths indirectly related to the hurricane, according to the National Hurricane Center. In 2008, Hurricane Ike claimed 37 lives, while 82 indirect deaths were also reported. Seven deaths in Texas were directly attributed to Hurricane Rita in 2005, while at least 55 indirectly related fatalities were reported in the state.
Wednesday's death tally in Texas marked its largest single-day spike in deaths since the outbreak began, according to data compiled by Worldometer.
The latest daily death toll marks a nearly 70 percent spike from the 185 new fatalities reported Tuesday. The state's seven-day rolling average of daily new deaths began rising on a steeper incline just after the July 4 weekend.
In the past week from July 23 to 29, the state reported 1,275 new deaths, which marks a more than 24.3 percent increase from the 1,025 new deaths reported over the previous week from July 16 to 22.
Earlier this week, the Texas Department of State Health Services (DSHS) changed its method of counting COVID-19 deaths on Monday, resulting in more than 600 additional deaths being added to the overall tally.
"This method allows fatalities to be counted faster with more comprehensive demographic data. Using death certificates also ensures consistent reporting across the state and enables DSHS to display fatalities by date of death, providing the public with more information about when deaths occurred," the DSHS noted in a statement.
"DSHS previously counted COVID-19 fatalities as they were reported publicly by local and regional health departments after they received a notification and verified the death. The length of time that process takes varies by jurisdiction and does not provide timely demographic information on most fatalities," the statement said.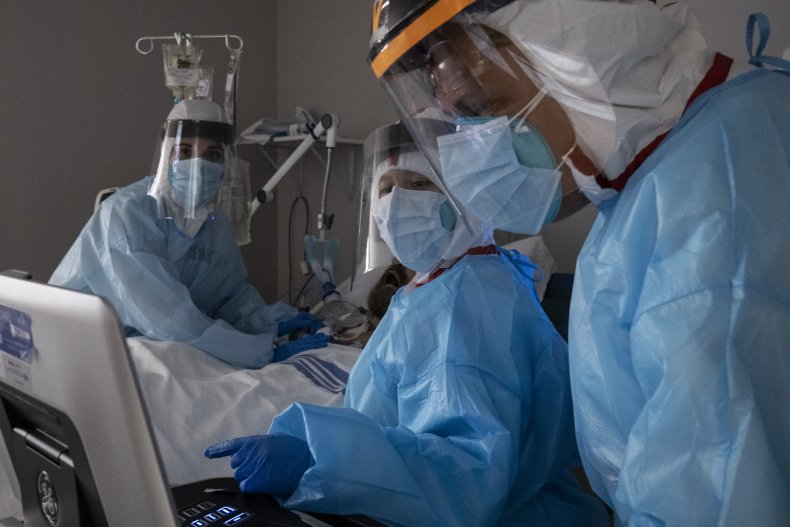 New infections in Texas continue to soar. The daily case count has been mostly increasing from around June 8, less than a week after the state entered its third phase of reopening on June 3. The seven-day rolling average of daily new cases has been mostly declining from around July 18, according to Worldometer.
Last month, Texas Gov. Greg Abbott announced a pause on further reopenings following the recent surge in cases. He noted the outbreak had taken a "very swift and a very dangerous turn," during a press briefing at the time.
More than 17 million people across the globe have been infected since the virus was first reported in Wuhan, China, including over 4.4 million in the U.S. Over 9.9 million globally have reportedly recovered from infection, while over 667,900 have died, as of Thursday, according to the latest figures from Johns Hopkins University.
The graphic below, provided by Statista, illustrates the daily COVID-19 death toll in the U.S.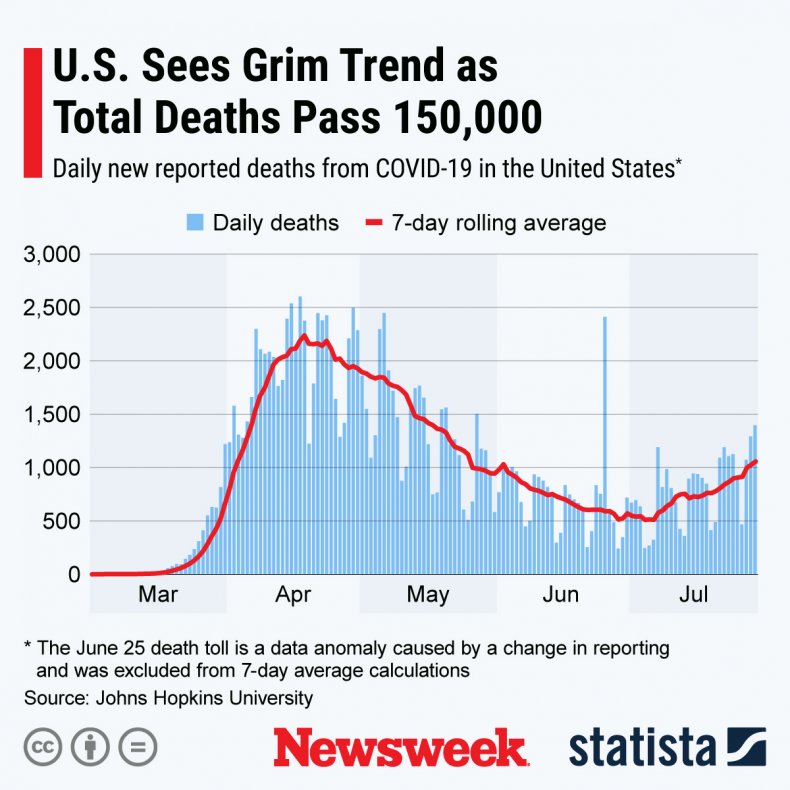 The graphic below, provided by Statista, illustrates U.S. states with more than 100 COVID-19 cases per 100,000 people in the past week.