InfoWars' Alex Jones Leads 'We Can't Breathe' Anti-Mask Protest in Texas
Far-right conspiracy theorist Alex Jones led a crowd of people chanting "we can't breathe" at a protest rally in Texas after local governments in the state implemented the wearing of masks to help stop the spread of COVID-19.
The InfoWars host was one of around 150 people to take part in the march outside the Texas Capitol on Sunday, using a megaphone to shout false claims about the virus from the top of an armored vehicle.
"COVID-19 is a real virus, but it is a stimulated virus so they can track and trace and control people," Jones claimed before encouraging the crowd to chant "USA, USA"
"America is awakening," Jones said before repeating conspiracy theories about Microsoft founder Bill Gates somehow being behind the virus and that Bill and Hilary Clinton are going to prison.
A video posted on social media also shows a crowd of people taking part in the anti-mask protest walking behind Jones' vehicle while chanting, "We can't breathe."
The chant appears to be a play on the "I can't breathe" chant often heard at Black Lives Matter protests across the country in the wake of the death of George Floyd.
InfoWars contributor Owen Shroyer was also in attendance, claiming that wearing masks does not help stop the spread of COVID-19.
"We refuse to be a slave to the government," Shroyer said, reported the Austin American Statesman. "We refuse to comply with illegal orders. We will not wear masks."
The wearing of masks in public has been recommended by local governments in the U.S. and in countries across the world after numerous clinical and laboratory studies found covering the nose and mouth is an effective way to help stop the respiratory virus from spreading from person to person.
Jones is one of the most high-profile conspiracy theorists in the world. He infamously claimed that the 2012 Sandy Hook Elementary School massacre was a hoax and parents of the children killed in the mass shooting were crisis actors.
Jones has been contacted for comment.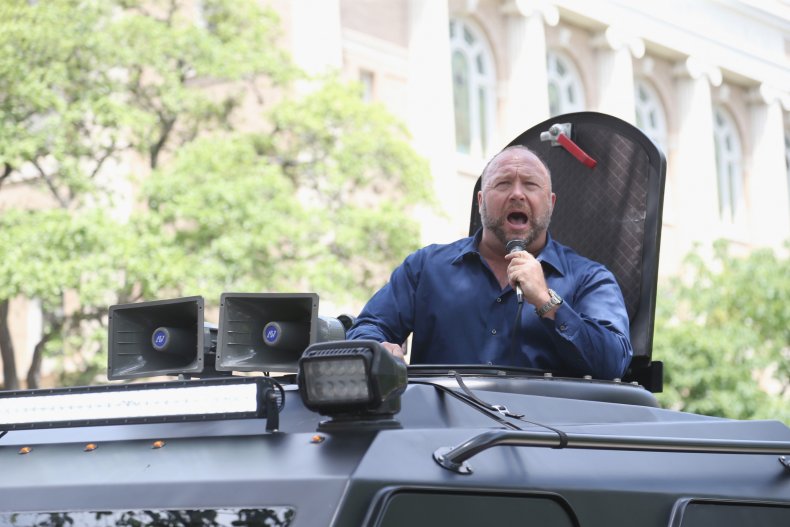 The protest took place as Texas Governor Greg Abbott issued an executive order that all bars and clubs that receive more than 51 percent of their gross receipts from the sale of alcohol must close from Friday, June 26 in order to help control the new record-breaking number of cases in the state.
Restaurants in Texas were told they must also reduce to 50 percent occupancy to help control the spike.
Several local authorities, including Travis County and Harris County, have also enforced the wearing of masks in public or in places of businesses amid the spike of COVID-19 cases.
"The actions in this executive order are essential to our mission to swiftly contain this virus and enhance public health," Abbott said in a statement.
"We want this to be as limited in duration as possible. However, we can only slow the spread if everyone in Texas does their part. Every Texan has a responsibility to themselves and their loved ones to wear a mask, wash their hands, stay six feet apart from others in public, and stay home if they can.
"I know that our collective action can lead to a reduction in the spread of COVID-19 because we have done it before, and we will do it again."
There are more than 150,000 confirmed cases of COVID-19 in Texas, with at least 2,400 deaths, according to Johns Hopkins University. In total there are 2.54 million cases recorded in the U.S., with 685,164 people having recovered from the virus.
The graphic below, provided by Statista, shows the spike of new COVID-19 cases in the U.S. as of June 28.