A prominent Texas newspaper's editorial board published a scathing article on Friday slamming the southwestern state's Attorney General Ken Paxton, a Republican, after he urged followers of My Pillow founder Mike Lindell to "harass" judges that had ruled against him.
The Texas Court of Criminal Appeals—the top court for criminal cases in the state—issued an 8 to 1 opinion on December 15, finding that Paxton could not unilaterally prosecute election cases. Paxton, a staunch supporter of former President Donald Trump, has been a key promoter of baseless claims that the 2020 election was rife with widespread voter fraud.
In response to the GOP-dominated court's ruling, Paxton appeared on Lindell TV and right-wing strategist Steve Bannon's War Room podcast earlier this month and urged viewers and listeners to pressure the court's conservative justices. "Call them out by name," Paxton told Lindell TV on January 17. "I mean, you can look them up. There's eight of them that voted the wrong way. Call them, send mail, send email."
The editorial board of The Fort-Worth Star Telegram called out the pro-Trump attorney general over his actions in a Friday article. The title of the opinion article was: "How many new ways can Texas AG Ken Paxton find to disrespect the rule of law?"
Paxton is "irresponsibly suggesting that the court—made up, again, of nine of his fellow Republicans—is part of a vast leftist conspiracy," the editorial board contended.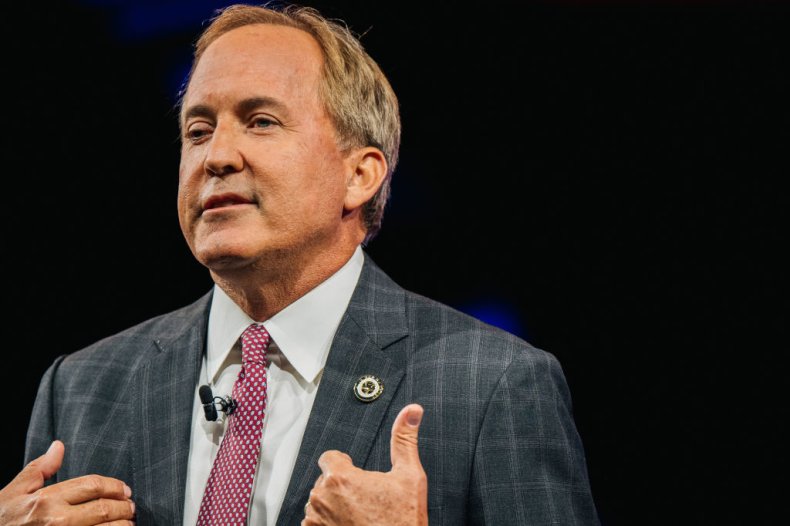 "The AG has a reasonable legal disagreement with the court's ruling. But he also really likes pretending he's striking great blows against a vast network of voter fraud that does not exist. It's dangerous and inappropriate to sic political supporters on judges," they wrote. "We don't make case law based on mob passion or political majority. It's fine to protest a ruling, argue to overturn it and even work to defeat the responsible judges at the ballot box."
The editors added that Paxton has gone "all in on 2020 election lies." They noted that the claim about widespread voter fraud in the 2020 election has "been dismissed by every legal venue asked to examine it. One should be skeptical of any conspiracy that would require so many participants at so many levels. Coordinating it and keeping it secret would be almost impossible."
The editorial noted that Paxton previously "launched the absurd notion that the Supreme Court should let Texas meddle in other states' elections. And he's missed no opportunity to sidle up to Trump." The column also reminded readers that the Republican official was accused "of bribery and trying to help a campaign contributor" by a former top aide.
"Ken Paxton is telling us over and over again that he's above the law, that the rule of law is optional and that a conspiracy happened against all evidence it did not. Republican primary voters, are you listening?" the editorial board concluded.
Vincent Johnson, a law professor at St. Mary's University in San Antonio, previously told Austin-American Statesman that Paxton's actions may have violated strict Texas rules governing contact between judges and attorneys.
"If the lawyer can't communicate with the court, the lawyer can't round up somebody else to communicate with the court to apply the same message," Johnson told the newspaper.
Paxton in December 2020 filed a highly controversial lawsuit with the Supreme Court, asking the nation's top judicial body to throw out the election results in four battleground states—Georgia, Michigan, Pennsylvania and Wisconsin. President Joe Biden beat Trump in the four states, and the former president and his allies falsely claimed this was due to widespread voter fraud. The conservative-controlled Supreme Court rejected Paxton's lawsuit.
Since then, Trump, Paxton, Lindell and many other conservatives have continued to promote the conspiracy theory that Biden only won the last presidential election because it was "rigged" or "stolen." They have not provided evidence substantiating the allegation and more than 60 legal challenges to the election have failed in state and federal courts.
Meanwhile, audits and recounts across the country—including in areas where the election was overseen by pro-Trump Republicans—have consistently reaffirmed Biden's victory over Trump. Former Attorney General William Barr, who was widely viewed as one of Trump's most loyal Cabinet members, drew backlash from Biden supporters after he had the Justice Department investigate claims of voter fraud. However, Barr concluded in December 2020 that there was "no evidence" of widespread fraud that would change the election's outcome.
Nonetheless, millions of voters continue to believe Trump's and his allies' lies about the 2020 election results. Polls have consistently shown that a majority of Republicans believe the false claims and do not view Biden as the legitimate president.
Newsweek reached out to Paxton's office for comment, but did not immediately receive a response.