Texas Power Grid Came Within Seconds of Catastrophic Failure, ERCOT Officials Say
Texas came within "seconds or minutes" of a major power outage that risked badly damaging the network and leaving areas without heating and electricity for months, says the head of the state's power grid operator.
Bill Magness, president and CEO of the Electric Reliability Council of Texas, said officials narrowly avoided a catastrophic failure that could have turned temporary blackouts into outages lasting into the spring.
"It needed to be addressed immediately," said Magness. "It was seconds and minutes [from possible failure] given the amount of generation that was coming off the system."
As coal, wind and gas-generated energy supplies dwindled in the freezing weather and demand surged from customers trying to keep warm, the grid was forced to implement blackouts to protect the network.
"What happens in that next minute might be that three more units come offline, and then you're sunk," Magness told The Texas Tribune.
Without immediate action, it was feared that the network could implode with substations catching fire and power lines collapsing—physical damage that could have taken an "indeterminately long" time to fix.
Magness said blackouts "could have occurred for months" had his team not stepped in to limit supply to homes and businesses and protect the grid.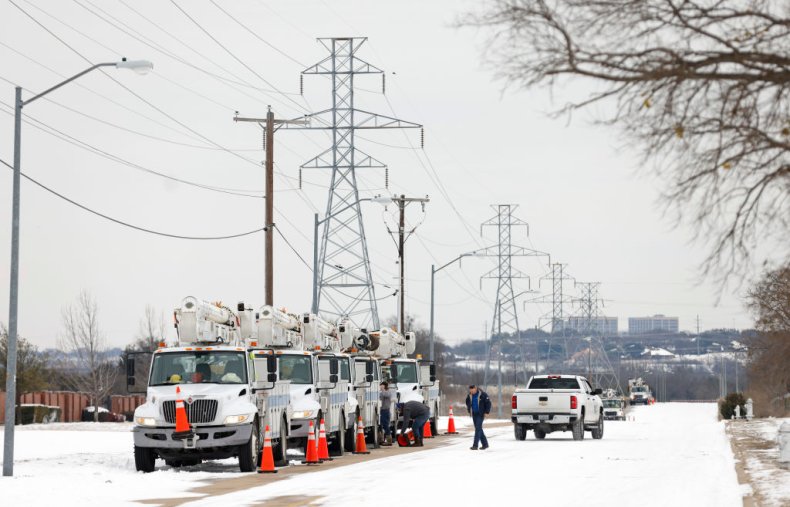 Millions of Texans were left without power earlier in the week after a huge storm swept the southern U.S. More than 200,000 energy customers in the state are still enduring outages.
About 13 million Texans have also faced some disruption to their water supply, with residents urged to boil tap water after the outages hit treatment facilities.
The management of the state's power supplies and the political response to the crisis are now coming under criticism.
Texas typically has a generating capacity of around 67,000 megawatts during the winter—when demand is ordinarily lower and power plants go offline for maintenance—and roughly 86,000 megawatts in the summer, when scorching days necessitate the use of air conditioners. That cycle is based on ERCOT's detailed estimation of the state's energy needs.
Daniel Cohan, an associate professor of civil and environmental engineering at Rice University in Houston, described ERCOT's predictions for winter demand as broadly accurate. In a Twitter thread, he wrote that the agency's forecast was likely to be only around 10 percent below actual demand during the surge.
"ERCOT didn't do too badly predicting peak demand," he wrote. "We don't know what actual peak would have been without these rolling blackouts, but perhaps in the low 70s GW [a gigawatt is equal to 1,000 megawatts]. So maybe a 10%, 7 GW underestimate.
"ERCOT also got things about right predicting scheduled maintenance, as plants tune up for summer peak."
Cohan added, however: "Why those were allowed to continue, given forecasts of an Arctic blast over a week ahead, deserves investigation.
"Where ERCOT totally missed the situation was in forecasting outages. Actual outages of 'firm' resources—mostly gas, plus a bit of coal and 1 of 4 nuclear reactors that went down—topped 30 GW, more than double its worst case scenario."
The professor also criticized politicians who were "misleading" the public by claiming renewables were the leading cause of the blackouts.
"Every one of our sources of power supply underperformed. Every one of them is vulnerable to extreme weather and climate events in different ways. None of them were adequately weatherized or prepared for a full realm of weather and conditions," he wrote.
His comments came after Texas Governor Greg Abbott blamed the outages on green energy, saying the crisis demonstrated "that fossil fuel is necessary."
The infographic below, provided by Statista, breaks down the state's energy sector by fuel type.