Texas Reopens Despite Only Californians Dying From COVID in Higher Numbers
Texas is to reopen despite the fact that only California is averaging more COVID-19 deaths per day.
Texas Gov. Greg Abbott issued an executive order on Tuesday lifting the state's mask mandate and increasing the capacity limits of all businesses and facilities to 100 percent. It takes effect next Wednesday, March 10.
Abbott said in a statement on Tuesday: "We must now do more to restore livelihoods and normalcy for Texans by opening Texas 100 percent. Make no mistake, COVID-19 has not disappeared, but it is clear from the recoveries, vaccinations, reduced hospitalizations and safe practices that Texans are using that state mandates are no longer needed."
"Today's announcement does not abandon safe practices that Texans have mastered over the past year," he said. "Instead, it is a reminder that each person has a role to play in their own personal safety and the safety of others. With this executive order, we are ensuring that all businesses and families in Texas have the freedom to determine their own destiny."
In his statement, the governor pointed to the fact that the state had administered nearly 5.7 million vaccine doses—with more than half of seniors having received one—while the number of active cases was at its lowest rate since November.
Although conditions in the state—as in the country overall—have improved significantly since the holiday surge, Texas recorded a daily average of 7,259 of new cases over the past seven days, according to the New York Times COVID-19 tracker. This is the second-highest figure in the nation after New York state.
Texas is averaging around 25 cases per 100,000 people, placing it among the top 10 states for recent spread of the virus, figures from the Times tracker show. In addition, the state has reported a daily average of about 232 deaths over the past seven days—the second-highest in the nation after California.
Despite Abbott highlighting the state's vaccination rollout, Texas currently ranks 48th for COVID-19 vaccine doses administered per 100,000 people, according to the latest figures from the U.S. Centers for Disease Control and Prevention (CDC).
The graphic below, provided by Statista, shows COVID-19 vaccination doses administered per 100 people in the United States as of March 2, 2021.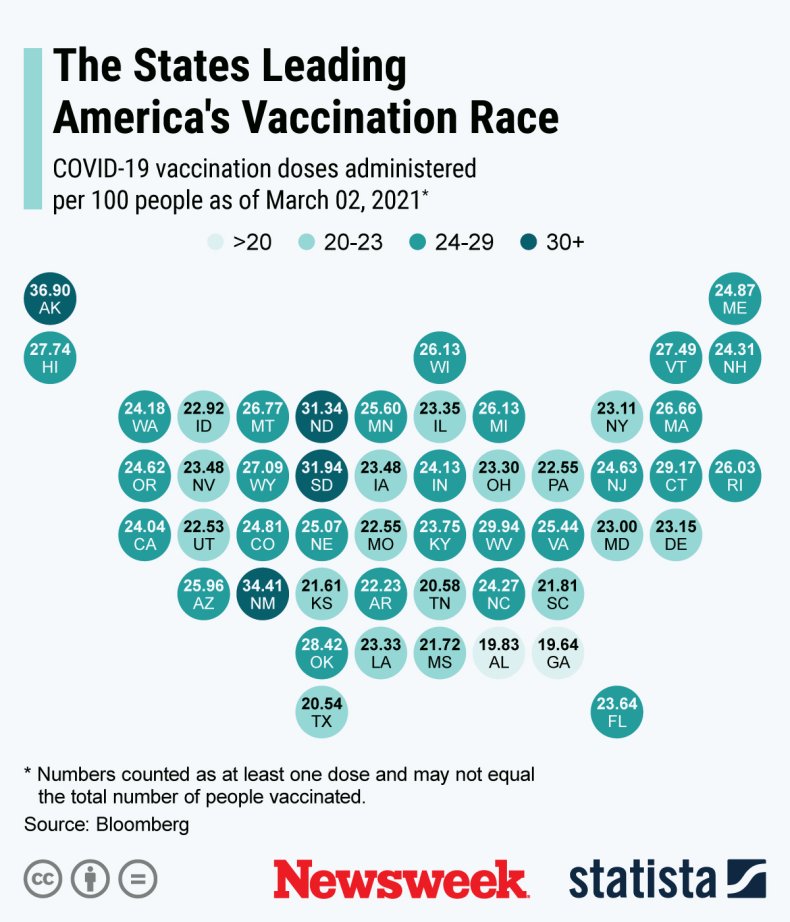 Abbott's decision has been criticized by lawmakers in the state, including Gilberto Hinojosa, chair of the Texas Democratic Party.
"What Abbott is doing is extraordinarily dangerous," Hinojosa said in a statement. ""This will kill Texans. Our country's infectious disease specialists have warned that we should not put our guard down, even as we make progress towards vaccinations. Abbott doesn't care."
California Governor Gavin Newsom described Abbott's announcement as "absolutely reckless" on Twitter.
Federal officials have warned states not to reopen prematurely, despite the improvement in figures. The country still recorded an average of more than 65,000 new daily cases over the past seven days—more than during the spring and summer waves.
On Monday, CDC Director Rochelle Walensky said "now is not the time" to lift restrictions.
"We stand to completely lose the hard-earned ground we have gained," she said at a White House briefing, warning of a potential "fourth surge" amid the rise of new variants.
Mississippi Governor Tate Reeves also announced on Tuesday that his state would be lifting its mask mandate and allowing businesses to operate at full capacity.
Newsweek, in partnership with NewsGuard, is dedicated to providing accurate and verifiable vaccine and health information. With NewsGuard's HealthGuard browser extension, users can verify if a website is a trustworthy source of health information. Visit the Newsweek VaxFacts website to learn more and to download the HealthGuard browser extension.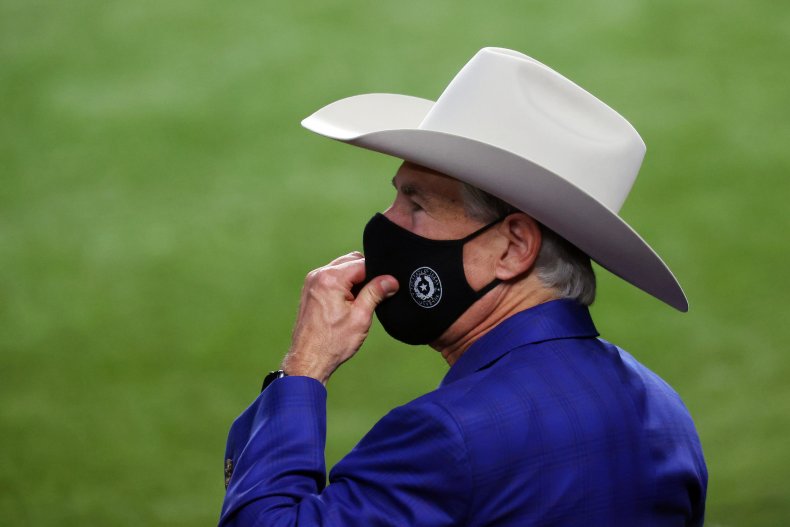 Update 3/3/21, 9:45 a.m. ET: This article was updated to include an infographic.