Texas State Rep. Steve Toth Says Mike Lindell Is Being 'Set Up by the Left'
Texas State Representative Steve Toth has said that he believes that MyPillow CEO Mike Lindell is being "set up by the Left" to fail at his attempts to uncover voter fraud in the 2020 presidential election.
The Republican congressman reveals in a video from The Undercurrent that he's going to re-file Texas House Bill 24 to seek an independent audit of the state's election results. He compares the audit to audits currently underway in Maricopa County, Arizona and Fulton County, Georgia.
"You just follow the evidence, right?" Toth says. "Problem is this is not done electronically, and that's the course that Mike Lindell is on right now with MyPillow. And the problem is, I think he's being set up by the Left."
"If you pay attention to what happened in Georgia, it was all paper," Toth continues. "If you pay attention to what's going to come down in Arizona, it will be all paper."
Toth then claims that Democrats have long depended on paper ballots to commit voter fraud, including to secure a very close 2008 election win for former Minnesota Senator Al Franken.
"It's always been paper," Toth continues. "And the Democrats now are trying to create this conspiracy, that it's electronic so that we'll move back to paper, solely paper. And they're foisting this scam on us, and Republicans are buying into it. It's paper."
Toth doesn't name which Democratic entities he believes are misleading Lindell and Republicans into examining voting machines. Numerous polls have shown that Democratic voters believe the 2020 election was fair and without ballot fraud.
Toth has made baseless claims of voter fraud in the 2020 election. In November 2020, he spoke at a "Stop the Steal" rally in Conroe, Texas in support of Republican former President Donald Trump.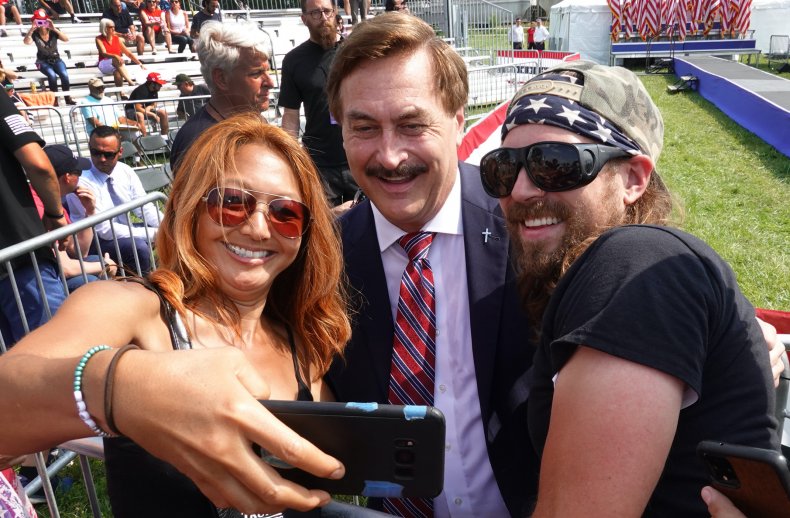 Despite his claims of Democrats misleading Republicans, Trump's supporters seem to have been the ones most vocally claiming that election fraud occurred through voting machines.
Former Trump campaign attorney Sidney Powell claimed in a November 19 press conference, that "massive influence of communist money through Venezuela, Cuba and likely China" had compelled Republican and Democratic lawmakers to rig the election.
The alleged rigging, according to Powell, occurred by various Democratic and Republican candidates paying foreign governments to alter voting machines to switch Trump votes into Biden votes and to switch enough other votes to help other individual candidates to win their election races.
Powell also accused Georgia's Secretary of State Brad Raffensperger and Governor Brian Kemp, both Republicans, of accepting bribes to participate in the alleged vote-switching scheme. Trump narrowly lost Georgia by 11,779 votes.
By November 22, Trump's re-election campaign said that Powell no longer had a formal role as a campaign attorney.
Lindell has echoed some of Powell's beliefs. Lindell has said he will unveil new evidence that a cyber-symposium this month proving that voting machine fraud, orchestrated by China, stole the 2020 election from Trump. This supposed evidence, Lindell said, will convince the Supreme Court to vote unanimously to reinstate Trump into office by autumn.
Lindell is also facing his own $1.3 billion defamation lawsuit from Dominion Voting Systems over his past claims that the company helped steal the election. Lindell countersued the company for $1.6 billion, claiming that their lawsuit violated his Constitutional rights to free speech.
Trump lost the election by over seven million popular votes and 74 electoral votes. Trump's own attorney general and federal head of election security both said there is no evidence that fraud affected the election's outcome. Trump has denied recent claims that he pressured his Department of Justice to baselessly declare the election as "corrupt."
Newsweek contacted Lindell's and Toth's offices for comment but did not hear back in time for publication.