These Are the States Where You Can Vote By Mail
Michigan became on Tuesday the latest state to allow all voters to vote by mail during November's presidential election, a practice that has been the subject of extensive debate since the coronavirus pandemic introduced new difficulties for the voting public this spring.
All registered voters will receive applications to vote by mail for both Michigan's primary election on August 4 and the general election on November 3. The news was announced by Michigan Secretary of State Jocelyn Benson, who said voter safety in light of the threats posed by the virus played a significant role in making the decision.
"By mailing applications, we have ensured that no Michigander has to choose between their health and their right to vote," Benson said in a Tuesday news release. "Voting by mail is easy, convenient, safe, and secure, and every voter in Michigan has the right to do it."
Before the pandemic struck the U.S., only five states—Colorado, Hawaii, Oregon, Utah and Washington—conducted their elections using a vote-by-mail system. Though all states allow voters to vote by mail in certain circumstances, before the pandemic 16 required voters to provide reasons for those preferences before their applications were approved. Those restrictions have been significantly relaxed over the past couple of months, with many states actively working to expand options for at-home voting in an attempt to limit foot traffic at polling places.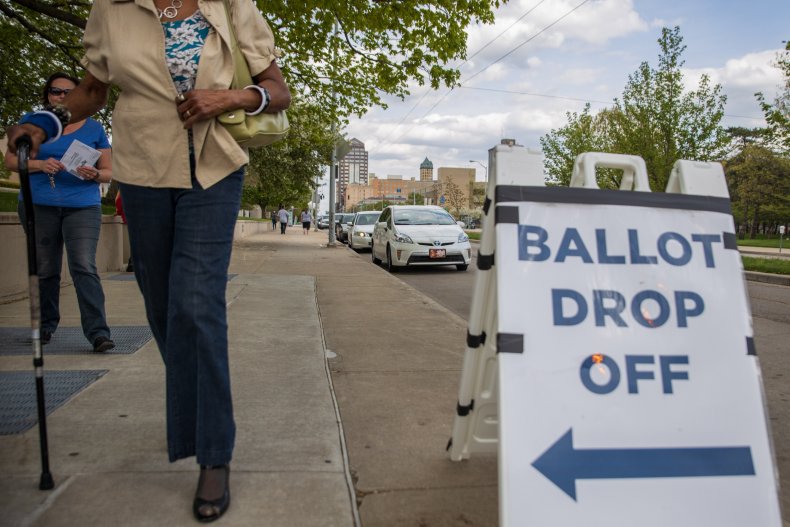 Shortly after Americans cast ballots on March 3, Super Tuesday, several states began postponing their primary elections as COVID-19 concerns were rising. In Ohio, the state's March 17 primary was changed to allow all voters to cast their ballots by mail. Similarly, state officials in Maryland sent paper ballots to all registered voters for its special election in April seeking someone to fill the late congressman Elijah Cummings' seat.
Governors in Delaware, Nevada, New Jersey, New York and North Dakota have said voters will receive vote-by-mail ballots for primary elections in June and July, and California Governor Gavin Newsom said earlier this month all California voters will receive vote-by-mail ballots for the general election in November. While many other states have loosened their restrictions for voting by mail, most still require voters to apply for a mail-in ballot, rather than send every registered voter an absentee ballot automatically.
Leading up to the general election, governors' rules on absentee voting will likely remain in flux as states gauge the success of pandemic restrictions imposed thus far and determine which restrictions will need to remain in place through November. According to a study published Monday by researchers at the University of Wisconsin Oshkosh and Ball State University, in-person voting during Wisconsin's primary election likely led to a significant increase in COVID-19 cases. Recognizing the risks involved in visiting polling places to vote in person, the majority of Americans have said in recent surveys they would support shifting to a vote-by-mail system for this year's presidential election.
Despite increasing interest in adopting vote-by-mail options, the concept has drawn criticism from many Republican legislators who have raised concerns over ballot security. Though theories of voter fraud with mail-in ballots are thus far largely unfounded, President Donald Trump has contributed to the debate by advising hesitancy regarding vote-by-mail practices. "Mail ballots, they cheat," Trump said last month. "Mail ballots are very dangerous for this country because of cheaters. They go collect them."