'This Should Be Simple': AOC, Progressives Say Lauren Boebert Must Be Punished
Representative Alexandria Ocasio-Cortez (D-N.Y.) and other progressives have ramped up their pressure campaign to punish Representative Lauren Boebert (R-Colo.) for recent anti-Muslim comments about Representative Ilhan Omar (D-Minn.).
Boebert dubbed Omar a "Jihad Squad" member last month and made a comment that many interpreted as a suggestion that she could be a suicide bomber. Ocasio-Cortez called for Boebert to be stripped of her House committee assignments over the comments on Wednesday. Ocasio-Cortez's was speaking during press conference to introduce a resolution from her fellow "Squad" member Representative Ayanna Pressley (D-Mass.) that called for the same punishment.
"It's simple: You threaten a colleague, or you incite incredibly racist rhetoric against a specific colleague of yours in United States Congress, you should not have committees," Ocasio-Cortez said. "This should be simple. This should be easy. Unfortunately, the Republican caucus is not making it easy. But we should."
Representative Marjorie Taylor Greene (R-Ga.) was stripped of her committee assignments for past comments that appeared to endorse violence against Democrats earlier this year, while Representative Paul Gosar (R-Ariz.) was censured and lost his assignments last month for posting a video depicting himself killing Ocasio-Cortez with a sword before turning the weapon towards President Joe Biden.
Despite stern words of condemnation, Democratic leadership has not taken similar action against Boebert, who refused to apologize to Omar directly or publicly but tweeted an apology to "anyone in the Muslim community I offended."
Speaker of the House Nancy Pelosi (D-Calif.) has largely avoided the issue since calling Boebert's behavior "both deeply offensive and concerning" in a statement with Democratic leadership last month. Pelosi told reporters that it was "the responsibility of Republicans to discipline their members" on Wednesday.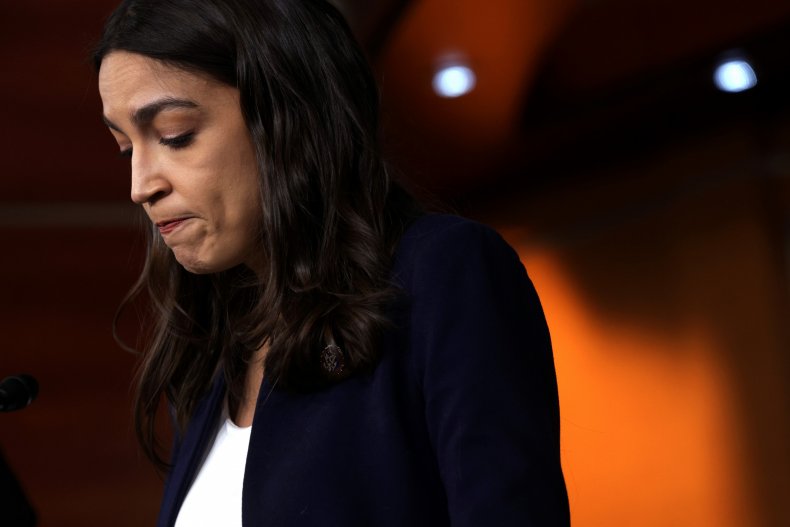 Meanwhile, progressive pressure has continued to escalate. A coalition of 40 House Democrats, including five caucus chairs, issued a letter demanding that Boebert be stripped of her committee assignments last week. Congressional Progressive Caucus Chair Pramila Jayapal (D-Wash.) said that Boebert's "rhetoric "endangers the lives of Muslim Americans across the country" during an MSNBC interview on December 3, arguing that Republicans currently "do not even have basic decency."
Representative Rashida Tlaib (D-Mich.)—who, alongside, Omar is one of only two Muslim women to be elected to Congress—teared up while speaking in favor of Pressley's resolution on Wednesday. Tlaib said that progressives "shouldn't have to beg and urge Republicans to do what's right here," while adding that "it is hard being Muslim in our country right now, and this makes it worse."
"Without meaningful accountability for [Boebert's] actions, we risk normalizing this behavior and endangering the lives of our Muslim colleagues, Muslim staffers and every Muslim who calls America home," Pressley said. "The House must unequivocally condemn this incendiary rhetoric and immediately pass this resolution. How we respond in moments like these will have lasting impacts, and history will remember us for it."
Representative Cori Bush (D-Mo.) said that removing Boebert from her committees was "the least leadership can do," describing the Colorado Republican as a "lying, Islamophobic, race-baiting, violence-inciting, white supremacist sentiment-spreading, Christmas-tree-gun-toting elected official." Boebert had shared a photo of her children holding assault rifles while posing with her in front of a Christmas tree to Twitter on Tuesday, in solidarity with a similar and controversial gun-themed Christmas photo from Representative Thomas Massie (R-Ky.).
Senator Bernie Sanders (I-Vt.) urged "the House Democratic leadership to take immediate action" in a tweet on Monday, maintaining that the "vicious hatred" Boebert had directed at Omar "has no place anywhere, especially not in Congress."
In remarks made during Sunday interview on CNN, Omar said that she had met with Pelosi was "very confident" the House speaker would take "decisive action" against Boebert over the upcoming week.
Newsweek reached out to the offices of Pelosi and Boebert for comment.