How to Watch Carole Baskin's Video Diaries, As Featured on 'Tiger King 2'
Carole Baskin may have fallen out with Netflix in a big way in the lead-up to the release of Tiger King 2, but the documentary still finds a way to include her voice.
The Big Cat Rescue owner tried to sue Netflix to prevent Tiger King 2 from using her image, but the case was dismissed, and the documentary is streaming now on the service featuring plenty of footage of Baskin.
Though it does not have any new interview footage, the documentary uses plenty of other footage of big cat owner and Dancing with the Stars contestant Carole Baskin. Some of this seems to be footage from the original Tiger King, and other footage is from other interviews she gave, particularly around the time of her then husband's disappearance in 1997.
The most interesting Baskin footage that the documentary has, however, is a third source. Particularly in the second and third episodes, the episode uses her video diaries. These diaries are publicly available, meaning that Tiger King fans and armchair detectives can watch them all now. Here's how.
Where to watch Carole Baskin's video diaries
Dozens of Baskin's video diaries are available right now on her YouTube page.
Since February 2020, Baskin has been engaged in a project on her YouTube page where she is turning her 60 years of life into a series of video diaries. These seem to be a combination of modern-day reflections of her life and her reading out the actual diaries she kept over the years.
At time of writing, this project extends across nearly 500 videos, that tell Baskin's story from her birth in 1961 until 2021.
The caption for the first video gives viewers an idea of why she's undertaken this epic project. She writes, "I've been writing my story since I was able to write, but when the media goes to share it, they only choose the parts that fit their idea of what will generate views. If I'm going to share my story, it should be the whole story...I know there will be people who take things out of context and try to use them to validate their own misconception, but you have access to the whole story."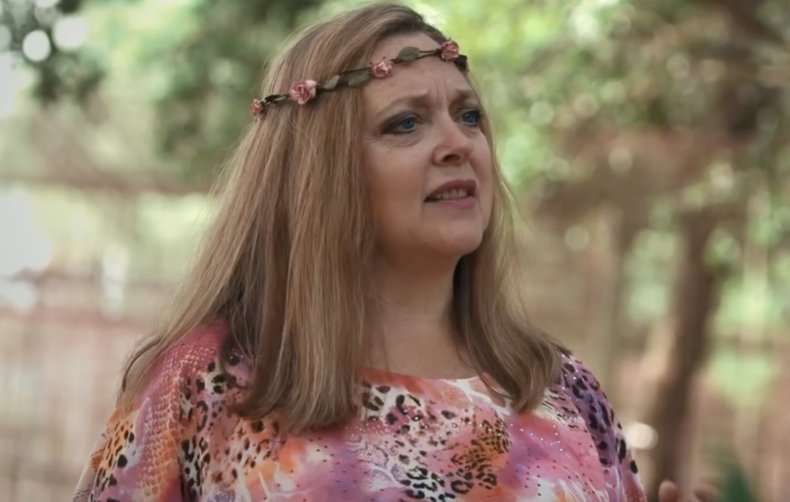 Tiger King 2 for the most part focuses on one series of these video diaries: Those that tell the story of summer 1997, when Baskin's husband Don Lewis went missing. Though many Tiger King fans' pet theory was that Baskin killed her husband after seeing the first season, Baskin herself has repeatedly denied this. Most recently, for example, her filing against Netflix said that the way the doc hinted that she was involved was "pernicious."
These 1997 videos are a mixture of her reading her diaries from the time and also her presenting documents she has uncovered since that she claims prove her innocence and suggest what may have happened to her missing husband.
Tiger King 2 is streaming now on Netflix.